Dereliction of Duty; no idea, time to go. Ratings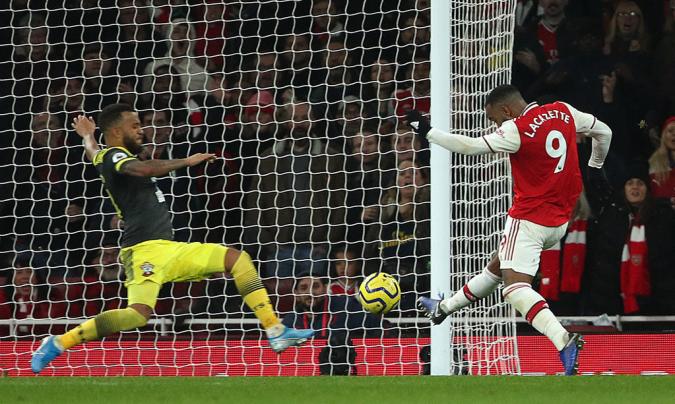 By Boris Mellor
November 24 2019
At half time I was struggling to remember the last time we had played so pathetically at home, maybe when Watford beat us in the FA Cup. It wasn't just the fact that the away team had scored first, which is a regular occurrence, it's expected now, and you can always see it coming.
No it wasn't that, it was the fact that Southampton had 10 chances to Arsenal's 3. At home for Lord's sake! Only one Arsenal player walked off at 1-1 deserving of praise and that was Lacazette. It wasn't only his goal, but the amount of fight in the guy. Tenacious and never gives up. Most of the team and the manager deserved the half time booing off.
Dereliction of Duty
All week Napoleon (Bellerin) had been making speeches calling for player and fan unity, he should have included attention to defending. The Saints first goal started with a quick free kick, Bellerin was too busy arguing the toss rather than protecting the defence, so the ball went past the rest of the defence who also weren't paying attention. It was a gift, it needn't have happened it was a dereliction of duty, and similar errors happen week after week. There is no defence for the defence
The second half was almost a repeat of the first
The Saints went ahead from a ridiculously easy gift of a penalty. Not sure why it was VAR'd, possibly a hint of offside. Leno almost equalled Cech's penalty saving record (if a parry to the opposition counts), but Southampton were 2-1 up.
The crowd did get behind the team for a while, and were rewarded with an excellent attacking display by the Saints who could have been 4-1 up by the time Lacazette scored the equalizer. Arsenal had drawn against a team that had been second from bottom at the start of the game and should have won. The crowd booed the team and manager, neither are good enough.
Ratings:
Arsenal: Leno (6) Pity he could only parry the penalty, otherwise it was poor Southampton shooting that kept the score down, Chambers (4) Arthritic, David Luiz (5) Completely fluffed the first goal, Sokratis (4) Arthritic, Bellerin (4) Arthritic, Torreira (6) A moderately good game, Guendouzi (7) Lot of action and aggression, but passing not that effective, Tierney (6) poor decision defending that gave away penalty, Ozil (6) didn't light any fires, Lacazette (9), lit fires all over the pitch, fantastic game and two great goals Aubameyang (5) poor finishing no product outside final third;
Subs: All brought on too late but did improve the dynamic.
Pepe (6), Willock (7) great block on line and forward pass, Martinelli (6)
View a Printer Friendly version of this Story.
Dereliction of Duty; no idea, time to go. Ratings
Discussion started by Arsenal Times , 24/11/2019 16:42
Arsenal Times
24/11/2019 16:42
What do you think? You can have your say by posting below.
If you do not already have an account
Click here to Register
.
Edited 1 time(s). Last edit at 2019:11:28:08:55:15 by Padre Pio.
Padre Pio
24/11/2019 21:44
Sadly so, I wanted to give the guy two seasons, but that was the last straw. it was an appalling performance He has learnt nothing, he has to go


---

"When we had to suffer the team is a lion because they suffer together." 4 July 2020 at Wolverhampton Wanderers
Arteta on his team's first away victory at a club above them in the Premiership since September 2015 at Leicester.
CazOnARola
25/11/2019 03:01
Quote:

Padre Pio
Sadly so, I wanted to give the guy two seasons, but that was the last straw. it was an appalling performance He has learnt nothing, he has to go
I think he needs to win two games out of the next 4 and he will be around till the Dec fixtures after which he will axed. But if we lose the next two games, he ll be gone before the festive fixtures
I'd give strong 8 to Martinelli, he hardly played 15 mins and came up with a face saving assist dribbling past Southampton defense from the left and played the ball to Laca on a platter. Time to start him from the get go next game otherwise Emery would be the biggest dumbass of a manager.
younghansolo
25/11/2019 09:33
There's just not room for excuses after this shower of @#$%&.
A manager who chooses not to start our record signing for no apparent reason (at home to 19th in the league.)

We dillydallied last time and missed out on Klopp and Pep.
If we don't act now we will miss out on Poch or Allegri leaving us with slim pickings once again.

We all know there's no recovery form here, only one man has ever done it and that man was Sir Alex who had a crop of youngsters coming through that were a once in a generation.

He's lost the dressing room and reports of senior board members getting involved after the game suggests it's dead. Why wait?

Hell, even Spurs puled the trigger and they had a manager, who last year, they would have be terrified of losing.
CazOnARola
25/11/2019 09:41
It was not served on a platter. It was deflected into laca s path. It was a quick shot/cross that the idiot Southampton GK tries to punch unsuccessfully.

Martinelli has a lot of strong attributes. His passing isnt over of them. I see him as the new Sanchez, although he is young, so doesn't really hog the ball like sanchez. Cant give more than 6 to anyone. Laca scored two goals, but his passing was atrocious.

We blame our midfield for most of our woes, and its not completely unjustified, but laca and Aubameyang break down most of our counter attacks by shocking passes to our midfielders like ozil, Torreira, guendouzi who are trying to break forward. It's either over weigh, under weight or most of the time just not to feet to some random space near them.



Edited 1 time(s). Last edit at 2019:11:25:09:42:28 by CazOnARola.
Sorry, only registered users may post in this forum.