Arsenal have plan B to deal with Liverpool's high fee demand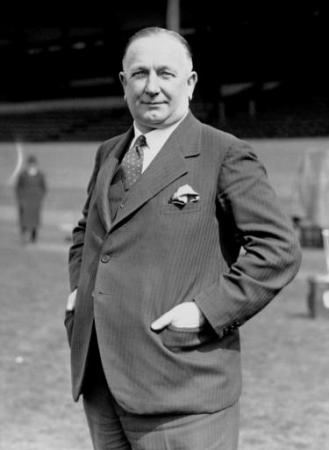 those were the days
By Celine Dion
July 30 2013
Arsenal FC raised eyebrows in the football world yesterday as they announced their intention to field NO PLAYERS WHATSOEVER during the new football season.
It is understood that the club hierarchy have lost patience with the level of transfer fees demanded by modern day clubs for players, and not so modern ones like Liverpool; and the increasing expense involved in recruiting them via football agents. Therefore in what many will see as a risky move, have simply decided to do away with all players altogether. American owner Stan Kroenke apparently raised his concerns about the necessity of buying footballers, and paying high wages, as early as 2011, and club insiders have been fighting a losing battle to convince him otherwise ever since.
As club marketing spokesman Mark Gonnoreah explained during a packed press conference
'Arsenal has been at the cutting edge of football development for many years, with our state of the art stadium, outlandish transfer purchases, and extremely expensive match day refreshments. We have thought long and hard about how to take our brand to the next stage and we are proud to announce that as of season 2013-14 we will have become the world's first 'Player-free Football Brand'. Here at Arsenal we are proud of our self sustainable financial record in modern football, and we feel that with the sale of our entire playing staff, we will have consolidated the stability of our brand long into the Financial Fair Play era and well up until the point that we sell all our shares.'
With Arsenal fans already paying the highest season ticket prices in the country, some supporters groups have expressed concerns that, in fielding no players whatsoever, Arsenal might fall further behind the likes of big spending Chelsea and Manchester City. Others however have pointed to Club Manager Arsene Wenger's questionable transfer record over the last six years, and can see the immediate benefits of this new policy.
According to club insiders, for home games next season, rather than the traditional Premier League fixture, Wenger will simply walk onto the pitch, to rapturous applause from the stands. A highlight video of Arsenals 'Invincible Season' will play out over the big screen, before a financial statement is read out on the loud speaker system. Marketing surveys show that at least half the Arsenal fan base will be perfectly happy with this development, and the club has seen a steady rise in memberships since the announcement.
Of course, the path to removing their entire playing staff will not be straightforward. It has been an open secret that Wenger has been trying to jettison at least half his first team squad for many years. It is thought that, as part of the redundancy programme, some players will have to be found new positions outside football. Marouane Chamakh is thought to be keen to become a taxi driver, whilst Tomas Rosicky is to start his own private detective agency, specialising in long term disappearances. Other players will not be so fortunate. Abou Diaby will be sold to the London University Hospital, whilst delusional Danish striking sensation Niklas Bendtner has agreed to go on Social Security.
A spokesman for North London rivals Tottenham Hotspur expressed cautious optimism at the news. In recent years, despite affording them a head start of several points, Arsenal have always clawed back the deficit in the final days of the season, to finish above their rivals. With Arsenal fielding no players whatsoever, Tottenham might feel that this year might be their year. 'But I won't be betting on it...' he said, sadly.