Arsenal Times Survey Section 3 Wenger's Most Bonkers Moment?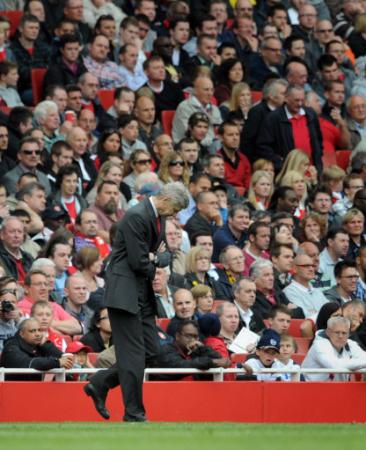 Bonquers?
By Celine Dion
June 26 2012
Celine Dion's survey continues, where is it all going to end you ask? Well he has hardly got started. After briefly looking at the assist of the season he quickly moves on to a fans view of Wenger's season. Here Celine is fearless, leaving no stone unturned with searching questions like "Wenger's most bonkers moment". You would never get that question on Arsenal.com.If you missed parts one and two then click on the links below the survey. Enjoy
Section 3

A difficult one to mark, this one, because many of you are extremely vague, and don't mention specific games, and in some cases, players, and just give cryptic clues as to what they may or may not have seen. However, I was able to decipher enough responses to award a clear winner, and no surprises - the master of the assist Mr Alex Song wins comfortably. His drag back and inch perfect cross against Dortmund wins with 45% of the vote. Next comes the wonderful chip that picked out RVP for his volley versus Everton, and then the very similar effort against Liverpool for that last minute winner at Anfield. Of the other mentions, RVPs selfless lay off to Henry for the last goal in the Blackburn rout gets mentions, for I think sentimental reasons rather than for any example of magnificent skill.
Wengers Biggest Achievement of the Season
This is where the survey opens out, and people just give their ideas, which I group and classify myself in order to get a flavour of where I think the answers are. However, there was a very clear and evident winner, and that was, basically, coming third, with an approximate 60% of the mentions. And quite understandable too, given where we were after a month of the season. Other ideas given were the pivotal 5-2 Spurs result, bringing in Mikel Arteta, 'winning Manager of the month', 'coping without full backs' (I'm not actually sure he did), and, rather uncharitably, 'staying in a job'.
Wengers Biggest Error of the Season
Answers were loosely categorised and grouped by myself here, once again. And there was a runaway winner. Many of you (65% approx) felt that Arsene could have handled his transfer business at the start of the season somewhat differently. Your gripe seems to have been, and some of you went into quite some detail about this, that he might have acknowledged Fabregas and Nasris' apparent ambitions to move elsewhere somewhat earlier, and perhaps arranged their replacements a touch more promptly as well, rather than at 11.55pm on transfer deadline day with his team rooted to the bottom of the table. Critical bunch, some of you.
Of the other answers, about half as many people feel that his biggest overall failure last season was his persistence with Aaron Ramsey, and he also came into some criticism for the second half at Fulham, where it was felt that he could have done differently with his substitutions, and generally avoided the shambles of the last 10 minutes. Finally, playing Santos in Greece gets a mention, in what was a dead rubber match.
Wenger's Best Quote
Of course, most of us can't remember his exact quotes, especially those of us who try to blot them from our minds. And I am certainly too lazy and slap dash to look them up. So this was a pleasing opportunity for some of you to pick through your drink-addled minds and wonder out loud what he might have said at various points of the season, with some gloriously non-specific answers. However, I was able to dechipher a winner, and it is the Tariq Aziz moment where he stated confidently that Fabregas and Nasri would be staying with the club. This quote is particularly enjoyable because it was made roughly at the time that Fabregas was sitting in a plane on his way to Barcelona. His various endearing catchphrases about mental strength and 'super quality' were popluar as well. He also apparently denied any intention of signing Mikel Arteta, which is amusing if he did say it, given that he then did just that.
Wenger's Most Bonkers Moment
There was a runaway winner, mentioned by well over half, and that was the substitution of The Ox with Arshavin in the Man Utd game, which resulted in the general mutinous atmosphere in the crowd. It all seems a long time ago now, given our satisfactory end to the season, but it was an ugly episode, that's for sure. Especially as for me personally it coincided with gentlemen in the row behind me having a big ruck with each other. Ji Young Park is also mentioned by many of you, for some it was his actual purchase that was Wenger's most bonkers moment of the season, and for others of you it was then either Wenger never playing him, or suddenly bringing him on against Manchester United. Not getting in any full backs over Xmas was also given, although he ultimately got away with it, as well as 'getting banned from CL games' and having to spend many of them in the Diamond Club, which offered us all a diverting spectacle, it must be said.
End Section 3
View a Printer Friendly version of this Story.
Arsenal Times Survey Section 3 Wenger's Most Bonkers Moment?
Discussion started by Arsenal Times , 26/06/2012 19:12
Arsenal Times
26/06/2012 19:12
What do you think? You can have your say by posting below.
If you do not already have an account
Click here to Register
.
Edited 1 time(s). Last edit at 2012:07:01:17:50:46 by Padre Pio.
Let's have it all in one go, we can handle the truth.

Good read so far. Interesting things being mentioned that I'd forgotten all about and actually wish I'd said.
I wish I had taken part now.

I was gonna but I got that feeling of doing an exam when I scanned through the material.
celine dion
26/06/2012 22:23
Yes, i think most people did.
Padre Pio
27/06/2012 07:52
The internet is part of a soundbite media that has created an attention span of a goldfish in most of us. Thats why I have to cut long articles up.
I cant even remember most goals I have seen in a season. I am more likely to recall sendings offs


---

"When we had to suffer the team is a lion because they suffer together." 4 July 2020 at Wolverhampton Wanderers
Arteta on his team's first away victory at a club above them in the Premiership since September 2015 at Leicester.
Jack_is_the_truth
29/06/2012 08:15
yay! at last one of my answers reflected
i know what you mean padre, if you dont do that you will get some joker writing "TOO MANY @#$%& WORDS"
---
The future is now!!!!!!!
Edited 1 time(s). Last edit at 2012:06:29:08:16:55 by Jack_is_the_truth.
Sorry, only registered users may post in this forum.