Celine Dion's Amazing Bumper Xmas Arsenal Trivia Quiz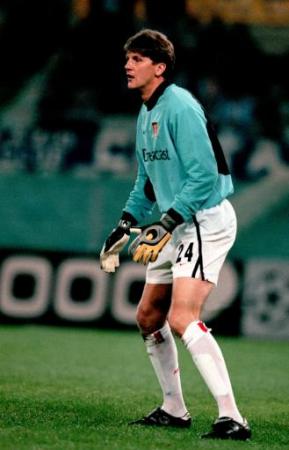 John Lukic
By Celine Dion
December 24 2011
You know the drill. The kids have woken you up at 4.30am, you've opened a few miserable and disappointing packages of socks and aftershave, your stomach is bloated with cheap booze and unspeakably dry turkey, and your mother in law is snoring in front of 'The Sound of Music'. Which SHE insisted on watching in the first place. Well why not get the family back into line with a festive QUIZ. Never mind staple quiz categories like Rock n'Pop, History, What happened in 2011, and 'lucky dip', this ones' about the Arsenal.
Below are 50 questions devised by that enormous and impressive organ, the football trivia brain of Celine Dion. Apart from some which are nicked off Wikipedia. You might be able to Google some, but certainly not all, but anyway, this is a 'just for fun quiz', so you would be only cheating yourself. Answers will be posted on the site in a few days. Award yourself one point for the correct answer to an entire question, i.e. if a question comprises three answers, you have to answer all of them to get the point.

Scoring is as follows:
50 You have presumably hacked Celine Dion's computer
45-49 You are probably regular forum contributor Eduardo
40-45 Arsenal know it all. You can probably be found in the ground 3 hours before kick-off with 50 tin Arsenal badges on your denim jacket
30-39 Very respectable. You know your Koscielny from your Vermaelen
20-29 Hmm, a fair-weather fan. You need to pay more attention and drink less beer.
10-19 You know as much about the Arsenal as Arsenal Times regular PK Gunner knows about keeping fish.
5-9 You want the Tottenham Hotspur forum mate.
0-4 Are you Marouane Chamakh?
Arsenal Christmas Quiz
1) Arsenals 3-1 Victory at the Dell in 1989 and our 2002 3-1 Win in Roma in the Champions League. What links these events, other than the same scorelines?
2) What unusual and short lived change to the Highbury pitch set up greeted Arsenal fans at the first game of the 2005 season v Newcastle?
3) When Arsenal lost to Lens 1-0 at Wembley in 1998 who in the Lens side would later score a crucial goal in a Champions League Final?
4) Where was Tony Adams imprisoned for drink driving in 1991?
5) And against whose reserve team was his comeback game?
6) When Arsenal beat Liverpool 2-1 in the 1971 F A Cup final, who were the four Scottish Arsenal players to take part
7) And who were Liverpool's two non-English players, both famous names.
8) Name three post war Arsenal players whose names are also areas of London.
9) Arsenal were drawn against Leeds three times in the FA Cup during the 1990s. How many matches, in all, took place?
10) What does Dennis Bergkamp list as his favourite chocolates?
11) How many matches did Arsenal play at Villa Park in the 1988-89 season
12) And in the same season, against whom did Brian Marwood make his England Debut?
13) Where did we sign Brian from?
14) Robert Pires is only French because of his birthplace. Where was he born, and what nationalities were his parents?
15) We signed Robert from Marseille, but which French club did he play at for a longer period?
16) Two of the 1985 Arsenal squad have now sadly died. Who?
17) Before the Clock End executive boxes were built at Highbury in 1988, the executive suite could be found where?
18) What embarrassing event befell Arsenal in the first league game of the 1976 Season?
19) And how did we contribute to the deciding day of the league title trophy in 1981?
20) What controversial defeat did Arsenal suffer 2 games before they clinched the 1971 league title. Why was it controversial?
21) Who scored the winning goal in George Grahams' first competitive game in charge of Arsenal?
22) What is Arsenal's aggregate score over Villareal in Champions League fixtures?
23) How many goals, not counting pre-season tournaments, has Alan Smith scored at Wembley for Arsenal?
24) And how many has Tony Adams?
25) What was unusual about Arsenals' attacking line up against Fiorentina away in the 1999 season?
26) Which famous footballing brother was hacked down by Willie Young in the 1980 FA Cup Final?
27) Whose own goal saw Arsenal knocked out of the 1972 Champions Cup?
28) Arsenal played two unsuccessful league cup finals at the end of the 1960's. Who scored our only goal in either of these two games?
29) What team did he later manage to FA Cup success at the same ground?
30) Ian Wright scored a hat trick in his first league game for Arsenal. What was unusual about our kit that day?
31) Who did he actually score his first competitive Arsenal goal against?
32) How many goals has Wrighty scored in Cup finals? Who is the only player ahead of him?
33) Arsenal beat Sheffield Wednesday 7-1 at the end of the 1992 season. The score was 1-1 with 20 minutes to go. Who had scored our first goal?
34) In which country was Marouane Chamakh born?
35) George Grahams first season at Arsenal incorporated a long unbeaten run. Where did this run end?
36) His second Arsenal season also incorporated a long unbeaten run, who ended this?
37) Against whom did Ray Parlour make his debut, and what was his major contribution to the game?
38) In which year did Herbert Chapman die and what did he die of?
39) What was Arsenal tube station called before it was called Arsenal Tube Station?
40) The 2002 FA Cup final was known for two magnificent goals from Ray Parlour and Freddie Llungberg but who had a goal narrowly disallowed prior to this?
41) What do John Lukic, Ashley Cole, and Kevin Richardson have in common with Eric Cantona?
42) David Hillier was so bad at football that he now works as what?
43) Aaron Ramsey, Kevin Campbell, Tony Woodcock. What links them?
44) Who scored the first competitive goal in front of the rebuilt North bank in 1993?
45) Nigel Winterburn began his Arsenal career playing as a replacement for whom?
46) During the 1990-91 title season Arsenal were unexpectedly annihilated 6-2 at home by Manchester United in the league cup. Who scored a hat trick for United.
47) At which club did George Graham FINISH his FOOTBALLING career?
48) Viv Anderson, Brian Talbot, William Gallas, what links them?
49) Eduardo, Tomas Rosicky, and Nicholas Anelka. What scoring feat do they have in common.
50) How much is a pint of lager currently at the Emirates Stadium?