The time when footballers were almost slaves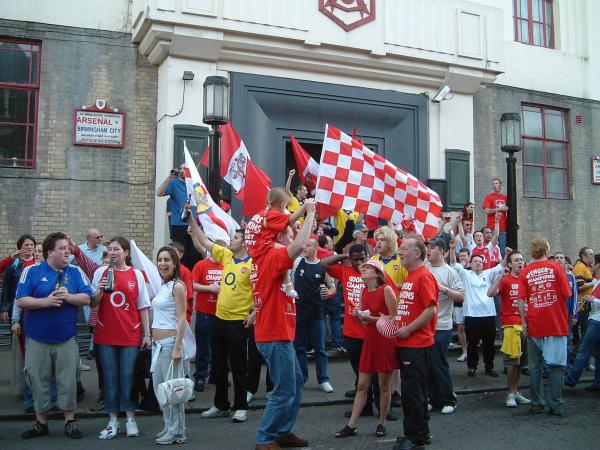 Trophy
By Boris Mellor
March 26 2007
A review of Gary Imlach, My Father And Other Working-Class Football Heroes. And a rewiew of Derek Tapscott with Terry Grandin, Tappy from Barry Town to Arsenal, Cardiff City and Beyond
One of the most obscene things that Ashley Cole ever did was to compare his dispute over £5,000 a week with slavery. Slaves do not even own their own name, or children let alone shiny luxury cars to skid off the road with. The morality of footballers' wages is often debated, but rarely does anyone challenge the wages of a film star. Whether we like it or not football generates enormous revenue and that revenue is created by football stars. But it was not always the case, there was a time when professional footballers earned the same wage as a skilled worker. Nobody wants a return to those bad old days, but it is worth remembering, or discovering what those days were like.
For as Gary Imlach points out in his elegiac memoir of his father Stewart Imlach players were in fact worse off than the average skilled worker. The reason for this was the notorious retain and transfer system that was in place until George Eastham (Arsenal and England) challenge and defeated the system in the High Court in 1963. Players were on yearly contracts and a maximum wage, although they were often paid less, however at the end of the season they were not free to go as their registration was retained by the club. Players would hang around club offices at the end of the season waiting to hear if they had been retained. If they were not retained their registration still remained with the club and the club would decide where they could go next. Alternatively players could find themselves transferred to clubs they had no wish to go to, in far-flung areas literally at the drop of a hat.
If a player wished to dispute the wages offered, wanted to move, or had disagreements with the management their contracts could be virtually frozen; refused pay they could be retained against their will. George Eastham had asked to move from Newcastle to Arsenal at the end of his contract, but his request was refused. Eastham did something no player had done before, he went on individual strike. He refused to play for Newcastle and survived by working for a business friend, he also began to commence court proceedings. Newcastle decided to let him go and Arsenal fans were lucky winners as they watched this slight but highly skilled playmaker. In later years he would finish his career at Stoke City scoring the winning goal against Chelsea in the league cup final.
George Eastham had a genuine grievance against retain and transfer and with the backing of the players union he launched a crusade against this iniquitous system. Having freed himself from Newcastle he continued his High Court action. This campaign coincided with Jimmy Hill's battle against the maximum wage, these victories improved the conditions and wages that today's players now enjoy. Men like George Eastham and Stewart Imlach never got to enjoy much of those rewards during their careers. Of course there were still restrictions on the movements of players, they still had to fulfil their contracts; and fees could deter clubs from buying them.
Stewart Imlach played for Scotland but was never awarded a cap as the association was too mean to provide them. The highpoint of his career was, as man of the match, winning the 1959 FA Cup with Nottingham Forest. Injured players during International duty were not paid.
At the end of the season following the cup victory the local newspaper heard before Imlach that he was being transferred to Luton, ironically the club Nottingham had defeated in the FA cup final, in a lower division. His playing career would go into a rapid downward spiral. Why this talented player should have suffered this way is hard to fathom, and according to his son he never really dwelt on the issue, at least not in front of his family.
But this is not a story of victim hood but of men who enjoyed playing the game and were proud of their ability of achievements. Men that were heroes but lived in similar streets to their fans, with a standard of living no higher. Some of them had jobs in the summer, when wages dropped by several pounds, and some even during the season itself. Imlach comments on the fact that the head of the FA opened his door to a repair man who was a professional footballer. Nobody found this remarkable at the time. Perhaps it all helped to enhance schoolboy dream of playing in the winning cup final; players were heroes but they were working-class heroes.
Tappy is the autobiography of Derek Tapscott, Arsenal and Wales, who played in the same era as Stewart Imlach, however it is a very different book in that it is a more traditional tale of a footballer's progress. It does not have the structured social history of Imlach's book, but it is a fine compliment to it. Indeed there is almost an innocence about the book as Tappy escapes a life of near poverty, not that he would have described it that way, to play for the most famous club in England. There is no bitterness or complaints in this book and one sees his adventures through the eyes of an honest footballer who would have probably played for less.

Once again his world is a million miles away from that of Ashley Cole; on returning from his honeymoon he and his wife waited, early in the morning, at Heathrow Station for the first underground train to come into service. Can you imagine Ashley Cole waiting for a train after his honeymoon? True Derek was given a far better clubhouse to live in than Imlach's father ever had, but his wages were as low. On playing for Wales he was often out of pocket after he had bought tickets for his family to see him play. One of the biggest perks was a couple of bags of fruit and veg he got every week from a Covent Garden trader who was an Arsenal fan.

But like Imlach his career at the top would be short (1953 to 58), playing at his peak in 1957 he underwent a cartilage operation and the following season was transferred to Cardiff City. Little sentiment was shown to a player who had been the Gunners leading scorer in 56 and 57.

It is hardly surprising that Tapscott has little time for the elbowers and divers of the modern game. However he still loves the Arsenal and he attended the final salute, you may have noticed a frail white-haired man being led around the pitch.

Was it an era of slavery? Tapscott does not dwell on the issue, instead he believes he was lucky to leave Barry Town, and a family of 16 children, behind to play at the highest level; and he would have done it all for free. Amazingly he is still remembered by Arsenal and Wales fans who still ask for his autograph 40 years after he last played. I wonder who will want Cole's signature in 40 years time?

Both books are on sale in the Arsenal Times Store For a large selection of Arsenal Books, DVDs, PC games AND MORE at Bargain Prices visit the Arsenal Times Store HERE