Stoke attempted attack on Wenger Demo Photos Part 1
Stoke Hooligans Arrive
By Boris Mellor
May 25 2009
As the Red Action support Wenger Demo turned into the approach towards the Arsenal stadium a minority of Stoke fans tried to attack it. This was completely unprovoked and uncalled for. The demo was good natured and only interested in supporting Arsene Wenger.
However before anything could happen police on horseback drove the Stoke fans away. My feeling was that much of the bravado came from the fact that the Police were between them and several hundred Gooners. It was a shameful display reminiscent of the 1970s.

The demonstration was not diverted from its purpose, in spite of the fact that the Police held the demonstration back while they cleared away the knuckle draggers.

Below are photos showing the attempted attack and the successful demonstration.

Stoke hooligans held back by Police

The beer is shouting

The Demo turns in from Holloway Road

Demonstrator confronts abusive Stoke hooligan

Undeterred the demo continues

They love Wenger

More Photos of the demo arriving at the stadium in Part 2 here
View a Printer Friendly version of this Story.
Stoke attempted attack on Wenger Demo Photos
Discussion started by Arsenal Times , 25/05/2009 19:48
Arsenal Times
25/05/2009 19:48
What do you think? You can have your say by posting below.
If you do not already have an account
Click here to Register
.
Edited 1 time(s). Last edit at 2009:06:05:07:35:23 by Padre Pio.
Gunners R Us
25/05/2009 20:36
heard about this.

The stoe fans i saw seemed to be alright in the stadium but it dosnt suprise me what happened
squarepeg
25/05/2009 21:30
I too saw some scuffles after the game, a few stoke fans were trying to start a fight near the road that leads away from the Armoury shop. Just a bunch of @#$%&, nothing doing really.
---
Padre Pio
25/05/2009 21:52
Stoke has quite a few Fascists living there - a lot of BNP councillors
I'm sorry but this is very silly. These photos show absolutely nothing. In the picture "Stoke hooligans held back by police" all there is is one policeman on horseback, riding in front of a bunch of Stoke fans doing no more than walking past.

At the very worst this was the kind of cross fans verbal sparring you're likely to see at any football match.

You say the beer was talking, but it seems to me like for this whole article the bitterness you still feel from that defeat at the Brit in November is talking. I admit, we were outclassed yesterday, but it's a shame you can't accept victory, and defeat with good grace an leave it at that.

"Reminiscent of the 1970s". I wasn't born in the 70s, but if that was all that went on in the 70s it must have been a pretty dull decade!

I await your removal of this comment.
Padre Pio
25/05/2009 23:35
Why should I remove your post? Its proof of what an idiot you are.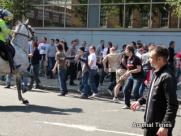 Not walking past in this photo are they?
Edited 1 time(s). Last edit at 2009:05:25:23:36:53 by Padre Pio.
Chapman's Ghost
26/05/2009 08:05
Stoke has been a dull place in any decade.
Bergmars
26/05/2009 09:50
They have alot of di'''eads even their own fans admit that,as for the defeat at the Brit AW was right they are a bunch of kickers,the good thing is they will be found out and join orange and his Hull team getting relegated next season.


---

Under new managment
Sorry, only registered users may post in this forum.