Is Wenger the only guilty party?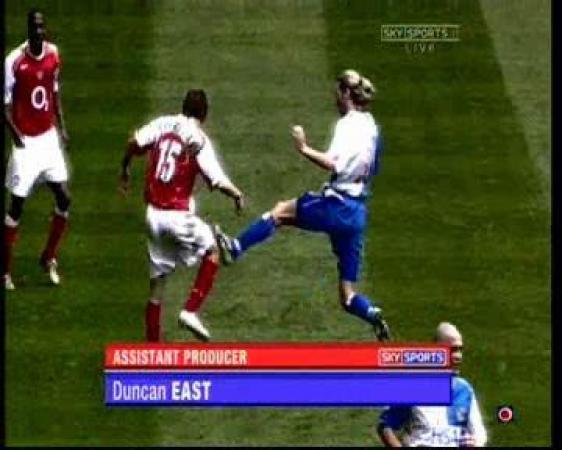 Savage
By AJ The Gunner
November 7 2006
The media has had a feeding frenzy since events at West Ham on Sunday, and only one man is to blame. AJ The Gunner weighs up the issues in the article below:
Reading and listening to all the views concerning the WENGER-PARDEW SPAT, I still find it hard to understand how Wenger has come out as the only guilty villain in the famous touchline bust-up on Sunday.
One actually read: When push comes to shove Arsene Wenger did not just lose a football match against West Ham on Sunday. He lost his reputation. What in Godís name are these media judge and juries on about?
Hearing one pundit actually say that: "No longer when we think of Wenger will we think of a calm, courteous, intelligent football thinker, the 'professor' of the Premiership", simply because he let his emotions slip is taking it a bit too far. Donít get me wrong here as I am not making excuses for him, neither am I condoning his behavior. His behavior was bad enough as it is. What I am saying is that what is good for the goose is also good for the gander or better still, the same measure you use to judge one should be used to judge the other.
Pardew's celebration was over-zealous" considering he trespassed into Wenger's technical area to do it; but to suggest that there was not any excuse for Wenger to act in that manner as though Pardew should be absolved completely for doing this is outrageous.
Pardew was simply inexcusable insensitive as far as I am concerned and totally out of order. He is definitely quite entitled to celebrate but not getting in Wengerís face like he did. This was a London derby. The atmosphere was already charged up and for crying out loud did he not see a fan had thrown a coin at Van Persie, or that the ref refusing a blatant penalty was already setting the mood for hostilities, to realize that any unnecessary provocations might trigger a negative reaction. I guess itís ok for him to celebrate in whatever manner or fashion he likes, but itís not ok for Wenger to react, as he is usually the calm gentleman. [Give me a break]. The LMA chief making excuses for him that looking at what he (Pardew) has been through this season that who could deny him that; sounds lame.
Both managers were under pressure. One needed a win to salvage his job while the other needed to win to keep his title hopes on track. One signed two world star players and had to endure his squad slide down the table and fight a relegation battle. While the other watched the ref deny his squad a vital draw in Moscow, watch his team squander open goal chances, fail to score goals, that they are renown for, watch his talisman captain being a shadow of his normal self and now needs two games to prove that his teams run to the CL finals last year wasnít a flash in the pan. Pressure is pressure no matter in what manner it comes. Chances are you can never be sure how a man under pressure will react but only hope they react responsibly.
Wenger had already lost considering Harewoods goal was at the 89th minutes, was there then the need to rub it in? Provoking a person who had already lost is certainly not fair play and telling that person to be gracious in defeat after provocation is being insensitive. The manager who is playing a home game and sets about provoking the other especially at such a stage is certainly is just asking for trouble.
In the past, Wenger has at times refused to shake the hands of other managers and who can blame him for that? He reserves the right not to shake hands as there is no point in shaking hands with someone if they don't mean it. Mourinho has refused to shake Wengerís hands and he didnít loose sleep over it. If the FA has a problem with it they should make a rule that will mandate managers to shake hands after games irrespective of how they feel at the time.
Pardew is out of order and so was Wenger; but I suggest that before everyone jumps on the "Guilty Wenger" band wagon they should try finding out what Pardew said that kicked Wenger off. Pardew later apologised on camera but is that really enough especially when we are yet to know what really happened. This was the case of Zidane when he was dismissed in the World Cup final in July for head butting Marco Materazzi. Everyone virtually condemned Zidane till Materazzi admitted to insulting Zidane's sister prior to the Frenchman's actions.
For me both men acted irresponsibly and are likewise guilty for bringing the game in disrepute.