Time to Look Forward to Milan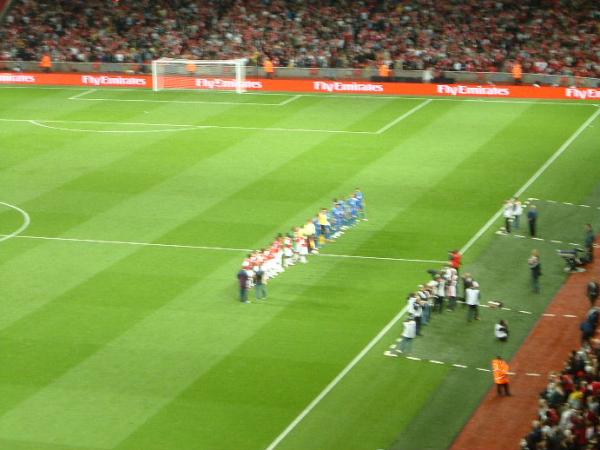 Night Game
By AJ The Gunner
February 18 2008
After Saturdays's debacle AJ the Gunner looks back in order to look forward to this Wednesday's big match: What are our chances against the defending champions Milan home and away? This was the big question begging to be answered after we were unceremoniously knocked out of the FA Cup by Manchester United at Old Trafford on Saturday.
If we can play this poorly in a cup game then can the team really raise their game in a CL game when the journey to that final will be tougher than it would have been in the FA cup. The teams left in the FA cup showed that our chances of possibly winning the trophy was higher. So why blow it?

Injuries have been our bane for four seasons now, so does that mean Wenger did not plan better for the tough days? However, can anyone really know how many of his players will be injured before the season starts? We are really down to the bare bones, but is that enough of an excuse for our poor show? Saying that the traveling supporters can take comfort in the fact that their side's priorities lie elsewhere, is not good enough either.

Time to think about Milan

We were without a number of our regular starters; however, we were still expected to put up more resistance if we were expecting to get anything from the game. Wenger said that it is important to pick up and prepare for the massive game against Milan but the question is, Can they? Or more importantly, will they?

Now is the time for the team to prove that they are mentally strong and can recover from their shocking display in time for the Wednesday game. No doubt this result would have hit the players hard considering that it was a cup game. My fear is that this was not the best way to prepare for a massive game which requires a maximum performance if we are to outplay Milan. Anything short of a good win that will give us a big and safe advantage against Milan for the second leg at the San Siro will make losing this FA Cup game too hard to swallow.

Wenger thought we had a good enough team to have a chance, but not with that performance. I find that performance hard to stomach, not only did the players not turn up for the game, but similar performances from the same imbalanced selections have conceded 12 goals, and scored just 2 goals.

The truth is that the success of Arsenal's season now depends on their Premier League, and Champions League progress. The English media and haters of the club will be waiting for us to bottle it and go on a downward slide. Therefore, no matter what this result has done to us fans, the only option is to get behind the team. Now is the time to prove that we are behind the team 100%. Backing the team is the best therapy, so that they can bounce back with a bang against Milan; and continue their strong run in the league to make sure the league trophy ends up at the Emirates.

We hope the team will deliver; it's for us to believe. We must believe!

For a large selection of Arsenal Books, DVDs, PC games AND MORE at Bargain Prices visit the Arsenal Times Store CLICK HERE
View a Printer Friendly version of this Story.
Time to Look Forward to Milan
Discussion started by Arsenal Times , 18/02/2008 13:49
perrygroves
18/02/2008 16:14
will we ever have a full XI for more then two games!? RvP and Rosicky are wrecking my head...
younghansolo
18/02/2008 20:35
I'm well excited for this game. Ac Milan are gonna get F'd in the A. Their old legs don't stand a chance against our youth and determination. Wouldnt it be funny if We destroy Ac Milan and Utd get done by Lyon.

This feels like a proper cup game, and seeing as we dont have the Euros to look forward to this summer, the CL has more importance to me for escapism. Come on Arsenal!
ArsenalForever
18/02/2008 22:42
-----------Almunia---------

Eboue------Gallas-------Senderos------Clichy

Hleb---------gilberto---flamini--------eduardo

------------------cesc------------

------------------------adebayor--------
Merlion96
18/02/2008 23:33
The old elgs will play Italian style - catenaccio with 11 players behind the ball.

Their style is really to spoil Arsenal passing game, hit us on the counter-attack.

Notice that our style is to pass around the box, no sharp penetration, overtly depending on FAbregas' passing skill and Hleb ball control and holding ability near teh box.

This is eaxaclt the style Italian teams played in La Liga, and MIlan defence facing it every week.

Milan knew how to knock us off our strides, blatantly spoiling and body-checking Fabregas and Hleb.

MIlan is looking for 0-0 at Emirates and then take us out at San Siro.

We need to score, keep clean-sheet.....and then play catenaccio at San Siro.
Gooner_Mike
19/02/2008 02:04
Full Milan squad: Kalac, Fiori, Offredi; Cafu, Maldini, Nesta, Kaladze, Simic, Jankulovski, Favalli, Bonera, Oddo; Emerson, Gattuso, Seedorf, Gourcuff, Pirlo, Ambrosini, Brocchi; Kaka, Gilardino, Inzaghi, Pato.

Gattuso, Pato, Kalac, all injured my ars*nal???

They were just playing mind games, I wouldnt be suprised to see RVP spring up and play the full 90 these days.
Philly the kid
19/02/2008 02:21
If he's gonna play, i'd rather he starts. Every time he comes back from injury he takes a few shots to settle and score. Which he's obviously more than capable of!!
AJ The Gunner
19/02/2008 11:33
i don't think milan will play for a 0:0.they will definately try to score enough away goals.the question is,can we score and keep a clean sheet?
If milan's full squad has 23 players in it, that is because it is the squad they named for the rest of the CL, not the squad they will have at The Emirates.

The squad they have at The Emirates can only contain 16 players.

They have a number of injury worries, particularly Kalac in goal, Kaka, Pato & Gattuso.
AJ The Gunner
20/02/2008 17:17
the day has come.the minutes are ticking
80'sGoona
20/02/2008 17:50
cant wait.

Reckon milan will just sit back and try and nick one goal, whenever it may come. We cant get suckered by them.

We HAVE TO get that first goal! Then control the game.
Padre Pio
20/02/2008 22:42
They have to score - but if we score first they will need 2 and I cant see them getting that
80'sGoona
20/02/2008 22:52
they normally can only score 1 at home. we need to attack them from the off. defend wisely, like tonight, AND SCORE FIRST!!

I am extremely confident about this tie.
Sorry, only registered users may post in this forum.