Vieira Ė Resentful or homesick?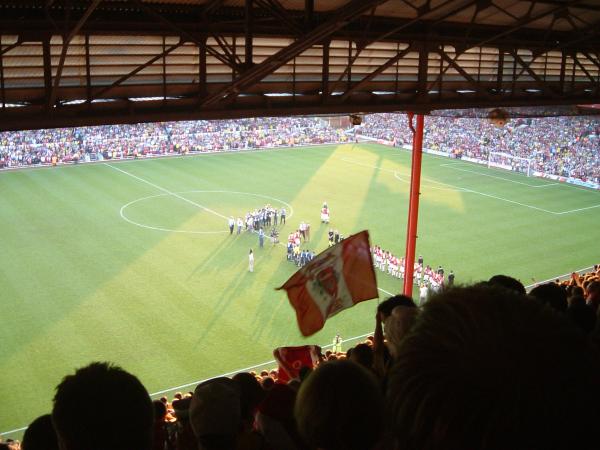 Flag
By AJ The Gunner
January 13 2007
Patrick Vieira's recent autobiography has pulled no punches with its criticism of the Arsenal Board for letting him go. That he would have stayed if asked. A strange situation for a player who claimes he moved to pursue the very big cup. AJ the Gunner investigates what Paddy's real feelings are.
The saying "Once a Gooner always a Gooner" can be the only explanation as to why our once inspirational skipper Vieira has something to constantly say about Arsenal. Ever since his shock departure to Juventus, Vieira has had a lot to say about Arsenal. However I canít help feeling that in his heart he still wants Arsenal, but his head says Juventus as he so desperately wants to add the championís league medal to his collections (Understandable as itís the only medal missing in his collection).
Vieira is a true Arsenal legend, exceptionally nimble for a tall player. His ability to use both feet deftly makes him a fantastic tough tackler, while his unbelievable ability to swing an attack straight from defense is just a delight to watch. His great stamina was never in doubt (I can still remember how he ran the entire pitch after he swung defense into attack to score against Leicester). He is the type of player that is irreplaceable. Yet seeing only flashes of his trade mark skills last season was disappointing for some fans. No mistaking he is the best defensive midfielder the world has ever seen. If you donít think so, ask every manager, or player why every strong African midfield tackler is likened to him, or why every young defensive midfielder wants to be a Vieira.
No matter how much we might regret his surprise sale, he has since stated that he has a much greater chance of conquering Europe with Juventus. He also claimed he had gone stale in the past couple of years at Highbury (I guess thatís the best explanation for his inconsistent form last season which became a joke at some point e.g. the dive at Liverpool). Paddy says that he feels more pressure to win things at Juventus:
"There's a pressure here in Turin, a pressure on people to win, a determination in the air and in the environment that I hadn't felt in a long time at Arsenal. Most of all, though, there's such a will to win here because Juventus are so used to winning. I feel pressure on me to do well and that hadn't happened in a while at Arsenal. I wasn't at my best over the last two years but each time my form has dipped I've been capable of pulling myself back up again. I needed a new challenge."
Without offending any Vieira fanatic, was he not the captain whose job was to instill a determination to win in his team mates? He was very influential, and this attitude must have rubbed off the wrong way on the squad. How are we supposed to reconcile his saying that Juventus are used to winning, as though we are not used to winning? If Arsenal are not used to winning, then he must have a short memory of all the trophies he won with us.
Lately he has launched a broadside at David Dein claiming that he would have been happy to finish his career at Arsenal; but for the prevarication of vice chairman David Dein. In his autobiography, he claims Dein said: "We are neutral. We are giving you the choice of deciding what you want to do." Insisting the club's "neutral" stance left him angry, surprised, and upset, and leaving him with a straightforward decision to join the Italian champions, as we did nothing to keep him. The bottom line, according to Paddy, was that we could have kept him, after all there had been offers before, in particular Real Madrid, and every year it had been made plain Arsenal wanted him to stay (The many summers of discontent).
"Had they talked to me the way they did the previous summer, there is no doubt I would still be at the club. But they didn't." Funny that he jumped ship the very first time Arsenal became neutral and left the choice to him. He must know that a time must come when there should be no need to convince a player whose heart is not there anymore to stay, but leave it to the player to make his own mind up. Why so upset and claim he was no longer wanted?
Are these outbursts in the media just pure frustration because he couldnít wait around to win the elusive Champions league with the love of his life. That he had reached the peak period in his career? Is it to justify his leaving? Frankly I am confused, as one minute he is saying that heís convinced he has made the right move by leaving for Juventus, and the next he is saying he saw himself finishing his career with Arsenal.
The fact remains that Vieira has said more about us in the past weeks than he did in his entire history at Arsenal. Is he feeling a little resentful, or homesick, missing the great Highbury faithful? Whichever is the case I hope he doesnít say anything that will reduce him in the eyes of his ever adoring Gooner fans? Let it just end with Keane being a special player, and an inspiration for him, or that we canít catch Chelsea with their fantastic squad.To Vieira: You were very influential to the team and no doubt your presence is still missed in the dressing room. You served us well and we will always love and respect your great achievements as our captain; and throughout your nine fruitful years at Highbury, knowing that you will always be a Gooner by heart, so go easy on us and focus now on your career at Juventus, for you have our blessing.
For a large selection of Arsenal Books, DVDs, Computer, Playstation and X-Box games then visit the Arsenal Times Store here