Ten positives from today's defeat by Man United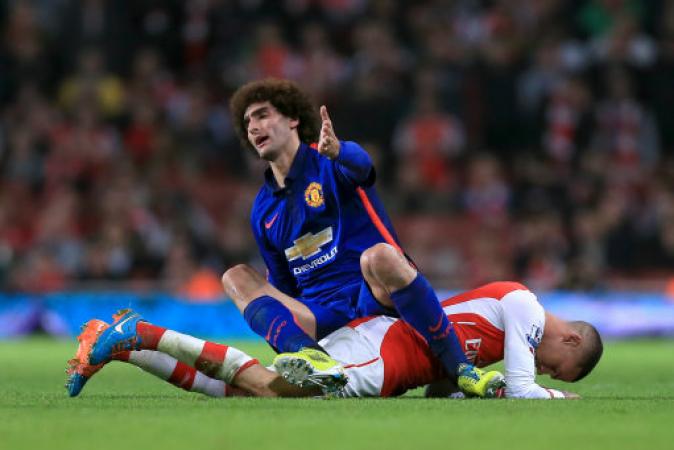 By Boris Mellor
November 22 2014
I am often accused of being a pesimist or a moaner, so having endured a torrid 98 minutes at the home of football and Arsenal failing to beat Man U yet again (its now only 1 win in 15 games) it was important to accentuate the positive. Not an easy thing to do so I asked around a rather depressed Bank of Friendship after the game, and did manage to unearth a few. So here goes:
Giroud scored on his first outing on return from his long term injury, and it was a cracker
It could have been 3-1 but Di Maria missed an open goal with the keeper beaten
Van Persie didn't score
Mike Dean very kindly didn't send Jack off
Thankfully Szczesny collided with the lightweight Gibbs and not Fellaini
Gibbs has never had two goals in one season before
We didn't hear the Guildford Fans until the 56th minute.
Gibbs was spared any embarrassment by the stadium announcer not stating who had scored the goal, leaving half the stadium puzzled as to who had scored
Not too many people were left to boo at the end so the players weren't too upset.
Jill Armstrong signed my Geordie Armstrong book.
You may be able to think of some yourself so please be my guest and add them.
View a Printer Friendly version of this Story.
Ten positives from today's defeat by Man United
Discussion started by Arsenal Times , 22/11/2014 21:51
Arsenal Times
22/11/2014 21:51
What do you think? You can have your say by posting below.
If you do not already have an account
Click here to Register
.
Edited 2 time(s). Last edit at 2014:11:26:10:28:30 by Padre Pio.
gunnersingh
22/11/2014 21:56
I think the only real Positive was the Ox. Don't worry, he'll be made a sub soon.
Merlion96
23/11/2014 00:57
11th REAL POSTIVE:

December First is only 8 days away.

Bye bye November Slump.
hippogunner
23/11/2014 06:12
I predicted the score correctly and now top the Prediction League.
Padre Pio
23/11/2014 09:57
My head said we would lose but stupidly my heart said we could get a draw.


---

"When we had to suffer the team is a lion because they suffer together." 4 July 2020 at Wolverhampton Wanderers
Arteta on his team's first away victory at a club above them in the Premiership since September 2015 at Leicester.
tigerline
23/11/2014 13:32
The only positive that matters is that we are one closer to the end of this wenger nightmare.
HappyGööner
23/11/2014 17:53
11th positive, as bad as we are, we're still above the spuds.
The Ox is starting to look a consistent threat and gave us genuine width.
SuperRob
23/11/2014 19:20
Quote:

HappyGööner
11th positive, as bad as we are, we're still above the spuds.
we're on the same points as them now. That's how bad we have been this season. They were bad and have gone backwards, but have still managed to gather the same number of points as us after a quarter of the season.
Sorry, only registered users may post in this forum.