Celine Dion's Magical End of Season ARSENAL Survey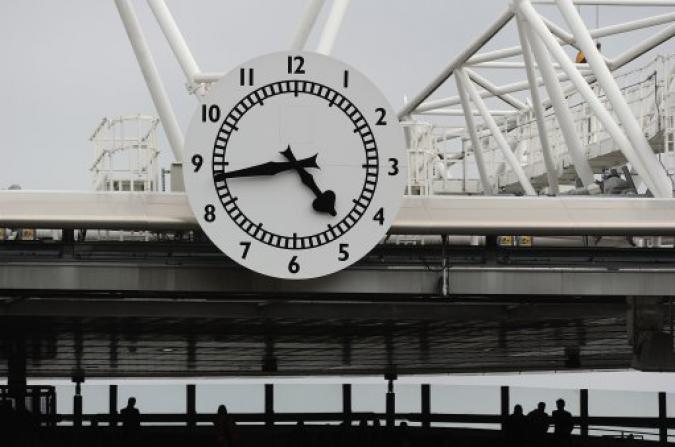 Times up?
By Celine Dion
May 27 2011
The magical Arsenal Times end of season ARSENAL SURVEY has returned, by popular demand (well, Flava kept nagging). I can still remember the fun I had last year sitting up till two in the morning trying to collate all your answers onto an excel spreadsheet. So it seemed only sensible to come back for more.
Is it really a whole year since we stumbled from the steaming wreckage of a promising season -flushed down the toilet by Arsene Wenger and his 'thrifty' approach to top class football? 'There's always next season' we said, in an effort to console each other. Well, this was the 'next season', and blow me down if it wasn't almost exactly the same. So why not channel your disillusionment into something vaguely purposeful and assist me in compiling a painstaking 'finger on the pulse' survey of the delights, disappointments, hopes, fears, and downright furious anger of the twenty or so AKBs', insomniacs, and drunks that make up this esteemed forum.
Take your time to analyse your responses to the questions below, then Personal Message them to Celine Dion and I will collate them into a set of results together with an amusing and witty write up. Closing date for your submissions is two weeks today. You don't have to answer all questions but it would help, obviously.
Best way to respond is obviously to cut and paste the entire survey into your response then add the answers underneath. By all means encourage your friends to enter, and spread the word via popular social networking websites. Don't do it too much though, or I will probably have to take time off work.


If you do not know how to send a personal message, click on my name and select the option 'send a personal message' from the resulting box. Paste your response into the message box. If you are having trouble getting it in order, paste the survey to a word doc. then paste back into the message box when you have finished.

Season 2010-2011

Arsenal top 3 goals of the season (best first)

1
2
3

Arsenal Player of the season


Arsenal Young player of the season (22 years or under)


Most disappointing player of the season



Best Goal against


Match of the season


Best Home atmosphere of the season


Away fans of the season

Away trip of the season (for those that go)


Assist of the season


Wengers' biggest achievement of the season


Wengers biggest error of the season



Any more of Wengers big errors this season that you wish to list.

Non Arsenal section


Best non Arsenal achievement of the season


Best non Arsenal match of the season


Non Arsenal Player of the season



Young non Arsenal Player of the season

Most hated player of the season


Most hated manager of the season


Tw*t of the season


The Future


Player we least want to leave the club



Player we most want to leave the club (feel free to list as many as you like, each vote will count as one)


I think Wenger should go this summer

A) Yes
B) No
C) He should have left years ago


Top three players we would most like Arsenal to buy
(most wanted player first)

1
2
3

Spurs player we would most like to see in our team


Manager we would like to see at Arsenal if Wenger leaves


If I was stuck in a lift with Arsene Wenger for 5 minutes this is what I would say/do to him


The club


Biggest single thing Arsenal could do to improve atmosphere in the ground


Select which option best describes your view of the current board

a) They are committed to the success of the club and delivering a secure future for Arsenal, and are going the right way about doing it.

b) They set out with the right vision but have badly lost their way

c) 'SPEND SOME F*CKING MONEY'


I would be in favour of an Abramovic style 'sugar daddy' purchasing the club and spending millions on players

a) Yes, I don't care who owns us as long as it puts some cups on the table

b) Ooooh I just don't know
c) No, I believe that the board are a benevolent organisation dedicated to making Arsenal the best team in the world via 'correct' financial methods.



Do you feel ticket prices on the whole are fair at the Emirates for the level of football/playing staff

a) Yes
b) No
c) F*CK OFF



It will only be acceptable for Arsenal to spend the following on transfers this summer

a) 0 to 10 million pound – they shouldn't have to spend anything
b) 10 million to 25 million pound – time to dip our hands in our pockets
c) 25 million to 50 million – time to spend like the others
d) 50 million +, - time to go mad.


If every single player at Arsenal left/was sold and we had to start again, I would be
a) Devastated
b) Mildly concerned
c) Quite pleased actually
What is your view of the term 'AKB'
A bit about you


How long have you supported Arsenal


Country of residence


Favourite Arsenal player or all time


Favourite other team
Next year I plan to go to watch Arsenal
a) MORE
b) LESS
c) THE SAME
d) I NEVER GO IN THE FIRST PLACE


Tie Breaker - In a full scale world war between fruit and vegetables which side would win and why?
Second Tie Breaker – If the world was to end in twenty minutes I would....
PM to Celine or email to arsenaltimes@blueyonder.co.uk