Can the Gunners find their scoring touch?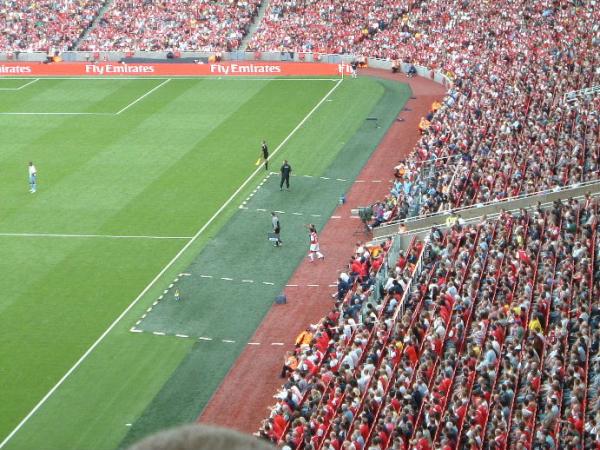 Walcott?
By AJ The Gunner
March 4 2007
What is really missing from the Gunners football this season? It is very easy to point to our defence as our bane this season even though it has improved. There is one crucial aspect in our game which I feel Arsenal have lacked greatly this season, which if present would have made a very big difference.
The brutal truth is that you don't get points or trophies for just playing fantastic football. What I am saying is that Arsenal play great passing football, but right now don't score enough goals to make the difference. We used to be the best attacking team that scored great goals. Our past record has shown that we have beeen found wanting in this department.We used to kill off the oppostion mostly in the first half with enough goals to snuff out any chance of a come back so that by the second half we settled into our possession passing game while waiting for the final whistle.
There were seasons when Henry was on fire, Pires was still around to bang in the goals, while Freddie was blasting the nets. Of course we had the Dutch Master then, whose vision always provided the defense splitting passes that always resulted in goals.Back then our possession always translated into enough goals to secure the vital three points needed.
The difference this season is that the team always have more possession but have failed to convert it into the goals needed to win games and teams have punished us for it times without number. To say we have not been undermined by our inabilty to take our chances would be an under statement.
Right now it appears Wenger has a squad full of players who don't score enough goals. Fabregas and Hleb don't score enough considering how awesome they have been this season, so far, especially Helb.
Rosicky does not score enough even though I believe he could score more if he was playing in his prefered central position. As for Henry, I canít put a finger to what is actually plaguing him this season.Granted his constant injuries hasnít helped his cause this season but his form has been flaky. Ljungberg is not the same as before.On the other hand Gilberto has scored seven, but we donít really expect him to be banging in goals every other game. Van Persie who is the most consistent goal scorer, but as luck would have it, is out with a broken metatarsal and may be out till April. Adebayor has worked very hard this season but should be scoring more than he has. I could go on but the point has been made.I am not saying these players wonít improve by next season, after all Drogba did not score that much in his first two seasons, but he is on fire this season so all hope is not lost.
The real pressing issue now is; how can Arsenal start scoring more goals? If this is not addressed by Wenger this season, the Gunners may find it difficult getting past PSV; and The Champions league is the only hope of a trophy left. Letís face it we need to score at least three goals to safely get through, in case PSV pull off an away goal.
WE canít keep pointing out defensive blunders while ignoring our blunt attack as we donít have any excuse for not taking any of the numerious chances we have created in almost every game we have played this season.The game against CSKA at the Emirates was when the warning bells started ringing for me. Arsenal have only themselves to blame an must accept that , pull together and find a way to re-ignite their scoring touch which made us an attacking force before.
For a large selection of Arsenal Books, DVDs, PC games AND MORE at Bargain Prices visit the Arsenal Times Store CLICK HERE
Discuss these issues in forum at the bottom of this page