Chambers MotM Ratings v Leicester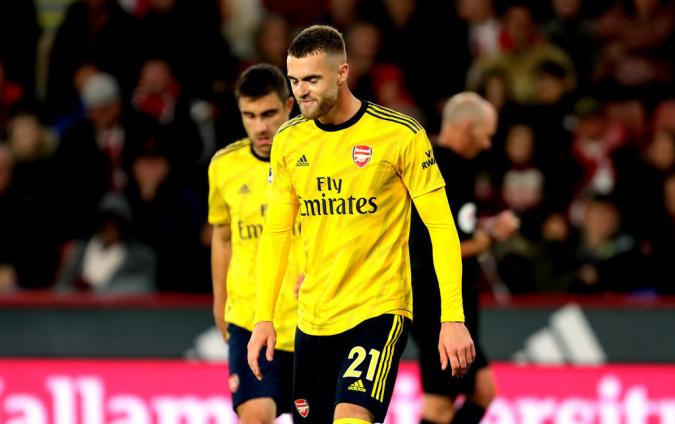 By Merlion
November 10 2019
Three Four Three was the way to go but unfortunately, we do not have a Ndidi-Telemans to hold the centre and allow unfetted counter-attacking football to flow with Ozil, Auba and Laca with Kolasinac and Bellerin down the flank.
All our counter-attacks broke down immediately with Torreira, when receiving the ball, instantly bowled over and Guendouzi, slows down plays with too many touches and just does not have two football cells to rub together to spot a forward passing channel; or has the guile to create a split-second of clear opening to pass the ball.

Torreira is more attacking oriented when he passed the ball quickly and move to receive the return ball as necessary. But Guedouzi? He prefers to drive into a wall of 3 or 4 players and promptly lost the ball.

There is no cohesion in Front-3 and all playing as strangers and have not developed an understanding with each other movements and preferences. What a sheer waste of talents under a dumbfcuk of a manager.

Bluntly, we dodged the bullet.
if it was a dry pitch, instead of a windy, wet and heavy pitch with balls skidding off a sleek surface, Leicester City will have a cricket score against us with the quick counter-attacking and direct football of 2 to 3 passes to have a clear shot at our goal.

More work needed to develop this 3-4-3 which transform to 4-2-4 to overwhelm a disorganised opponent during quick counter-attacks and remains defensive solid in 2-3-5 when under the cosh in our box.

If not for Chambers' momentarily s lack of focus, Bellerin out ofposition as RB, or even Leno's lack of quick anticipation of a near goal shot, you will never know if the score could have remained 0-0 on 80th minute.
RATINGS :
6 - Leno - solid and saved a few point-blank shots. Can get down faster for that near-post Vardy's goal. Unsighted for the 2nd goal. One of the reasons why the score was kept to 0-2.

5 - Bellerin - still rusty. Poor in tracking back (lack that Clichy Engine) and his perennial inaccurate crosses. DO not blame Chambers when he is always facing 1-on-1 with Bellerin caught high up.

7 - Chambers - MOTM, good anticipation and interceptions and develop tactical awareness when playing as DCM and was able to break up plays. Just that his momentarily lack of concentration allows Vardy to ghost behind him to score. But there again, where was the RB?

6 - Luiz - one of his better game and he shows his attacking attributes by some well-distributed long passes. But his defensive nous was questionable as time and time again, Leicester players cut passed him like a hot knife through butter. Was Luiz or Chambers organising the Back-4?

4 - Holding - Championship level player. Nothing more to say.

4 - Kolasinac - can't really rate him as I was trying to find him on the pitch.

4 - Torreira - poor, like a bewildered youngster on the pitch, with the ball zipping passed him and burly players bowling him over like ten pins. He still does not has the physique and upper body strength like the Poison Dwarf to command the midfield. If he is smart, he should quickly return to Italy in January before his stock fell further. Torreira is not suitable for English Football.

5 - Guendouzi - he was found out today, one of the main reason why we cannot execute counter-attacking football. He was hiding behind Xhaka who we blamed for slowing down plays. But without Xhaka as a shield, he is a ball-hound, took too many touches and just does not have the vision and football brain to spot a passing channel and that peripheral vision that at a glimpse, the whole tactical situation on the pitch is unravelled for him to spot a passing channel in a split-second. oops, sorry. I wa talking about a 17-year-old Fabregas.

6 - Ozil - his link-up plays, holding up of balls and spotting a passing channel where the all the previous midfield players missed them. But he is mentally fragile and gave up the ghost when the game was lost and he just rollover and died on the pitch. How to motivate this kind of character who were used to be surrounded by marquee players like Ronaldo, Benzema, De Maria, Alonso, Khedira, et al? One extra point for his link-up plays, otherwise, useless as an udder on a bull. Best for all parties that he moved on to MLS in January 2020.

6 - Auba - just not clinical enough and again, his holding up of the ball and link-up plays are just not good enough; perhaps due to poor coaching? But his performance at right flank was a revelation, beating his man time and time again, but alas, the final products led him down. Did we have a Captain on the pitch? I did not see it. barring that off-side goal, how many shots on target?

5 - Lacazette - really rusty and off the pace. All hustle and bustle, but no end products. Did he made a shot on target? I can't make hair nor hare out of him on what he is doing on the pitch.

4 - Pepe - what was he doing on the pitch?

4 - Willock - just running and running and more running.
More discussion on ratings here
---