In Memory of Jose Reyes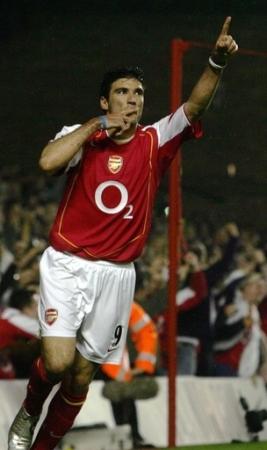 By Boris Mellor
June 1 2019
In Memory of Jose Reyes who has died at the tragic age of 35 Arsenal Times reprints an article from happier times when he scored the only goal to beat Spurs and was AT Man of the Match.
True Arsenal had more shots off target, but Spurs, at times, had more possession. But it was a rumbustious game played with commitment by both side, and both lots of fans were on the edge, until the very last second, as Spurs fought for a draw.
It could have been very different if Reyes had not missed an open goal after only fifty seconds. Van Persie played a ball to Reyes with all the vision of a Bergkamp, Reyes rounded the goalkeeper to put the goal in his sights. With the hard work done he put the ball wide. Perhaps it was the angle, but he looked downcast.
I must admit I feared for him at that moment, he looked lost and may have gone to pieces. However on the 22nd minute came redemption, Fabregas split the Tottenham with a most beautiful through ball. Reyes surfed with it towards the goal, as Robinson came out he unleashed a thunderbolt at cruise missile height, just a couple feet above the grass, the Spurs goalie had no chance, and it nestled into the far corner. Now Arsenal were on top, making several chances but none on target. Van Persie was unlucky with a lob that cleared the bar by a hairsbreadth. At times the football was wonderful, and at others missed passes were infuriating.
As the teams went in half time 1-0 was hardly a true reflection of the game.
However in the second half Spurs got a strong hold of midfield, perhaps Wednesday's exertions were taking their toll of the Gunners. Now Spurs had chances but the defence was very different to the one they faced earlier in the season. Indeed Senderos kept Kanoute under control for such long spells that he became increasingly frustrated, as did Defoe. Seventeen minutes from the end Wenger decided the team needed freshening up, bringing on Bergkamp and Edu for Fabregas and Van Persie. Immediately Arsenal stepped up a gear. But Jol had brought on Mido, and later Keane, and once again Spurs began to make chances. The Arsenal crowd held its breath as Keane headed wide from close in, But Arsenal were also dangerous on the break.
Reyes was taken off with minutes to go for a standing ovation, truly Man of the Match, even though he had missed a couple more good chances, it was his overall play that merited it. But his replacement Aliadiere has little time to make a difference as the crowd whistled for full time.
Keane made one more chance, tussling with Cole on the goal line the Arsenal player fell over as chesting the ball out. Meanwhile Keane tangled up with him, the ball rolled on to Cole's arm. Keane wanted a penalty, but had Cole touched the ball after it was out? How could Cole avoid the ball as he scrambled on the ground with Keane hacking at the ball? Had Keane pushed Cole over? Who cares, Old Mother Riley owes us one, thanks for standing up to Keane's ranting Mike.
So Arsenal had failed to draw, leaving Chelsea to win their own title, and Man U in third place. And it was the first time Arsenal has done the double over Tottenham since 1989. If Chelsea fail to win on Saturday the race could last a little longer.
Not a bad night.
25 April 2005
Arsenal 1 Spurs 0
Reyes 1
View a Printer Friendly version of this Story.
In Memory of Jose Reyes
Discussion started by Arsenal Times , 01/06/2019 12:43
Arsenal Times
01/06/2019 12:43
What do you think? You can have your say by posting below.
If you do not already have an account
Click here to Register
.
Edited 1 time(s). Last edit at 2019:06:13:17:31:36 by Padre Pio.
Padre Pio
01/06/2019 22:24
Such a tragedy, he was coming over to join the coaching staff this summer


---

"When we had to suffer the team is a lion because they suffer together." 4 July 2020 at Wolverhampton Wanderers
Arteta on his team's first away victory at a club above them in the Premiership since September 2015 at Leicester.
AJ The Gunner
05/06/2019 17:35
So sad. Rip Reyes 😭


---

Wenger Is Gone Now So Can We Be Allowed To Breathe Now???
Sorry, only registered users may post in this forum.