A Tribute To Van Persie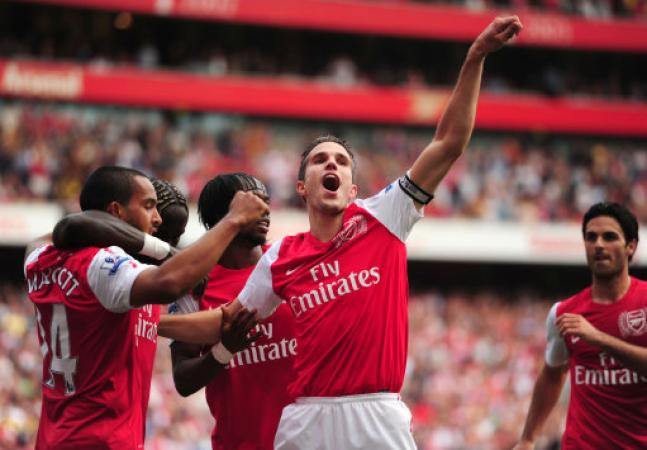 By Shane
May 27 2019
What a player, lads, but should we be paying tribute to him as he retires. Shane thinks there is a strong case for it, and what curmudgeon could fail to smile as they recall him smashing his penalty into the net against Man U in the Cup Fina, the first pen he had ever taken at the top level. Anyway over to Shane.
RVP brought the curtain down on his career there the other week, after scoring 240 times in 485 games for our good selves, Man United and the Netherlands. What a player.

I loved his technique, his unique idiosyncrasies like the way he ran, or passed, or shot. He played like an alien and not because he's out of this world or something silly, but because he has these limp extraterrestrial hands which sort of hinge backwards so that his wrist bone is often facing the turf when he shoots, or mugs someone off with a bit of skill that worked when he was a child and still does, because he's that good at executing it. He treats the ball like he gave birth to it, much in the same way Bergkamp did.

In football they say don't lean back too far when shooting, because it makes it difficult to control the trajectory. The further you lean backwards, the higher it goes, and yet I swear we've seen him score free kicks with a body shape like Neo when he's dodging bullets. I remember Wenger pointing this out before, not the bit about The Matrix, but the way Van Persie can lean back limbo-like and maintain control over the flight of the ball.

And that volley at Charlton? I've watched this goal about 50 times just now and I still can't really understand how he managed it. If you pause it at the point of impact, he's in the air and both of his feet are WAIST-F*CKING-HIGH. There's no standing leg, which means it isn't even a volley, is it? He sort of jumps into Eboue's cross.

This was a Saturday 3pm game. I remember watching Live Score on BBC with my friend and we couldn't wait to see it because of how Martin Keown or Garth Crooks or whoever it was reacted to it.

Obviously injuries crippled him for a few years, but I think he came back in around November of 2010 or so, which was good because Chamakh had turned as sh*t as his hair, and I really don't think he stopped scoring until the day he left.

Eighteen months of goals, consistently. Every week. Bang-bang-bang-bang. I mean, we're talking Ronaldo and Messi numbers in the same time period, but his game had sort of been developed. He could still score a worldie, but they'd often be darting runs to the near post and flicked finishes with a right foot.

On the surface they looked like easier goals, which is technically true I guess, but the way he could chameleon himself into being a sort of fox-in-the-box striker, and such a fine one and so quickly, was an example of how versatile and well-rounded he was as a goalscorer.

He had much more strings to his bow than Henry for instance, which is why he finished his career as a midfielder. Once his legs went, so did the electricity which made him Thierry Henry, whereas Van Persie, at 35, has just come off an 18-goal season.

Maybe he's a Judas. Maybe he's not. Who cares at this point. What we can all probably agree on is that he's one of the most gifted footballers we'll see at Arsenal.

What a player.