Wenger and the Board at Loggerheads Exclusive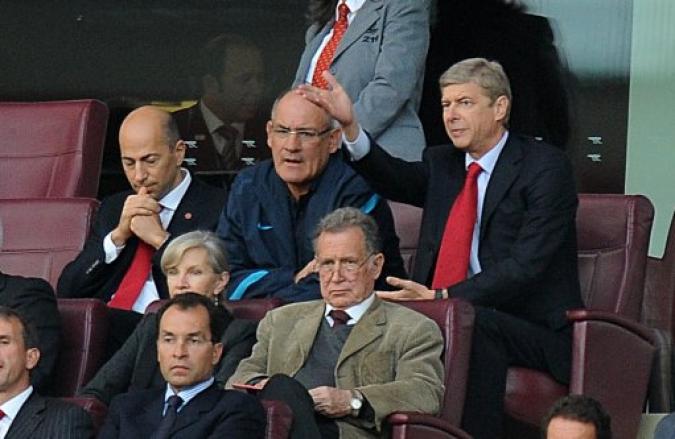 At Loggerheads?
By Eduardo
August 21 2011
According to an unnamed source Arsene Wenger is at loggerheads with the Board over how the transfer budget should be spent. I am not at liberty to name that source, but I believe the information I received explains the current impasse at Arsenal. Before I explain what the differences between them are, let me make it clear that there is a substantial transfer budget that has to not only cover transfer fees but wages of incoming players and contract improvements of those already here.
The Board and Wenger are both in agreement that , to avoid the situation the club has encountered with Clichy and Nasri this summer, star men like Van Persie and Vermaelen and others with only two years left on their contract need to be offered new long term contracts with big pay rises.
And this is where the first difference of opinion has arisen between manager and club, The Board believe that offering to rise a players wage from £60K - £70K a week to £90K or £100K is more than enough, but Wenger believes that this is not enough, when City, Utd and Chelsea are paying their best(£180K - £250K), and that if we want to keep our best players we have to go to the next level, he wants the pay scale risen to £150K for our best.
This brings us neatly on to the next bone of contention between manager and club, the calibre of signing we can make. Both Wenger and the Board agree that to even maintain a top four spot, let alone win the title, several new signings are required.
The Board are willing to pay big transfer fees, as is Wenger (he is not lying when he says he would pay £30M - £40M), it is also where the difference of opinion comes. The Board would willingly meet the transfer fee, but will not meet the sort of wage demands a £30M signings asks for.
Wenger had a four pronged squad plan this summer,
Keep our best players

Buy in top level players to improve the team

Sign young players with big potential

Promote from within
Wenger has done parts 3 and 4. He wanted to do part 1 and 2 by Nasri being offered a massive contract so he would stay, and he hoped to persuade Cesc to stay one more year, with not only a new contract but with the calibre of player he signed. Wenger wanted Mata and Benzema, he still wants Hazzard, wages more than anything else are ruling out Mata and Benzema.
The Board had no problem meeting the Juan Mata transfer fee, but once Chelsea let it be known to his agents what they would offer, it blew Arsenal's contract offer out of the water. We ran into the same situation with Jones and Utd.
People ask why have Arsenal not signed Cahill, Dann or Samba etc, well its simple really, Wenger wants better players, the Board want him to sign the above level of player, as it sits with their wage scale, Arsene wants the next level up, a Subotic, a Hummells, but they come with not only high transfer fees but with massive wage demands.
Wenger would rather not sign a player at all, than sign someone for a big fee who he considers no better than what we have, the board have asked him to reconsider this stance, and that is why Cahill and Dann have been scouted this late in the window, Arsene sees them as not as good as Koscielny, and thinks it is the wrong way to use his budget, he wants better quality for the first 11, the board just want him to make signings to appease the fans.
Wenger had a major discussion with Kroenke and the Board on Members day. He was told in no uncertain terms that Nasri would have to be sold if he did not sign a contract, and between them they came to the decision to let Cesc go for less than his worth. But Wenger fought his corner, and made it clear the sort of player he wants and that our star men have to be given contract that will keep them, as you can not build if every year there is doubts who are staying and who are going. Arsene also reiterated his view that we need top quality players, not just one as good or possibly slightly better, and that these players come at a premium cost and that the club has to go up a level not only on fees but on wages.
Arsene Wenger is a company man, and will not come out with any of this, while under contract, no matter how much flack he takes, and that is why his comments in the media, since the Members day meeting, have been more for the ears of Stan and Ivan than for the fans, he is warning them. He wont' walk, and it will cost the club dear to sack him, and even more to shut him up if he is sacked, if they thought the deal David Dein struck with Bruce Rioch to keep him quiet was expensive, they will be blown away by what it will take to buy Arsene Wenger's silence.
Who wins this battle of wills may define not only what happens to Arsenal's season, but for many seasons to come.