Arsenal How the hell did we get to here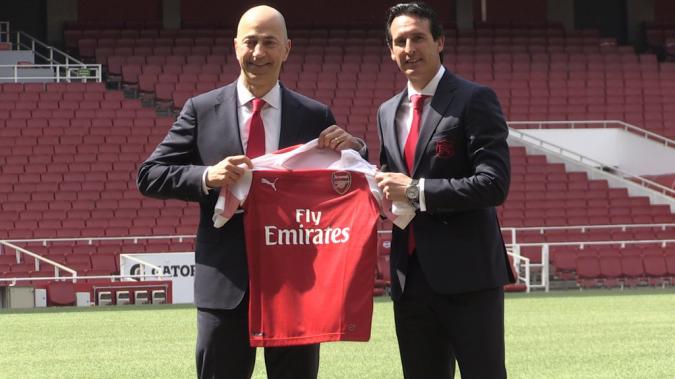 By Jonny Bravo
June 24 2020
Some random thoughts by Jonny Bravo on how Arsenal have got to a situation where Arteta is struggling to turnaround a middle of the table team:
Gazidis spouted about "values" and "custodianship" for 10 years, collecting his inflated bonuses for doing tap all, hiding behind Wenger and joining every football administration committee he could in order to work his way up the slippery football ladder. He and Wenger promised jam tomorrow when Financial Fair Play came into force. Success was always just around the corner.

He was Stan's man, the buck should have stopped with him, but he and our absentee landlord were happy to let Wenger be the public face of the club so long as we kept ticking over and the share price kept rising.

When the deterioration in Wenger's powers began to accelerate at an alarming rate, the one moment when we needed somebody with knowledge of the game to plan for Wenger's succession was needed, Gazidis made a complete hash of it.

Instead he invented unworkable divisions of labour within the clubs football administration, where Sven's and Raul's roles seemed now have the potential to overlap and grate, rather than complimenting each other.

Rather than being the glue that bound the new footballing hierarchy together and led the club forward, Gazidis jumped ship at the first chance he got. Which tells you all you need to know about his faith in what the future had in store for us.

Rather than stepping out from Wenger's shadow, being the "catalyst for change", leading the transition and taking responsibility for the clubs direction, Gazidis either bottled it, or saw what Stan's vision for the club was and did not want the heat of being the public face of it. Perhaps he feared life up front with no Wenger to hide behind.

The emergence of "Con" Raul into the vacuum left behind by Gazidis is just as symptom of a lack of football knowledge and direction at the very top of this club. So too is getting into bed with grubby agents such as Kia and Co. The same thing happened at United when Fergy and David Gill left, fortunately for them their turnover is so high that they can absorb poor signings and being fleeced by agents whereas Arsenal can't.

For years the laissez-faire approach off the pitch had been matched by the same attitude on it, only when the slide in performances began to gather momentum knee jerk decisions were made both in terms of the playing staff, and installing a half-baked football management structure.
Things are going to get a lot more turbulent before the slide can be even arrested, and you feel that Arteta will be another sacrificial lamb along that slide so that Raul can hang onto his position of power.
View a Printer Friendly version of this Story.
Arsenal How the hell did we get to here
Discussion started by Arsenal Times , 24/06/2020 17:54
Arsenal Times
24/06/2020 17:54
What do you think? You can have your say by posting below.
If you do not already have an account
Click here to Register
.
Edited 2 time(s). Last edit at 2020:06:28:12:30:18 by Padre Pio.
Merlion96
24/06/2020 23:00
It is only Silent Stan wallet open up by Josh.
I believe the turning point came about when Josh was appointed to run Arsenal FC by his daddy.


---

"The transition from defence to build-up must be executed very quickly. The team tactical manpower in the centre of the field(central defenders, midfielders and striker) is of great importance."
Renus Michels: "Team Building - The Road to Success"
AJ The Gunner
26/06/2020 10:25
So true. We haven't even experienced the worst and it's this bad.


---

Wenger Is Gone Now So Can We Be Allowed To Breathe Now???
Bergmars
26/06/2020 10:32
Read Mislintatterd in the Sun blames Sunnywelly


---

Under new managment
Sorry, only registered users may post in this forum.