Over Optimistic Missed Koscielny Scoring Power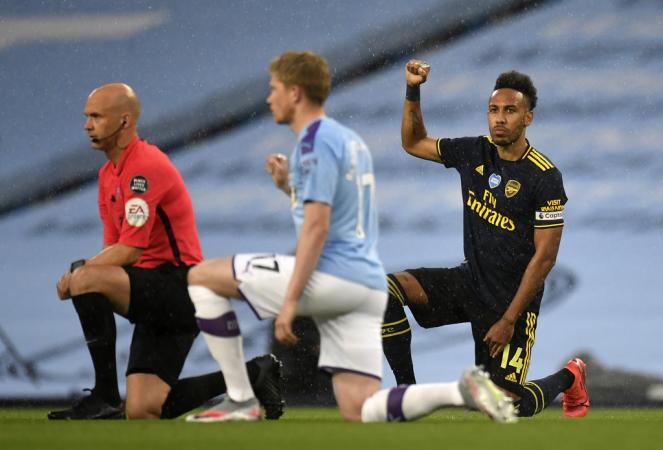 By Boris Mellor
June 18 2020
I always thought they should have postponed this season and given Liverpool a three quarter sized trophy, after all it was their own fault they lost at Watford. Anyway it wasn't , so with Man City as our next game, the only hope of preserving our unbeaten since December record was a decent draw.
Anyway I threw pessimism to the wind and predicted we would only lose 3-1, well after all Mr Emery had managed it 2018-19, but then he had the goal scoring power, and defending of Koscielny. However I had made my prediction before seeing the line-up, and no I am not discussing Ozil, I have supported Arsenal for at least 65 years and I am bored of hearing about Ozil.
No I am discussing the overall line up, the original back 4 looked reasonable, Mari and Tierney, albeit missing match practice, seemed a good call. But a midfield and forward line with Xhaka and Aubameyang the only heavyweights and Saka on his weak footed side didn't augur well.
Subs law
Whatever the merits of the line-up the plan fell apart with injuries to Xhaka and Mari, it also meant that effectively Arteta was now left with only one more sub window. Now Arteta was left with no choice but bring on Luiz, who almost immediately proved why he had been dropped. Enough said about him, apart from that it is rumoured that Brighton are appealing against his red card.
Abject as it can get
What else can be said? From an Arsenal point of view nothing – 3 shots none on target, appalling defending apart from Leno, who is still in running for the Peter Cech Goal Keeper Non Saved Penalties Of The Year Award. Auba looked disinterested, Saka out of his depth, and the midfield non-existent, apart from that all went to plan.
Medium is the Message?
First I tried Arsenal.com who had strangely decided to sit in a soundproof box and commentate in complete silence. That was weird so I moved on to BBC Radio, they had gone for the Swimming Baths Gala sound track. That weird echoing sound made by 50 committed parents at the local Olympic Pool urging on their offspring. I could even smell the chlorine, so I moved on to Sky Sports with soundtrack. In this imaginary world Arsenal fans carried on singing after each goal went in.
It was so real I could swear I saw us doing fire drill after their third goal. Meanwhile they did the Poznan. Joking, but the cheery sound track carried on through severe injuries. Probably Dad had got control of the sound deck, eventually seized from him, polite clapping could be heard as player stretchered off.
So real I could almost smell that heady whiff of Burgers and Police Horse manure. So what was the message? That football behind closed doors is no substitute for the real thing.
Any Positives?
The Black Lives Matter demonstration by both teams and officials taking the knee at the start was heartening and impressive. Trump and Johnson will be pleased that this was seen World Wide, including the USA, probably looking for ways to ban it right now
Well we probably won't see Luiz again for a very long time. And that some heavyweights must now be called up.
View a Printer Friendly version of this Story.
Over Optimistic Missed Koscielny Scoring Power
Discussion started by Arsenal Times , 18/06/2020 10:37
Arsenal Times
18/06/2020 10:37
What do you think? You can have your say by posting below.
If you do not already have an account
Click here to Register
.
Edited 1 time(s). Last edit at 2020:06:20:12:14:44 by Padre Pio.
Boston Gooner
18/06/2020 10:59
Subs law.
Apparently we could have made change or changes at half time (for some reason we didn't) and still another change 2nd half so Martin Tyler said.
So making 4 slots instead of 3 slots.
It just wasn't football as we know it. No crowd no excitement very dull.
Think a lot of people will not bother watching after a while.
---
Edited 1 time(s). Last edit at 2020:06:18:11:32:00 by Boston Gooner.
CazOnARola
18/06/2020 12:33
I forgot we had the game. It will take a while before i week watch a full game again
Boston Gooner
18/06/2020 13:05
Quote:

CazOnARola
I forgot we had the game. It will take a while before i week watch a full game again
You didn't miss a thing.
---
AJ The Gunner
18/06/2020 18:23
Nothing has changed except that Covid-19 delayed the inevitable. We SIMPLY CAN'T expect anything from what's not good enough. It's either we change it or we can keep FOOLING ourselves


---

Wenger Is Gone Now So Can We Be Allowed To Breathe Now???
Merlion96
18/06/2020 23:30
C'mon guys.
It is soccer, it is Arsenal, and it is the excitement of watching both of them, come what may.
Hope is the last creature out of Pandora's Box.


---

"The transition from defence to build-up must be executed very quickly. The team tactical manpower in the centre of the field(central defenders, midfielders and striker) is of great importance."
Renus Michels: "Team Building - The Road to Success"
Padre Pio
19/06/2020 08:39
Like I said Merl I wasnt expecting too much, just one goal by us would have been nice. Its a match we lose every year, and that includes the later years of Wenger. Their goals were hardling dazzling a Luiz assist and a pen given away by an idiot. I think the lid was shut before hope got out on that day.
But Brighton here we come, Im predicting we win.


---

"When we had to suffer the team is a lion because they suffer together." 4 July 2020 at Wolverhampton Wanderers
Arteta on his team's first away victory at a club above them in the Premiership since September 2015 at Leicester.
Sorry, only registered users may post in this forum.