Saka MotM Player Ratings as Arsenal Respond Well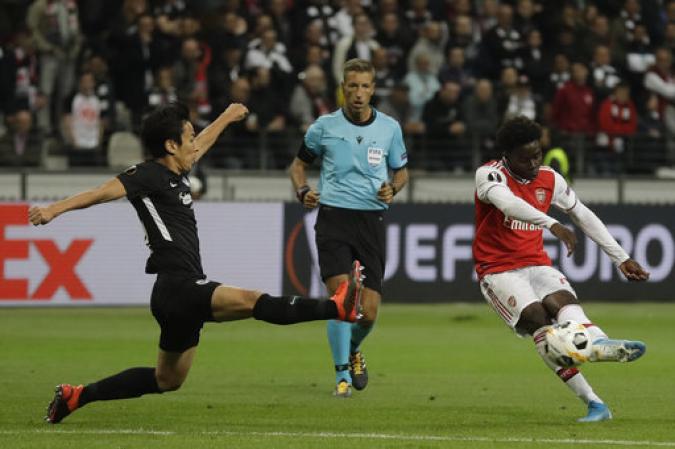 By Matt Sadler
September 19 2019
Excellent response to Sunday's disaster. Really enjoyable, open game. No idea how the Gunners kept a clean sheet but not complaining. future could well be bright. Very happy for Martinez as well, who has had to wait a while for his chance, but didn't put a foot, or hand, wrong.
One concern is the midfield, though. Particularly in the first half at times we found Xhaka on his own against two or three, with Torreira not exactly being used how I'm sure many of us would use him.
Ratings:
Martinez - 8. Faultless handling all night and he kicked it long. Despite all the shots never felt like he was going to concede.

Chambers - 6. Had it tough at times against Kostic particularly in the first half, but did well overall.
Mustafi - 7. Surprisingly solid and prevented a goal with an excellent block.
Luiz - 7. Did okay. Passed well.
Kolasinac - 6. Okay but as per looked more comfortable going forward.

Torreira - 6. Didn't like how we were using him earlier on as he appeared to have licence to push on and get forward.
Xhaka - 6. Not a bad performance overall but was left 3v1 in midfield so many times, especially in the first half.
Wilock - 7. Not the best start but grew into the game showing great energy and forward runs. Missed a good chance but scored later via a deflection. Can become a big player for us.

Smith Rowe - 6. Caught in possession a few times and missed a good chance, but made good runs with the ball. First senior appearance after a long injury lay-off.
Aubameyang - 7. Worked hard up front on his own. Missed a sitter but finished well right at the end.
Saka - 9. One goal, two assists, carried the ball excellently and showed strength. A star is born. Needs to stay with the first team now.

Subs:

Pepe - 5. Gave the defence something to think about.
Ceballos 5. Okay but took an awful free kick.
Maitland-Niles - N/A. Not on long.



View a Printer Friendly version of this Story.
Saka MotM Player Ratings as Arsenal Respond Well
Discussion started by Arsenal Times , 19/09/2019 21:04
Arsenal Times
19/09/2019 21:04
What do you think? You can have your say by posting below.
If you do not already have an account
Click here to Register
.
Edited 1 time(s). Last edit at 2019:09:22:16:07:55 by Padre Pio.
Merlion96
19/09/2019 21:31
Watford has 31 shots at goal.
Frankfurt has 24 shots at goal.

Something not right with shots raining like confetti at our goal, and all fingers are pointing at Emery now.


---

Nihilism: 'An examination of the meaning of meaninglessness: why it matters that nothing matters'
younghansolo
19/09/2019 23:24
As great as it is to see auba keep scoring. I wish he had passed to Pepe. He needs a goal and it would have been a tap in.
CazOnARola
20/09/2019 04:11
Quote:

younghansolo
As great as it is to see auba keep scoring. I wish he had passed to Pepe. He needs a goal and it would have been a tap in.
Yep exactly. Pepe needs a goal so that he can relax. I still see that he is trying things which his team mates don't instance and makes sudden bursts for a give and go which never comes.
Ceballos is better as a 8. To me he is no pirlo, when it comes to the final ball and actually creating a chance, he seems to either shy away from it by taking the easy pass or completely miss it. Currently we only have ozil that will be able to create chances for the forwards otherwise we have just rely on counter attacks
MattySadler
20/09/2019 07:38
Concerned about Torreira's performance levels and the way Emery is using him. He's a shadow of the player we saw during the first half of last season, and after all that return to Italy talk at the start of the summer I wonder if something else is going on...

So positive about the youngsters though. Saka doesn't look out of place amongst "adults" at all. We really lacked that sort of skill and direct ball carrying last season and the left wing spot is right there for the taking.

Willock is looking like he can become such a completely box-to-box midfielder for us. That move where he drove from one box to the other with Frankfurt players just bouncing off him before playing Aubameyang in was so, so good.

They won't get it right all the time but it's so worth giving these talents every opportunity.
SuperRob
20/09/2019 09:08
Way too generous to Luiz and Xhaka. Defensively they are so poor. Would rather see a sokratis and chambers pairing at the back and a Guendouzi and Torreira pairing in midfield behind Ceballos.

This 433 doesn't work, it leaves us way too open in midfield. Partly that's because our wingers are so lazy in defending. Thats probably the most worrying thing about pepe for me at this point. The goals will come if he keeps trying things but the lack of effort from him going the other way is unacceptable.

And because they aren't defending it leaves the outside midfielders with too much ground to cover and that leaves the centre of the pitch exposed and Xhaka and the centre backs aren't good enough to cope with it, all they do is back off until the opposition is in our box without putting any pressure on the player with the ball.
I'd agree with these ratings generally. If anything I might give Xhaka a point more as he was more dynamic than usual.

We did well but I would still like to see at least one of Ceballos or Ozil on the pitch to give us more composure/control. We've got some decent midfield options but somehow can't get it set up to control possession or protect the defence. Willock is like Ramsey in that he leaves space and loses the ball, increasing our vulnerability. Last night we got away with it a bit but to blame the defenders for shots allowed isn't fair.
CazOnARola
21/09/2019 07:41
Xhaka was better then usual but he did give away the ball as early as before the 5th min straight to frankfurt😁. Frankfurt were poor. And to your point about stability, emery himself has never allowed for any continuity to who plays in midfield. I don't like the role Torreira s been giving, he doesn't have the leg size to go up and down the pitch, he's better used liks busquets as his positional sense is better than xhaka. Granted he is not always in great positions to receive like xhaka, but we have guendouzi for that. But we are sticking with xhaka. Just to add Torreira won a lot of balls with steals/tackles in the first half. We need more of that. Willock of course doesn't have the defensive nous, and the less said about xhaka the better.



Edited 1 time(s). Last edit at 2019:09:21:17:18:48 by CazOnARola.
AJ The Gunner
21/09/2019 15:53
Quote:

Merlion96
Watford has 31 shots at goal.
Frankfurt has 24 shots at goal.

Something not right with shots raining like confetti at our goal, and all fingers are pointing at Emery now.
That is my concern as well. If we allow a more clinical team that much shots on goal, it will turn into a basket ball game.
---
Wenger Is Gone Now So Can We Be Allowed To Breathe Now???
Sorry, only registered users may post in this forum.