Bobby and the Dead Spurs Parrot Sketch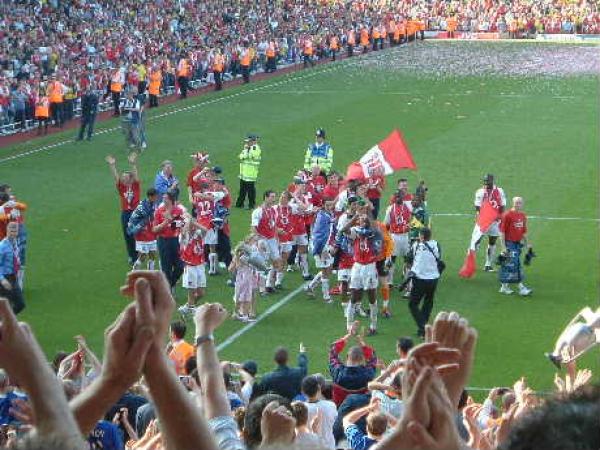 Celebrate
By Simon
May 25 2006
A contributor to Arsenal Times (Simon) often dines out on this story. His mate swears (he swears quite a lot being a Tott)that it really happened. So here goes:
A good mate of mine has, amongst other things, a mechanical parrot on a bike (he's also got a mechanical cat who plays the piano & a Rabbi on a bike called Front Wheel Sid!), which he accepts bookings for at parties, kids birthday parties, weddings, bar mitzvahs, openings etc.

The way it works is that my mate stands out of sight behind a screen and uses a microphone which is attached to the parrot as it goes around on its bike. The parrot's lips move in sync with the words, my mate speaks into the microphone and the words come out of its mouth, so it looks like the parrot is really talking. I've seen people (adults & children) stand there for ages looking well confused & even have conversations with the parrot without a clue to what's really going on.

Anyway, a well known football agent who represents several Arsenal players had hired my mate & his parrot on a couple of occasions as a greeter at his house when he has thrown a big party.

So, my mate was doing this party for the agent. The usual crowd was there including several footballers & celebrities and my mate had been doing his usual line of mild p*ss takes about what they were wearing, "aren't you a bit old to be here with her" type of stuff, when Bobby Pires walked in with a few mates. My mate (who is a one time Spud, but doesn't really own up to it because he knows they are shyte) doesn't like Bobby, said something like "mind you don't trip over" or some such comment. I might be wrong, but I think it was just shortly after Bobby split up with his wife.

Anyway, Bobby turned around, looked at the parrot on its bike that had just taken the piss out of him, took a run up and booted the four foot high, quite heavy, parrot across the room.

Loads of people turned around to see what the commotion was all about just in time to hear an injured, but fortunately not badly damaged parrot, shout at the top of its voice "YOU FECKING WANKER" at Bobby.

For some reason that was the last party my mate did for the football agent.