He's big, He's quick, and junk food makes him sick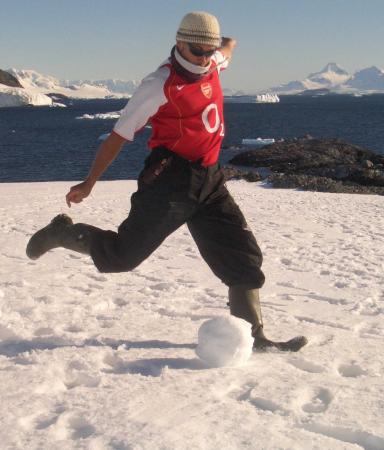 South Pole
By Boris Mellor
April 16 2005
Emanuel Eboue on being asked did he prefer McDonalds or Burger King replied he doesn't eat junk food. Maybe if he was asked to choose between them and Arsenal junk food he might have replied he doesn't like being ripped off either. Nor does he like pizza, so not a lot of use in a ruck at OT then.
The Arsenal Stadium (Food) Misery
We recently saw how disgusting school food was on Jamie Oliver's School Dinners. Pity the Arsenal Directors aren't standing for election, if they were maybe they would try and improve it. I wonder if they spend as much as 37 pence per unhappy meal on the stadium food. No doubt a tin of dog food provides more nutrition. The price is outrageous, it's cheaper to get a heart attack under the Golden Arches, and you can garnish that with salad.
No wonder some people resort to buying the equally awful food on the stalls outside, but with the added advantage of the surrounding aroma of horseshit. It's also cheaper.
Mourinho's pain.
Drogba has revealed to the world's media of the pain that Jose has suffered as manager of Chelsea. Drogba told the assembled media that people have not realised how stressful the job has been.
On one occasion Mourinho badly strained his back carrying his wages to the bank, another time he broke a toe when he dropped his wallet on his foot.
Even staying at home to watch Bayern Munich on TV had its problems, he accidentally got a black eye when struggling to get the remote control back from his wife, who tried to switch over to the Apprentice at half time. His mobile phone bill exceed the 500 free text messages on his T-Mobile tariff, and the Chelsea management refused to pay for the extra usage. This extra expense follows on hard from the swinging £9,000 fine imposed on him by UEFA. It means he cannot afford to have his overcoat dry cleaned every week until the end of the season.
Nor is the pain just physical or financial, sometimes mental torture is involved; his job forces him to mix with society's down and outs, including failing managers. One recurring nightmare is flashbacks of when he was forced to drink claret with a drunken Scot, who in between asking "are you looking at me Jimmy", and boring him with dramatic tales of how he masterminded winning the European Cup in extra time, kept telling Jose he was just a beginner at winding up referees.