Arsenal Lack Wolves Appetite: Report From Away End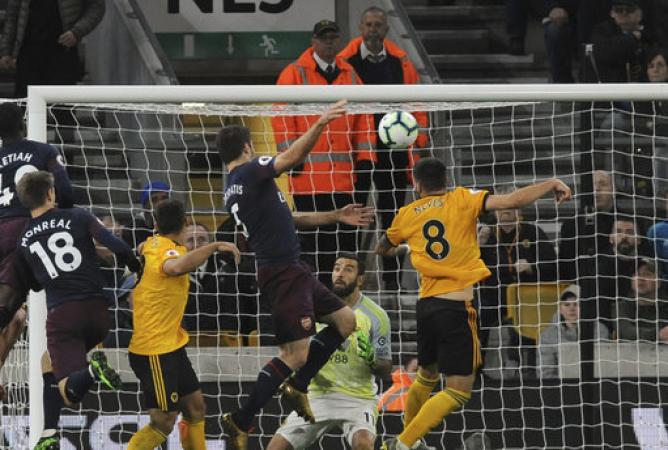 By Matt
April 27 2019
Growing up in Wolverhampton, I had a Wolves season ticket for about seven seasons as a kid. Unfortunately Wolves spent all but one of those in the second tier, so I only got to see the Arsenal once. Perhaps early proof of what a jinx I am, the year I decided to give up having a Wolves season ticket they actually got promoted to the Premier League.
Fortunately, due to relatives still having season tickets, I was able to go to the Arsenal matches, albeit in the home end. The best of these was a 4-1 Arsenal win where, seeing them in the flesh for the first time, I was really blown away by how good Fabregas and van Persie actually were. With Wolves back in the Premier League again this season, I sensed the chance for an easy away game and Arsenal Times's Padre very kindly helped me source a ticket in the away end.
A slightly different away day experience with Molineux walking distance from my house, I bowled up with five of "the lads", all Wolves season ticket holders, after work, and went for a pint near the ground. The pub was full of Wolves fans, but there were five Arsenal fans in there as well, having a drink and a bite to eat. One of them had a "BFG 4" shirt on.
Separating from my friends as I was at the opposite side of the stadium to them, I made my way in and found my seat, right on the halfway line about seven rows up, coincidentally directly below where I used to sit during my season ticket years. For 10 minutes or so the away fans were in good voice and I was able to join in with the chants, but quickly fans turned. I had to bite my tongue at one point when a fan behind me shouted "thick Brummie *****" at the Wolves fans.
Despite our possession Wolves grew into the game as an attacking force. Just before the half hour mark the abject Mkhitaryan lost the ball on our right. While Mkhitaryan sauntered back, Wolves' Jota drove forward with power and skill. No Arsenal player could get near him, and after he released Jonny on the edge of the area Monreal was forced to bring him down. Up stepped wonderkid Ruben Neves to score the free kick. The only thing we really had to cheer about was when the isolated Lacazette somehow worked space for himself on the right, but then fired high and wide.
Then Wolves made it 2-0 with a short corner routine, where they crossed under no pressure to a man completely unmarked, who headed past the stranded Leno. Shocking defending. More possession from us but never looking like pulling one back. Just before half time I decided it would be a good time to go for a pint. As I made my way out, the impressive Jota drove forward and fired a tame shot that somehow went under Leno. 3-0. I was speechless.
At half time I bumped into an absolute bear of an Arsenal fan who coincidentally I'd met on the train back from the Grand National the previous year. I also spoke to a very posh Arsenal fan who claimed he "could play sideways like Xhaka and Torreira for £100k a week". Knowing they didn't need to come out and play, Wolves sat back in the second half and we didn't really have an answer for it. Probably the most exciting part of the second half was a couple of Arsenal fans by me getting into a fight and having to be separated, all caused by one sarcastically shouting that this was all Wenger's fault. Fans were further enraged by the anonymous Ozil pathetically pulled out of a tackle on our right. We did pull one back through Sokratis late on 3-1, but it was a poor half.
Hopefully an omen for a brighter future, young Eddie Nketiah came on and produced our best attacking moment as he drove forward and put in a low cross that nearly found Lacazette. We were clearly happy to see the lively Nketiah, expressing our appreciation as shouts of "Eddie! Eddie! Eddie!" rang out, our last chant of the evening.
So maybe not the best game. I can't help but look at Wolves and see where we're going wrong. Our lack of width was painfully obvious, as it often has been, whereas Wolves have Jonny Otto and Matt Doherty, both quick, energetic and can attack and defend. We only have Bellerin who can do that. In Diogo Jota, they have a skilful, powerful ball carrier. Do we have anyone who can do that? I'm not too disheartened though, I never expected Emery to sort it all in two transfer windows. We have a culture of laziness and bad defending we need to break from. If seeing Fabregas and van Persie in the flesh really made me appreciate them more, seeing Mkhitaryan and Ozil in the flesh just made me more confident we'd be better off without them. Let's hope next year will be better!
View a Printer Friendly version of this Story.
Arsenal Lack Wolves Appetite: Report From Away End
Discussion started by Arsenal Times , 27/04/2019 10:33
Arsenal Times
27/04/2019 10:33
What do you think? You can have your say by posting below.
If you do not already have an account
Click here to Register
.
Edited 1 time(s). Last edit at 2019:05:01:09:43:31 by Padre Pio.
goonerred
27/04/2019 11:36
I didn't hear our fans singing much either, away days are usually high on atmosphere from us. That said, away fans are positioned below the home fans. (We got spat on last time I went!)

We were lacklustre and totally lacking any purpose or idea in the final third. Indeed, we often lost the ball on the edge of their area setting up a Wolves attack. We didn't deserve to win and I don't have much hope unless we get rid of some of our players and buy in some with a bit of fight in them.

I do blame wenger a bit still, many of our payers got used to not performing and getting away with it. A mindset that they can't or won't shrug off.
Bergmars
27/04/2019 15:01
My family were happily reminding me of the score and a workmate telling me we were shockingly awful as if I needed reminding.Emery has to be given time but he should have us better set up and more organised at the back.


---

Under new managment
goonerred
27/04/2019 15:20
Quote:

Bergmars
My family were happily reminding me of the score and a workmate telling me we were shockingly awful as if I needed reminding.Emery has to be given time but he should have us better set up and more organised at the back.
He has to have a couple of transfer windows before we can judge too harshly. If he keeps the lot of dross we have, then I will seriously question him. I know folks will blame those higher than Emery if that happens, but I would expect him to leave if he has to make a silk purse out of a sow's ear.
MattySadler
27/04/2019 17:03
He inherited a squad that lacks any out-and-out wingers.

Ramsey is our only CM who can make an impact in the final third.

Ozil and Mkhitaryan are either very good or completely useless. No real middle ground and more often than not they're passengers.

Plus all of the defensive issues we have.

I'll be really interested to see what we do this summer, seeing as we reportedly have a limited budget, even with Champions League qualification, and have a lot of areas where we need to invest. A CB, CM and a winger have to be the main targets. Going by the fairly heavy transfer speculation it sounds like Emery wants a LB, plus with Bellerin out we may want a RB as well.

Obviously I don't know what sort of budget we'll have, but if we really only have £50-odd million as reported, I'd be tempted to invest that in a CB and CM, and promote Nelson, Amaechi and Saka as the wide options, then try to raise money for a full back from player sales.
Sorry, only registered users may post in this forum.