One step forward three steps back: what formation?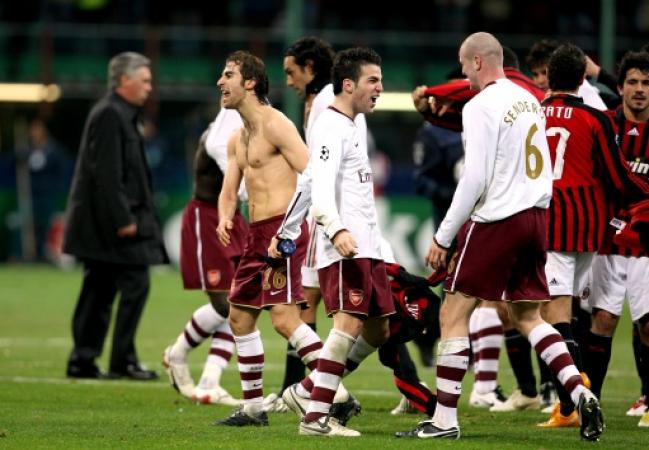 Concentrate
By Boris Mellor
March 8 2008
The step forward is that RvP played 60 minutes without any adverse effect, apart from tiredness, so will be available, if only from the bench. However, the several steps back are that Diaby, Walcott and Denilson are all injured. Once again, there is no sign of Rosicky returning, but Toure and Song are on the brink of return.
Djourou is pencilled in for 15th March, he might be needed in midfield by then. Arsenal will now have to come down from the heights of the San Siro to playing on Wigan's rugby pitch. I hope they can make the adjustment.

It is a pity that Walcott is injured, but enforcer Heskey would have only crocked him - so it will save him an unnecessary journey.

Did you see Bruce groaning on about how they cannot do anything about their awful pitch? Yes they can - stop using it for Rugby every other week. This should be banned by the FA, no premiership club, including Man U, should be allowed to do this. No, it is not the same for both teams; these teams are used to playing on a midden every week, and just hoof the ball. There is hoofleball and Wengerball, and they require different skills.

Team Formation

Arsenal possible squad: Almunia, Clichy, Senderos, Gallas, Sagna, Fabregas, Flamini, Hleb, Adebayor, Bendtner, Gilberto, Van Persie, Toure, Lehmann, J Hoyte, Traore, Song.
At the time of writing the above players were fit, it means there is very little choice in midfield for Wenger. The continued suspension of Eboue means that the formation will pick itself.

So will Wenger have to resort to Gilberto? Anything that disturbs the Flamini, Fabregas axis cannot be good. Could Traore take the left flank and Hleb the right? This is no match for any of our other youngsters, this will be hard and cynical. I remember Kanu dropping back into midfield at Liverpool, after a sending off. Would it be better to get one of the big men to go wide?

The Genius of Fab

On being asked did he really intend that goal, he told the interviewer some go in and some go wide, but he deliberately kept it low, he had noticed the keeper was a big man and might find it difficult to get down to a low ball. Sheer Genius!!

Blatter
Bloody hell I find myself agreeing twice with Sepp Blatter twice in a fortnight - whats going wrong? No I do not want Taylor banned for life, and I cannot tell if it was deliberate or not, but it was reckless, it was high, it was over the ball and it is worth more than three. In addition, spare me the bleeding heart stories about how Taylor has to live with it for the rest of his life. Don't these arseholes realise that Eduardo will also have to live with it for the rest of his natural?

Kangaroo Court

Poor Martin will miss three games and Eduardo only the next year, and nobody can guarantee how his skills will be affected. It is good to be reminded that Football is a world game, based on skill, not on Rugby Pitches coached by the "we hate Johnny foreigner get in their face brigade". That the English FA will not get away with their preference for heavily punishing face ticklers, and given ridiculously light punishments to those who commit vile tackles. That there is a higher court here is to be welcomed. Of course there will be howls of what right has Blatter got to stick his nose in, by those who prefer trial by the kangaroo court of the British Media.

By the way, I would like to ask those Arsenal fans who sanctimoniously applauded Eboue's 3-match ban whether his "crime" is really worth that amount of punishment? After all some commentators felt that Taylor was barely worth a yellow.

This is a match which, Arsenal should, and must win, but they must make the shift in their heads from 80,000 in the San Siro to 18,000 at a Rugby ground. Can they adjust from a pitch with superb playing surface, to one with potholes? If they want to be champions then they must make that adjustment.

By the way how come the know all pundits failed to predict Spurs would implode at the shock of winning a minor trophy. Come on Freddy and the Hammers, deliver St Totts day on Sunday.

Things you no longer hear Gooners say no 28: We should buy Owen

For a large selection of Arsenal Books, DVDs, PC games AND MORE at Bargain Prices visit the Arsenal Times Store CLICK HERE
View a Printer Friendly version of this Story.
One step forward three steps back: what formation?
Discussion started by Arsenal Times , 08/03/2008 12:12
Arsenal Times
08/03/2008 12:12
One step forward three steps back: what formation?
AJ The Gunner
08/03/2008 17:17
A must win.we can't afford to drop to the second position.cos once man utd go top they will be fired all the way to the end.forget san siro and face the battle on hand.
ArsenalForever
08/03/2008 17:44
cesc can play on the right and gilberto in the middle but i dont know if the bert-flamini partnership will work
Padre Pio
08/03/2008 18:24
I think we must keep Cesc and fab together - if he cant then its Cesc and gilbs
Sorry, only registered users may post in this forum.