Internationally Good: Two England Captains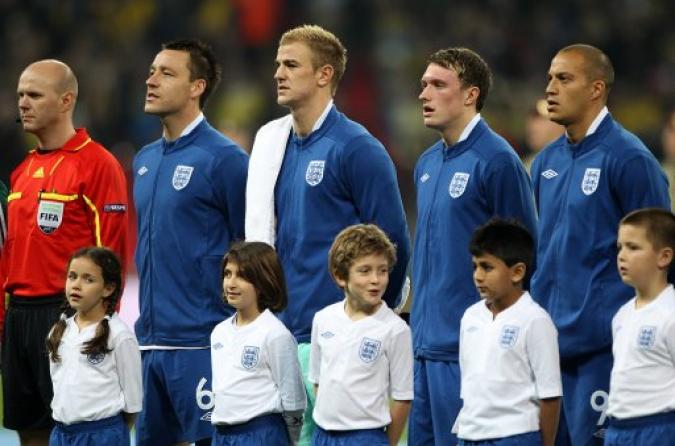 By Since66
November 16 2011
For us fans the two weeks have been completely frustrating with no top flight football (for the third time since August) as our top players have been involved in Euro 2012 Play-offs and International friendlies. Despite the frustration, the last two weeks have been very successful for Chelsea Football Club.
Raul Meireles and Petr Cech's respective countries, Portugal and Czech Repulic qualified for next years finals in Poland and Ukraine as Portugal defeated Bosnia & Herzegovina and the Czech Republic defeated Montengro, with the 'Mask of Zorro,' Petr Cech keeping clean sheets in both games.
The break began with Super Frank captaining England to their fortunate 1-0 win against the World and European champions, Spain, with Super Frank scoring the only goal and probably the easiest goal he will ever score or has scored throughout his illustrious career.
Super Frank was on offer by the bookies anywhere from 10/1 to 14/1 to score the first goal and I hope you brave souls took the opportunity up and let us face it, had Spain taken their chances, we will all have been calling for Capello's head and you would have lost your bets.
I can't help the cynicism, sorry!
TWO ENGLAND CAPTAINS
On Sunday morning, Juan Mata and Fernando Torres were dragged half-way across the world to Costa Rica to play another friendly which ended 2-2.
Last night at Wembley, in front of the lowest crowd seen at the new stadium, a much changed England side beat Sweden 1-0 for the first time in 40 odd years and Captain, Leader, Legend John Terry returned to captain the side.
Danny Sturridge earned his first England cap as a second-half substitute but he was unable to shine as much as he wanted to, as the service to him was virtually non-existent.
TWO ENGLAND CAPTAINS
Thankfully the Premier League returns this weekend and Chelsea will be looking to shove the Horror Show against Arsenal as far away as possible as they take on Liverpool on Sunday.
Today the FA charged Liverpool's Suarez, not with his Swan Lake diving impressions, but with racism, after his spat with Patrice Evra a few weeks ago.
COME ON CHELSEA
TWITTER: @WVOMChelsea
View a Printer Friendly version of this Story.
Internationally Good: Two England Captains
Discussion started by 50 Years Over 100 Years , 16/11/2011 19:30
50 Years Over 100 Years
16/11/2011 19:30
What do you think? You can have your say by posting below.
If you do not already have an account
Click here to Register
.