Book Review: 32 Programmes by Dave Roberts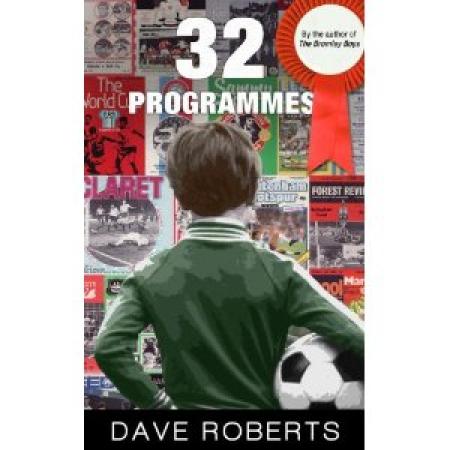 By Since66
October 9 2011
When I first heard that Dave (The Bromley Boys) Roberts was writing another football related book, I couldn't wait to get my hands on a copy. When the book finally arrived, my immediate thought was, how the hell can you write 300 plus pages about 32 football programmes?
The story behind the 32 stories is that Dave had to sever his programme collection from 1,134 to an amount that could fit into a Tupperware box before boarding a plane that would take him and his wife from New Zealand to the United States.
As a programme collector myself how on earth can you be made to sort out a life time of football memories so brutally as Dave was forced too?
I know what it is like.
Some years ago I lost a collection of football programmes from the 60s in a fire.
Here at least, Dave was given the choice - an opportunity to sort out those programmes that retained the most prolific memories - a choice I didn't have.
Every programme has a story.
Every programme has an adventure and boy does Dave have some adventures - from trying to impress the Arsenal 'skinheads' whilst still at school to falling off a plane in New Zealand to watch New Zealand take on Watford prior to the 1982 World Cup finals.
This book takes you through the emotions of a football obsessive: Pain, tears, laughter, sadness, happiness.
Not only is Dave an obsessive he is meticulous in preserving the matchday memory.
Dave always buys two programmes so that he can record team changes, substitutes, goal scorers and player performance.
32 programmes is a book that every football fan and programme collector can relate too.
32 programmes made me laugh out loud on many occasions.
The Bromley Boys are revisited and there is an emotional return to Hayes Lane from where it all started.
Hmmm! I wonder what 'The Grubby' is doing now?
Twitter: @WVOMChelsea
View a Printer Friendly version of this Story.
Book Review: 32 Programmes by Dave Roberts
Discussion started by 50 Years Over 100 Years , 09/10/2011 13:36
50 Years Over 100 Years
09/10/2011 13:36
What do you think? You can have your say by posting below.
If you do not already have an account
Click here to Register
.