The Bromley Boys by Dave Roberts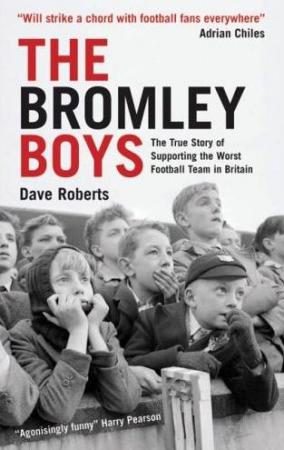 The Bromley Boys
By Since66
May 26 2010
The Bromley Boys - 'The True Story of Supporting the Worst Football Team in Britain,' jumped out at me as I was recently browsing the sports section of a major bookchain. With a title like that and being an avid follower of football, the book was crying out to be bought. The book written by Dave Roberts follows his adventures as a 14 year old in the 1969/70 season supporting Bromley FC.
After being banned from going to Upton Park by his parents on his own, Dave turned his attentions to nearby Bromley FC at their rickity Hayes Lane ground in Kent a few years earlier, and as the book begins, Dave is confident of the forthcoming's season success, despite Bromley finishing 17th in the Isthmian League the previous season.

By co-incidence, Bromley's first home game at the start of the 1969/70 season was a pre-season friendly against West Ham.

Like all boys at 14, we all dream of pulling on the shirt of our heroes and to every game Dave took his boots in his trusty duffle bag, hoping to get the call and admits readily he wished of 'non-fatal accidents' to players on their way to the ground, to realise his dreams.


Dave introduces us to an odd-job of characters. My favourite being 'The Grubby.'
Tea-drinker with hollow legs (always had two cups with four sugars in each, before kick-off), chain-smoking No.6s and a boy of few words.

Dave tells about his desire to work in the Supporters Hut, to sit on the hallowed bench to watch games and 'get-in' with the crowd - Derek, Roy and Peter - he starts at the bottom of the ladder, eventually, working in the tea hut.

One of the funniest escapades Dave gets up to when he couldn't get to any of Bromley's midweek away games, as he had been sent to boarding school by his parents, he would bunk out of the dorm and run to the nearest phone box, ring up the ground where Bromley were playing to find out the latest score.

Nine times out of ten he would receive bad news from a gruff and surly voice at the other end of the line.

Impressionable and trying to impress - Dave tells of his 'crush' on his best mate's (an Arsenal fan) sister but with Bromley's season crashing down all around him.... yep you guessed it, his dreams of love and romance were cruelly shattered.

Nowadays (a far cry from 1969) Bromley FC play in the Blue Square South.

Hayes Lane has been completely renovated to a modern compact ground and no doubt every reader of The Bromley Boys will be keeping a sneaky eye on their progress in seasons to come.






View a Printer Friendly version of this Story.
The Bromley Boys by Dave Roberts
Discussion started by 50 Years Over 100 Years , 26/05/2010 14:13
50 Years Over 100 Years
26/05/2010 14:13
What do you think? You can have your say by posting below.
If you do not already have an account
Click here to Register
.
Edited 2 time(s). Last edit at 2010:06:01:16:58:56 by Since 66.
Since 66
26/05/2010 14:18
To buy the book, click the
LINK
---
Don't Gamble, Bet Risk Free