Ancelotti: The Beautiful Games of an Ordinary Genius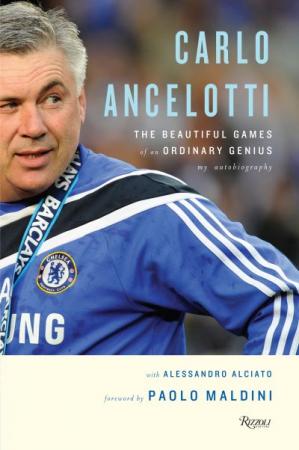 Ordinary Genius
By Since66
June 13 2011
I have been in possession of Carlo's (Carletto as he his depicted) book since it first came out, last year. My copy is equally travelled as Carlo - shop, kitchen, living room, garage, Florida, garage, Cuba, kitchen etc. Hardly exotic locations I agree, but travelled nonetheless.
Then for no reason at all, as soon as Carletto was ejected from Chelsea's hot-seat, I just felt compelled to pick the book up and read it.
This is the first review for a considerable amount of time, simply because I haven't read anything in ages.
One critic claimed Carletto's book as 'Arch, funny, outspoken..... this memoir reveals rare with and wisdom.'
Spot on, but in layman's terms, the book is 'funny as fcuk.'
Carletto, despite his miserable public demeanour and dour interview techniques is funny and reveals an extremely humorous side to his personality.
And then there is the food! Believe me Carletto's appetite for food is insatiable.
How he managed to keep his weight level as a player deserves a medal and recognition in itself.
The book journeys Carletto's career from Parma, Roma and AC Milan as a player. As a coach from Reggiana, Parma, Juventus and AC Milan and the time he signed a pre-contract with Real Madrid, before Capello.
Unfortunately and no doubt to 'cash-in' on Chelsea's double winning success in 2010, there is only one chapter devoted to his time at The Bridge and the so-called 'rush' is prevalent with the many grammatical mistakes contained within the covers.
For a start the layout is abysmal. If it wasn't for the necessary paragraph breaks, you would be forgiven if you were reading prose joined together. There is no spacing between full-stops, comma's etc.
At times, these simple errors do make for a difficult read. Whoever proof-read the copy really needs to be re-trained or sacked... Simple.
Get past the human errors and the book is a thoroughly enjoyable read - Carletto blanking Sir Alex, the team wrecking a golf course at the Manchester hotel they were staying in when they beat Juve in the Champions League and Carletto's phone call conversation with the Italian Police during the Serie A financial scandal.
Follow his emotions in the two Champions League finals against Liverpool and the subsequent alcohol-fuelled celebrations in Athens afterwards.
And then there is the food.
Did I mention the food?!?!
KTBFFH
View a Printer Friendly version of this Story.
Ancelotti: The Beautiful Games of an Ordinary Genius
Discussion started by 50 Years Over 100 Years , 13/06/2011 05:44
50 Years Over 100 Years
13/06/2011 05:44
What do you think? You can have your say by posting below.
If you do not already have an account
Click here to Register
.
I've been meaning to buy a copy for some time now.
I've heard about the bit when, as a player, his club were trying to get him to lose weight and put him on a special programme - unbeknown to the them however, he had someone smuggle up special, tasty muchrooms to his apartment which he would then use to make omeletes....! The club couldn't understand why their programme wasn't working!
---
"It is born out of hypocrisy and fundamental insecurity. There have been two kids on the block for the past 12 years. Suddenly, there is a third and that one is threatening to be more successful than the others and they donít like it." P Kenyon.