Gills relegated following defeat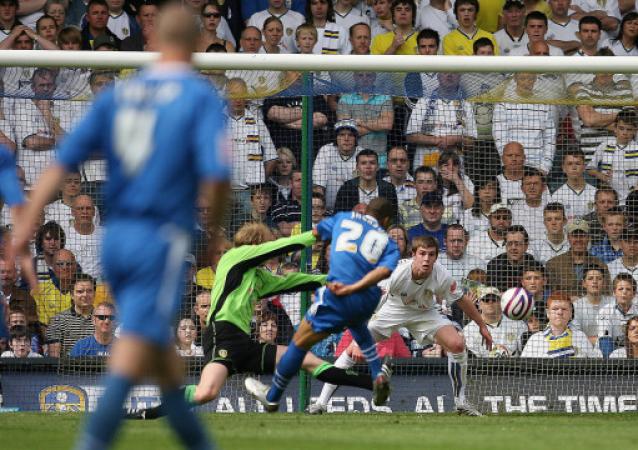 Jackson gives Gills lead
By Jack Nolan
May 3 2008
Gillingham have been relegated to the Coca-Cola Football League Two after a twelve year absence. Gillingham's two-one defeat at Elland Road confirmed relegation, and Gills were unlucky to go back to Kent without a point at least. Simeon Jackson gave Gillingham a deserved lead to silence the capacity Leeds crowd, but two late goals summed up The Gills' season to confirm Gillingham's relegation.
A record Football League crowd of the season was in attendance for Gillingham's crucial finale at Elland Road, and even the most loyal of Gillingham supporters would have admitted it would have taken a miracle for The Gills to stay in League One.
Anything less than a victory would certainly relegate The Gills, and even a victory might not have been enough should either Cheltenham or Bournemouth win.
Both sets of fans were creating a great atmosphere for The Gills' must win game, and it was Gillingham who started the best. Gillingham dominated from the start, and the impressive Simeon Jackson gave Gillingham a full deserved lead after twenty minutes. The small forward rounded Leeds goalkeeper Kasper Ankergen then finished well to give Gillingham a crucial lead.
Then just over half way through the first half former Gillingham loanee, who experienced relegation with Gillingham, appeared to headbutt Gillingham striker Gary Mulligan and got off lightly with just a yellow card.
The Gills went in at half time with the crucial lead, but results were going against them meaning that should the scores stay the same, Gillingham would still be relegated.
With results slowly turning in Gillingham's favor elsewhere, Gills fans were heatbroken when Bradley Johnson scored a stunning volley to equalise for the Yorkshire outfit.
Just minutes after however, Gillingham captain Andrew Crofts had a brilliant chance to regain The Gills' advantage. Crofts got the better of the Leeds defence and instead of firing low the captain shot high for an easy punch by Ankergen.
Tresor Kandol then gave Leeds United the lead with one minute of normal time left, then Gillingham's day, and season, was summed up by Nicky Southall's miss from well inside the six yard box hitting the bar with a half open goal.
Full time came and even if Gillingham would have held on to their lead, The Gills still would have been relegated following Cheltenham's victory over Doncaster Rovers at Whaddon Road.