Seven Years Today - Remembering Peter Osgood - RIP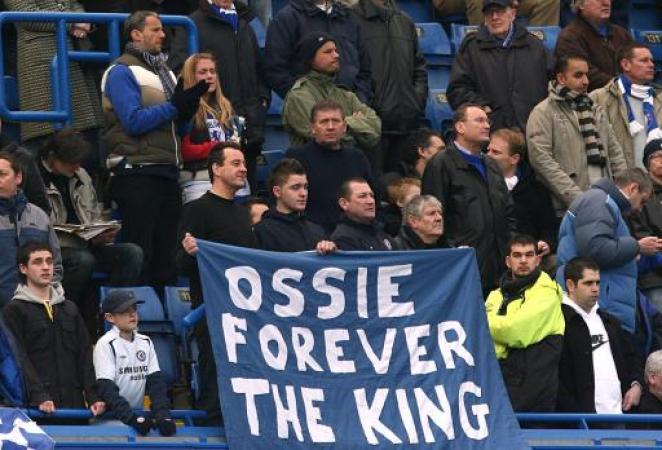 By Since66
March 1 2013
Seven years ago today, news broke that the King of Stamford Bridge had died at the age of 59. Ossie was attending a family funeral when he collapsed. He died a short time later in hospital. I was at work that day, at my work bench sorting out some bits and pieces when I stood motionless listening to the news report on the radio.
In the next minute I found myself in the loo, with tears streaming down my face, feeling shocked and very dazed. Stupid really I didn't know the man, I just knew him as a player that I had adorned from the moment I started supporting Chelsea back in 1966.
Struggling to compose myself I had to return to work and no sooner had I walked out of the loo a few of the print boys asked me what was wrong. When I told them they were shocked too!!
I had been very fortunate to meet my idol and speak with him on a couple of occasions and my brother-in-law was lucky enough to be on the same football field as him, when Ossie was running football camps for the kids on the Isle of Wight. I wasn't so lucky as they wouldn't let me play in goal. Oh what I would have given to be between the 'sticks' and face a volley from the King.
Ossie and his striking partner and best mate, the late great Ian Hutchinson, once owned a pub in Windsor called The Union Inn. They were very hospitable and welcomed Chelsea fans with open arms - no wonder the pub went bust.
Ossie had style, skill, he scored an abundance of goals - 150 in total and made 380 appearances. He was flambouyant and played hard not only on the pitch but also off it. He had a superstar appeal down the Kings Road.
There are loads of memories I can recall about the King, but here are a few that really stick in the mind.
1970 Ossie scored in every round of the FA Cup including the final with his magnificent diving header from Charlie Cooke's run and chip.
1971 Scoring in the European Cup Winners Cup final against Real Madrid
Against Jeunesse Hautcharage, from Luxembourg. Ossie scored EIGHT times against the minnows over two legs including one with his knee at Stamford Bridge. Chelsea won the tie 21-0 and the aggregate score is still a European record today.
Scoring against Bob Wilson and Arsenal at Stamford Bridge with a thunderous volley.
There are so many more memories, so many stories of how Ossie touched the hearts of Chelsea fans and how many Chelsea fans wanted to be Ossie when they had a kickabout in the park.
Ossie's ashes are interred beneath the penalty spot at The Shed End of the Stamford Bridge pitch, I cannot think of a more appropriate spot for Ossie to lay.
'Out from the Shed came a rising young star,
Scoring goals past Pat Jennings from near and from far,
And Chelsea won as we knew that they would,
And the star of that great team was Peter Osgood, Osgood, Osgood, Osgood, Osgood,
Born is the King of Stamford Bridge.'
Twitter: @WVOMChelsea
View a Printer Friendly version of this Story.
Seven Years Today - Remembering Peter Osgood - RIP
Discussion started by 50 Years Over 100 Years , 01/03/2013 05:40
50 Years Over 100 Years
01/03/2013 05:40
What do you think? You can have your say by posting below.
If you do not already have an account
Click here to Register
.
Derek McQuade
27/05/2013 17:37
Good afternoon,

I hope you do not mind me getting in touch, however I was wondering if you would be so kind as to let your members know of my Chelsea FC car registration - P.O59OOD -, in order to help me raise funds for a soldiers charity.

Having been a Chelsea fan for more years than I can remember, I have decided to sell my 'Peter Osgood' car registration P. O59OOD in order to raise funds for the local ex-soldiers retirement home, (Erskine) where my father now stays.

I would be very grateful if you could help me to alert Chelsea fans or club members that may like to own a piece of history and have the Peter Osgood name proudly displayed on their car?

I do hope that you can help, and look forward to hearing from you in due course.
Many thanks in advance.

Regards,

Mr Derek McQuade.