Di Matteo Confirmed as New Manager - 2 yr Deal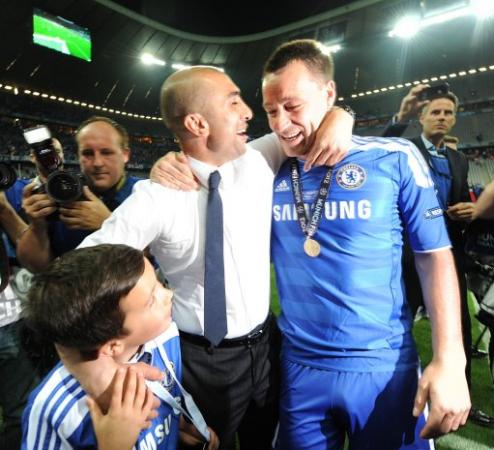 Good
By Since66
June 13 2012
From the moment Bobby Di screamed 'I've won it, I've won it' down the ear of Roman Abramovich on his way to collect the Holy Grail, Big Ears, the Champions League trophy, Chelsea fans were left wondering will Bobby Di get the 'job' on a permanent basis.
Well this afternoon, Chelsea Football Club announced that Bobby Di has signed a two-year deal and becomes Chelsea's new coach/manager.
There had been lots of speculation and debate about Chelsea's new manager and the same regarding Bobby Di only being offered a one-year deal to tide Chelsea over until Pep came out of his footballing sabbatical.
Immediately the bookies have cut Chelsea's title odds to 9/2 – worth a punt (and if you look on the message board, you can bet RISK FREE!)
Chief executive Ron Gourlay said when announicing the deal, "Roberto's quality was clear for all to see when he galvanised the squad last season and helped the club make history, and the owner and board are very pleased he will be continuing his good work.
"We all believed he was a young coach with much to offer when we first asked him to take charge of team affairs in March and the manner in which he worked with us, the players and all the staff, and the success that followed, made him the clear choice when it came to selecting the person to take us forward in the seasons to come.
"We will be working closely with Roberto in the weeks ahead, some exciting signings have already been made and Roberto has had input into those.
"Although he has set the bar very high in the short time he has been in charge, we know that Roberto is the right man to lead Chelsea onto further success."
Bobby Di on his appointment said, "I'm obviously delighted to have been appointed as manager and first-team coach. We all achieved incredible success last season that made history for this great club. Our aim is to continue building on that and I'm already planning and looking forward to the squad's return for pre-season."
COME ON CHELSEA
2012 FA CUP WINNERS and CHAMPIONS OF EUROPE
View a Printer Friendly version of this Story.
Di Matteo Confirmed as New Manager - 2 yr Deal
Discussion started by 50 Years Over 100 Years , 13/06/2012 18:14
50 Years Over 100 Years
13/06/2012 18:14
What do you think? You can have your say by posting below.
If you do not already have an account
Click here to Register
.
Edited 2 time(s). Last edit at 2012:07:22:10:22:00 by Since 66.
Joe-joe
14/06/2012 03:23
I wonder why it took Roman Ibrahimovic so long to name Di Matteo as Chelsea,s permanent manager ?, i hope too that he will allow him to do his job, Kudos to Di Matteo 4winning the cup with "BIG EARS" to us !, Joe-joe
Since 66
14/06/2012 17:37
Joe_Joe
Chelsea always take their time in any decision. A culture that has reigned for as long as I can remember.
Di Matteo took the interim job because he is a Chelsea man - a legend, right up to his career ending injury - and no one, not even the fans would have expected him to lead us to such glory.
Had he led us to 4th place, without anything else, Chelsea fans would have wanted him to stay on.
Abramovich always wanted a coach to win BIG Ears. Thanks to AvB, Abramovich found him!!!
And not only by winning BIG Ears, Di Matteo deprived Spurs of Champions League football, there is no chance of 'Arry coming to us!!!!
---
Don't Gamble, Bet Risk Free
This Thread has been closed