Questions from fans for Pools boss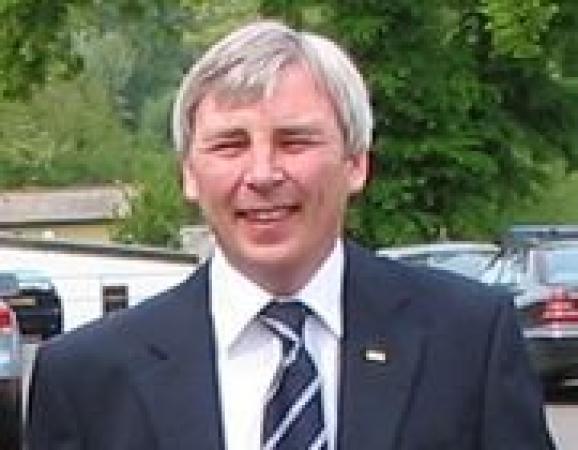 Ken Hodcroft
By Jeremy Pacman
October 20 2010
A letter to Pools chairman Ken Hodcroft. Dear Ken, in the absence of any news coming from your direction on a number of issues at Hartlepool United, we would like to ask a few questions which, we believe, are important to the club's supporters.
We won't be asking anything about the team, the tactics or the results, because as we all know that, like us supporters, directors know nothing about football.
All they know about is how many prawns are in the sandwiches and whether the white wine is at the right temperature.
All us lot in the stands know is he kick-off time and whether the pies are hot.
Now we know we won't get any answers to these questions because Pools don't go in for keeping people informed about what is happening behind the scenes and the local media are either unwilling or unable to do any digging and find out.
But these and many other questions are being asked and the club should know that while supporters know nowt about the game, they have inquisitive minds and are always seeking the facts.
And if they can't get the facts, they tend to make them up, and that's where rumours start.
We don't want to ask too many, but though we would kick off with just a few. So here goes:
Why did Chris Turner and Russ Green leave, really?

And while we're on the subject, why did Neale Cooper go?

And Mike Newell?

Do you regret turning down the money that now appears destined to go to Sheffield Wed?

Why didn't you take it?

How long a time do you think the phrase "caretaker manager" covers?

Are you looking for a new manager, or is Mick Wadsworth it? If he is, why don't you make it a formal?

What's the latest on buying the Vic from the Council?

Why are the chips at the Vic so soggy?
Yours etc
The Box of Kippers
View a Printer Friendly version of this Story.
Questions from fans for Pools boss
Discussion started by The Box of Kippers , 20/10/2010 12:42
The Box of Kippers
20/10/2010 12:42
What do you think? You can have your say by posting below.
If you do not already have an account
Click here to Register
.
I think Mr Newell left because he didn't like the beer in Chicago Rock didn't he?
Rift House
22/10/2010 15:12
That's a poor excuse.
He could have gone to the Jacksons.
Where did Neale Cooper dislike the beer?
Disgusted poolie
22/10/2010 19:31
don't you feel ashamed with yourself for trying to put billingham town outof business ?

you keep disgracing the club which has become a laughing stock
Quote:

Disgusted poolie
don't you feel ashamed with yourself for trying to put billingham town outof business ?
you keep disgracing the club which has become a laughing stock
I'm sure the last thing the club wants to do is send Billy to the wall but at the moment we don't know the full facts of this until they are mentioned in the court case. I'd like to think that whatever happens, we wont do anything that will put them out of business. If we win the case and it turns out the £10k is owed to us I can't see us making a demand for the full amount in full. Besides, the court would look at Billy's financial situation and they would only have to pay regular small amounts.
As i say thoug, let's wait for the court hearing to decide who is right and wrong in this.
Rift House
24/10/2010 14:28
Disgusted might have a point though ... if a Prem club pulled a similar stunt on us we'd be complaining about "bully" tactics.
Whatever the facts, it looks bad.
More Hartlepool Utd headlines