Stripes are back, but what about cotton Pools?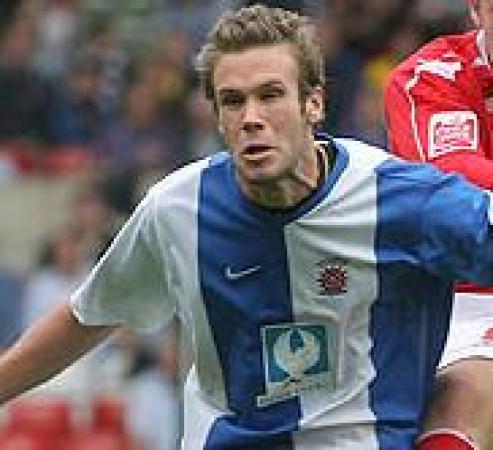 Stripes - back
By Steff Jelling
July 26 2009
With less than a fortnight to go to the start of the new season, our occasional contributor Steff Jelling has sent us another of her articles looking at football in general and Hartlepool United in particular from the female point of view. This time, she's looking at the new 2009-10 strip, the pitch at the Vic and, er, shopping on Boxing Day!!!
I was delighted a few days ago when Hartlepool United unveiled their strip for the new season – back to the blue and white stripes and blue shorts they wore before last season's very impractical white shirts, introduced to celebrate the club's centenary.
My regular fans will remember that in my last column I suggested we get away from white as quickly as possible because it's such a difficult colour to keep clean. General wear makes the white go dull anyway, but wearing it for football adds more problems with grass and mud stains.
I don't know how that Don Revie kept Leeds United's shirts clean for so long when he was in charge there all those years ago, before they invented the miracle cleaning agents we have now.
Blue and white stripes are a step in the right directiopn, and of course stripes are so flattering to the fuller figure aren't they? Unless they happen to be yellow and orange stripes, like Newcastle's new away costume - the designer was having a lauh and the club official who approved that design must be colour blind.
But I do have one other worry about football strips in general – why are they made of nylon? I know it's hard-wearing and it does wash better, whatever the colour, but it's not as comfortable as cotton is it ladies?
Man-made fibres are all very well, but next to the skin when I am exerting myself, I always prefer the natural feel of cotton – with some notable exceptions, if you know what I mean ladies.
And when my husband wears his replica strip in Ibiza, cotton would be so much cooler.
So come on football clubs, ditch the nylon and give our men comfy cotton to wear while they are running about getting all hot and sweaty.
Talking of running about, I was at the friendly match against Sheffield Somebody or other last week, and was very impressed with the pitch. The grass was a lovely green and the park keeper had obviously done a lot of work getting those awful weeds out during the summer.
But he must have had to buy a lot of boxes of that grass treatment stuff and his arms must have been very tired after scattering a handful to every square yard, or is it a square metre?
Yes, the pitch was very good. Pity about the team.
Finally this time, I've been looking at the football matches for the new season and I have a complaint to make. My husband and myself try to get to some away matches, when he goes to watch the game and I go shopping, but look when they've got Hartlepool going to Leeds.
December 26, Boxing Day. What good is that?
Leeds is a lovely place for shopping, but they'll be packed out for the sales on Boxing Day won't they?
I won't be able to move for Yorkshire bargain-hunters desperately trying to save their brass buying chip pans and wash-boards.
I might as well go to the match.
View a Printer Friendly version of this Story.
Stripes are back, but what about cotton Pools?
Discussion started by The Box of Kippers , 26/07/2009 10:53
The Box of Kippers
26/07/2009 10:53
What do you think? You can have your say by posting below.
If you do not already have an account
Click here to Register
.
More Hartlepool Utd headlines