Pools ask - where have all the fans gone?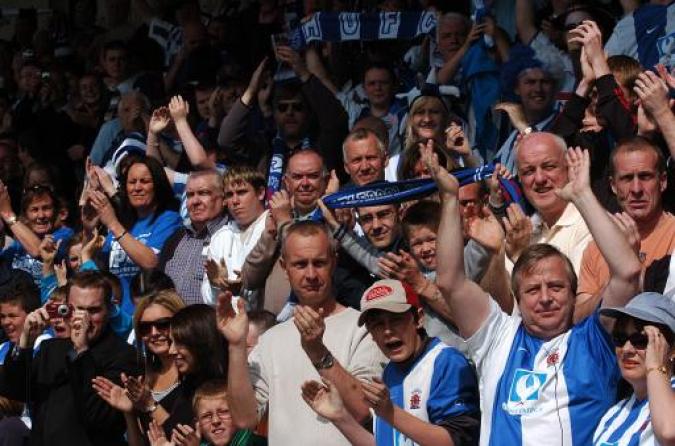 By Charlie Summerbell
January 4 2010
Hartlepool United say they are trying to address the issue of falling gates at Victoria Park, where Saturday's 2-1 win over Oldham was watched by the smallest League crowd there for just over nine years. But in the current economic climate, over Christmas and New Year when a lot of people have spent up and in perishing cold weather, was a crowd of 2,634 all that bad?
Well, actually it was – it was very poor.
But there are other clubs who are having trouble attracting respectable gates as well ... look just a few miles away at Bore-o, where their FA Cup-tie against big spenders Manchester City "attracted" 12,474 – a figure described in one national paper as an insult to the FA Cup.
Meanwhile, at Wigan there were only 5,335 to watch their all-Premiership game against Hull City.
Now we know Hill and Wigan are hardly giants of the Prem and of course Bore-o's Riverside Stadium is one of the most miserable places any football fan can go in any weather and no matter who they are playing, but are those gates a symptom of bad news for football?
Or are they simply evidence of the fact that Bore-o and the others involved are not well supported?
Would we be better looking at the fact that 8,000 Barrow fans travelled across the country to watch their non-League team get a good hiding at Sunderland's Stadium of Light? But, of course, things like that always happen in the Cup when supporters of small teams start to fantasise about a giant-killing and daren't miss the game in case a miracle happens.
Pools chief exec Russ Green says the club will try to do something to arrest the slide in gates, and we hope they succeed because really they should never fall below 3,000 when Chris Turner's team is managing to hold its own in League One.
The first thing that's needed is for the team to be more consistent and not throw so many daft points away at home – like they almost did in a frantic finish against Oldham.
But let's be realistic – Hartlepool is hardly the richest town in the country and it's no longer cheap to watch football. However, it would be very interesting to see what sort of gates the club would get if they managed to settle into a consistent rhythm and threaten to break into the play-off zone.
Meanwhile, we can't let the FA Cup weekend pass without a comment on Manchester United 0, Leeds United 1.

Isn't that a great result? What a pity it had to be Leeds that did it.
View a Printer Friendly version of this Story.
Pools ask - where have all the fans gone?
Discussion started by The Box of Kippers , 04/01/2010 14:50
The Box of Kippers
04/01/2010 14:50
What do you think? You can have your say by posting below.
If you do not already have an account
Click here to Register
.
Rift House
05/01/2010 10:24
Pools were always well supported when they did anything better than average.
Perhaps fans have been spoiled during the IOR era, and average isn't good enough any more.
SportNetwork HQ
07/01/2010 10:57
It doesnt help that the manager keeps saying things like we'll never ever compete with clubs like Leeds, Norwich, Charlton etc cos they have bigger gates. There's logic in what he says but it makes it look as though he has no ambition or fire in his belly and thats passed on to the fans. What he should be saying is that clubs like Crewe consistently competed at a higher level than their gates suggest and there's fire in his belly to do the same.

Sorrty Chris you've done a great job but the bloke in charge of the first team, should be young and ambitious and then it would rub off on the fans.
Rift House
08/01/2010 13:15
Young and ambitious ... like Alex Ferguson, Wenger, Redknap, etc?
SportNetwork HQ
13/01/2010 11:00
Good letter in the Mail last night from someone who suggests a top admission price of £10 to attract more people in. Totally agree.
Rift House
13/01/2010 13:18
Only any good if it attracts enough to make up the loss in income. And is it fair to season ticket holders, who have already shelled out the full price?
I can't see it working. Attendances will increase slightly but not significantly to justify the price drop.
<a href="http://www.fantastic-replica.net/">Replica Louis vuitton handbags</a>
<a href="http://www.fantastic-replica.net/">designer replica bags</a>
<a href="http://www.fantastic-replica.net/">wholesale replica handbags</a>
Rift House
18/01/2010 12:42
Look mate, we do NOT use handbags, we can't afford handbags, we are all in a bad mood after Saturday, and if we could afford them we wouldn't buy them online from you.
We've had a couple of these spammers advertising handbags lately.
Rift House
19/01/2010 16:08
Mind you, the way a few people played on Saturday, they looked as if they were carrying handbags.
Or should have been.
More Hartlepool Utd headlines