Canvass nightmares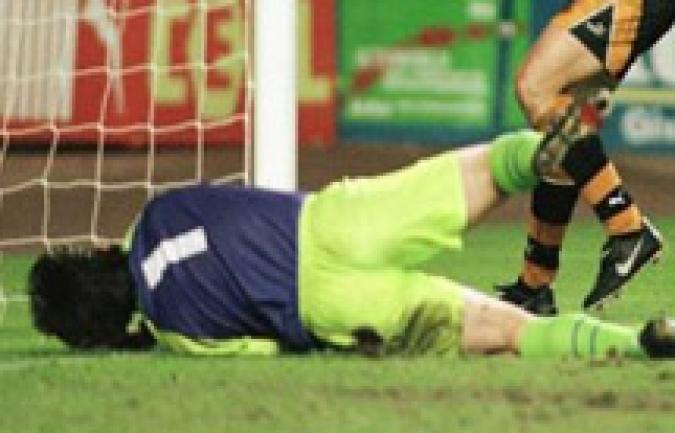 By Admin
October 8 2007
The Club have some rather nice pictures (on canvass) for sale. Some might say a bit over priced but when you consider you can get them signed it might be worth it. We take a look at the Canvasses you wouldn't be wanting and the players we certainly WOULDN'T WANT anywhere near the home of football !
Deano punches the air with Wrack and Co jumping on his back after the last minute winner at Swindon.
Don and Jorge belt round the Millenium Stadium in the Dramatic Play Off Final.
Images to savour, but we can't properly savour them without thinking about images that would make a Canvas from hell...
Andy Petterson bending over, time and time again to fish the ball out of his net after the mauling we were given by Coventry under Colin Lee. I never want to think about the man - let alone see him fishing the ball out of the net.
Any regular at the Bescot in the early seasons will know the pose. Walsall manager Kenny Hibbert sits with head in hands. It wasn't pretty, it wasn't fun and it certainly wasn't the most entertaining of times. We could moan at Kenny for doing this, but the other 3 or 4000 of us that went week in week out often spent much of the game doing it our selves. An unforgetable pose probably plenty of pictures of him doing this knocking around.
Paul Merson in any press conferance while he was manager. That look of trying to make us think he knew what he was doing. Some people believed it for a little while. The powers that be in the corridors of power saw it day in day out and thought it was real.
A blank sheet of paper would be more entertaining than any team assembled by John Barnwell in the late 80s. Anyone wanting to remeniss about the good old days under Barnwell might want to get a Barnwell canvass and sit staring at it in silence for hours on end, thus reliving the hours of fun enjoyed at Fellows Park under his tenure !!
Jean Jaques Eyledie. A former European Champion (and man involved the Marseille Champions League match fixing scandal in the early 90s) at the Bescot. You would have thought he was an icon. Never has a player come with such a big reputaion but proved to let us down (well apart from Merse). His typical galic pose, hands on hips thinking what am i doing here. growllllll.....
Alan McKnight(mare) air kicking that ball. Can't remember the game. It was cold. very cold. Under Kenny somewhere down south. Might have been Gillingham or Portsmouth. McKnight(mare) gave Andy Petterson a run in the Is he really a goalkeeper ? really ?
That pathetic Wracky Penalty in the last game of 04-05. Maybe the relief of staying up and the fact we won 3-0 has wiped it from our memory but Wracky got a bit confused on his way to kicking the ball and kind of kicked it like you'd expect some 8 year old girl in the play ground to. A must forget image.
Share your images to forget by filling in the form below...