Sonko wing magician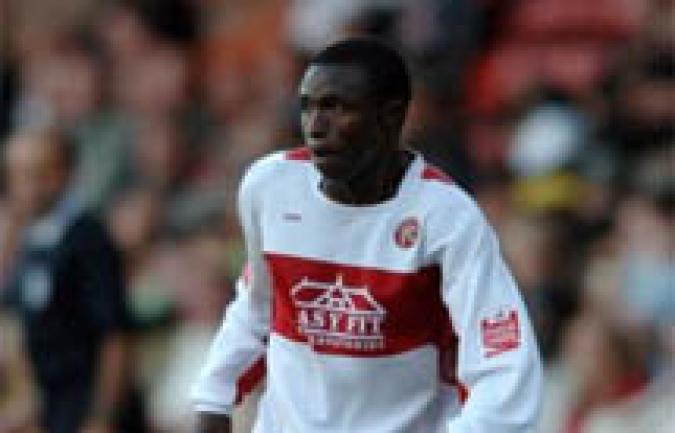 Old days
By Admin
October 7 2007
Edrissa Sonko, the Man from the Gambia has reignited the passion of the Walsall Fans. His exciting wingplay has brought back memories from yesteryear. We take a look back at the players who have wowed us in the past.
Wingers ? Wide Midfielders ? What are they ! It's been a while since the Walsall faithful have admired the trickery and excitement of two flying wingers for 90 minutes.
So lets take a look at a few of the wingers who have had us off our seats in the past
Colin Taylor - Never saw the guy play, but anyone with grey hair will tell you this man was one of the greats. 190 goals for the Saddlers and over 500 appearances.
Mark Rees - Blistering pace, funny legs that swung outwards and the wildest arms you ever did see. Went down in Walsall history for his role in those 1980 cup runs and the swash buckling football played under Buckley. A push and run winger.
Willie Naughton - Had two spells with the Saddlers. Was much more ermm rounder in the second but did okay in his first, helped us get promoted. Only thing that blots his copy book is that he played for the Gay Meadow All Stars. A tricky jinker of a winger !
Scottie Houghton - Signed by Kenny, Cultivated by Big Chris. Scotty had all the things you wanted in a winger. Fast feet and speed. If he wasn't so tubby he might have made it at Spurs but never mind. He did a cracking job for us before Posh waved the pound notes (yes, they've been doing it for donkeys)
Jeff Peron (Pictured Left) - Just in case you Google yourself Jeff. Était un superstar. Magnifique frais élégant chic. Doué. Spécial. Unique. Probablement le joueur du numéro un à s'avérer jamais pour le Saddlers. Simplement stupéfiant. Un héros vrai. Nous vous aimons jeff ! Not just the best winger to play for Walsall. Probably the most talented.
John Hodge - A bit like Scott Houghton but a bit better. Played on the other side to Jeff and when these two started bombing on the opposition didn't know what had hit them. Chirpy scouser. a Push and go merchant and a never say die attitude.
Pedro Matias (pictured left) - He wasn't a speed merchant but not many full backs managed to tie him down for 90 minutes. Single handedly ripped the Clay head defence to shreds in the Play Off Semi Final. On that night, the Bescot became his ring, he became the Matador and the Stoke a team of raging Bulls who the great Pedro took to slaughter. His mate Zigor also used to play.
and then there the others that stick out in the mind . . . . . Darko Mavrak the Swedish Bosnian who Ray got in for a bit. Didn't really do much when on the pitch but he did have a funny shaped head. Anthrum Chime was a foreign import we had in during the early days of Bescot. The Tanzanian never caught up with the cut or thrust of Division 4 and we also had Peter Bodak (A legend somewhere i am sure)
For me, Wingers are the players that make Football Worth Watching. Be it the Good, the Bad or the Mavraks.