Mansfield 2 Saddlers 1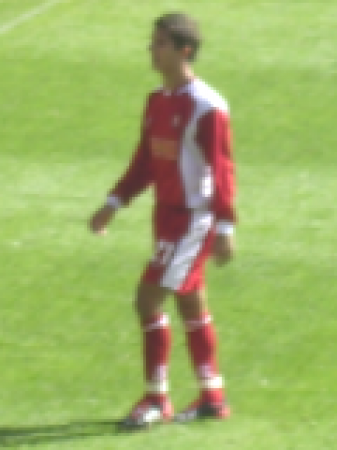 Clown
By Rev H.
January 21 2007
Many more performances like the one witnessed today could well see us returning to Field Mill next season. Walsall looked some way from being a team topping the league. Walsall came away from Field Mill with what they deserved. Nothing.

Despite a fairly bright opening in which they took the lead courtesy of Roperís outstretched boot they managed to implode with dreadful defending from Kris Taylor and a goalkeeping blunder from Ince gifting the home side all three points.

Although Saddlers rallied in the dying seconds an equaliser would have been extremely harsh on the limited but determined Stags outfit.

In bitterly cold conditions and gale force winds both sides struggled to get a hold of the game. In their first real attack of the game, (well the first attack seen by a great number of the visiting supporters who were unable to gain entrance until 15 minutes after kick off due to yet another club with the inability to operate a turnstile system, but thatís another story), Fox floated a corner to the back stick which was nodded back into the box by Butler. Neither side reacted as the ball lay stationary in the boggy goalmouth so Ropes decided to stick out his left boot to force it home.

Many visiting fans then expected a goal fest. Sadly they were disappointed as Walsall served up their worst performance of the season. Worse than Grimsby or Barnet away? Oh yes!

Minutes after taking the lead Taylor, due to appear in front of Nottingham Magistrates in the near future on charges of impersonating a professional footballer, needlessly gave the ball to Dílarylea who released Conlon one on one with Ince. As against Peterborough, Ince won the one against one challenge.

Minutes later though the Stags were on level terms as Conlon rifled an unstoppable shot into the roof of the net from 6 yards following a low cross from the excellent Dawson.

From that point on Walsall were never in the game. Mansfield, strong direct and quick constantly troubled the Saddlers back line. In all honesty they could easily have bagged another couple of goals before the break. Fortunately for Walsall a few efforts are still en-route to Long Eaton whilst Ince pulled off some smart saves to ensure honours were even at half time.

During the break Money replaced the ineffective Cederqvist making his first start for Saddlers with Hector Sam.

Walsall continued where they left off unable to string two passes together. They failed as a team unit and individually too many players were well below their best. As the game went on I was left wandering whether these players had ever met before. Poor Hector Sam must have been dismayed at the inability of his team mates to make good of the chances he afforded them.

He turned in a top notch performance holding the ball up, running at the defence and laying chances on for his team mates. In return for his efforts his team members offered nothing.

Surprisingly Walsall were out battled and out fought. The Stags showed more determination and won their fifty fifty battles. The Saddlers side lacked balls.

On the hour mark Taylor picked up the ball wide left and without a Mansfield player within 20 yards of him he managed to pick out Ė you guessed it Ė the only Mansfield player within 20 yards from him. Brown then floated the ball straight to Ince who, for reasons unknown, decided to bottle it with Gritton running in and fumbled the ball onto the strikers head and subsequently into net. Appalling.

Inceís half hearted claims for a foul in order to hide his embarrassment did not fool any of the 985 visiting supporters gasping in dismay behind his goal.

Saddlers continued to huff and puff but to no avail. The introduction of Keates in place of the awful Mark Wright had little effect.

Had Saddlers equalised in the dying seconds from a late goal mouth scramble it would have been extremely harsh on the battling Stags.

We looked to be a million miles away from being a team topping the table.