The Kids in America Part II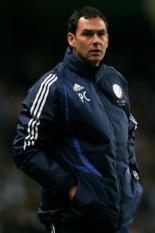 Led Our Boys in Florida
By Since66
December 31 2008
Five days ago our Academy landed in Florida to take part in Disney's Showcase Soccer tournament that was held at Disney's World Wide of Sports faciltity in Orlando. Reserve team manager Paul Clement took our boys to the States. On the day the Academy landed, the Academy played their first game of three group games against the U.S capital youngsters, DC United. Our Academy won 4-2.
Chelsea goals were scored by: Frank Nouble, Jhon Pirez, Billy Knott and Anton Rodgers.
DC United had a goal disallowed through Eliseo Fraga then Chelsea went 4-0 up.
DC United's goals came in the last fifteen minutes and both were scored by Paul Torres, two in two minutes.
The next day, Sunday, Chelsea played Lonestar 92 SC from Austin Texas.
In extreme conditions more suited to the Texans than the Londoners, Chelsea won 1-0 with a goal from Bobby Devyne scored in the 38th minute.
Although the Academy made it two wins from two games in successive, little BIlly Knott injured his knee and had to be carried off the pitch.
On Monday the boys had to play their third game in three days, this time against Lower Merion SC of Philadelphia and the boys were saved the hottest part of the Florida day as this game kicked off at 10:30am (local time).
Chelsea already guaranteed a place in the final drew 2-2, the goals scored by Frank Nouble from the penalty spot and Aziz Deen-Conteh who equalised for Chelsea eight minutes from time.
Merion's goals were scored by Rico Milton who put Merion 1-0 up and Max Tassano scored to put the Philly side 2-1 up after Frank had equalised. At 1-0 Merion hit the post through Escalona Voltaire.
The only sour point of the game came in the ninth minute as Chelsea's Bobby Devyne, who scored the winner against Lonestar, was sent off for a late tackle.
So on to the final.
Chelsea lined-up against Javanon from Louisville, Kentucky and in goal for Javanon was the tournament's all-star keeper Taylor Hafling.
How top billing can go to a young man's head or were our Academy that good?
Two up by half-time with goals from Billy Clifford and Jhon Pirez, the Academy showed their class and poise by scoring another three goals in the second-half against an extremely highly rated goalkeeper and a defence who had been miserly like in their group stage games.
Frank scored his first goal of two after 65 minutes and on 80 minutes, Javanon's Keenan Sparks was sent off after hand balling on the line.
Chelsea's George Saville penalty kick was saved by Halfing.
Two goals in the last five minutes from Billy Clifford and Frank Nouble (his second) sealed Chelsea's emphatic win.
Suffice to say, the official website had boasted before this competition began that they would be bringing up to date news of the Academy's progress whilst taking part in the tournament that Chelsea WERE the official organiser, sponsor, partner whatever you want to call.
Frankly I think Chelsea's coverage of this tournament was rubbish, not only on the website but on Chelsea TV as well.
With the exception of the scorers I got all of my information direct from the official website that Disney was producing.
What made me laugh more than anything was last night's Chelsea Blue News. I already knew the result for the final and Chelsea TV announced that the Academy were playing the final 'this evening.'
The Blue News programme was broadcast at 6.30pm UK time (Tuesday night}, some 2 or 3 hours after the game kicked off.
As I write, Blue News were reporting Chelsea's draw against Merion in the last group game and we had already WON the final.
LOL LOL LOL LOL
Happy 2009 to everyone including Chelsea TV and the Official Website - GET ON THE BALL.