Transfer Rumours: Tuncay, Witsel, Zhirkov, Adriano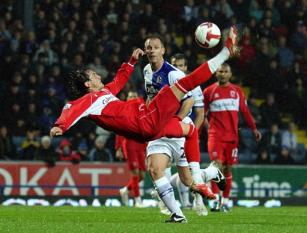 TUNCAY
By dixon9
December 17 2008
Key players such as Joe Cole, Ricardo Carvalho and Didier Drogba are back or coming back from injury and the progress of Michael Essien´s recovery is apparently progressing much quicker than anticipated; nevertheless, Scolari quite clearly feels we will still need that something extra if we are to cement our challenge for honours this season.
'We lack an organiser who can get hold of the ball, get forward and energise our front line. I just have players who work on the ball."

'Deco, Michael Ballack and Frank Lampard can all shoot but I don't have a player who can dribble."

"When we are at home our opponents close up at the back, with lots of men behind the ball. That makes it difficult when you don't have an organiser."

Robinho was obviously the missing piece that Scolari needed – so who could be the Plan B player that would help give us the spark we need?

The media's current favourite being touted is that of Tuncay

, 26, a

Turkish

international for

Middlesbrough

.

He arrived on a free from

Fenerbahçe

in June 2007.

He is adaptable as a

striker

, a left

winger

or a right winger and is without doubt a flair player and has received the plaudits for his recent exploits.

He first came to the attention to the wider football arena when he scored a hat-trick against Manchester United.

Fenerbahce coach Zico lamented his departure:

"Tuncay has been a great loss to us; he was the one giving us the soul and the hope. Now that he is gone we miss that piece of soul and hope. He is a great person, and I wish him the best of luck in his new team. Even though he is now gone, I still wish he will come back to Fenerbahçe."

We are linked (touted by the media!) and willing to part with £8 million for his services although Southgate says we'd have to pay a lot more than that for him.
Next in the press is Standard Liege midfielder Axel Witsel who is also a target for Manchester United.

Witsel is still only 19 and have recently turned down a £19million bid from Ferguson.

Zhirkov, 25 of

CSKA Moscow

and

Russia national team

is still on the radar.

Nicknamed 'the Russian

Ronaldinho

' he plays as a left winger and is very creative and works hard for his team.

His goal against Hamburg in the Champions League last 2006-07 was chosen as best goal of the competition and consisted of chipping the ball past an opponent then again past a second before dribbling from the half way line into the box and scoring. He was also voted Russian Player of the Year 2008.

Finally, not a creative player but a forward, is Adriano who José Mourinho is "reported" to have told the Inter squad they won't be seeing anymore.

"Adri will not be playing with us anymore and this really saddens me, as I would have preferred to keep him here until at least June."

Apparently we have approached Inter with a €20 million bid.

Don't think we should be taking any chances on playboy Adriano myself – I have visions of his photo in the tabloids, pictured stumbling weary-eyed out of some club in the west end with a couple of bimbos on each arm. Shame – because if he knuckled down he would be a hell of a forward.

In my opinion we should be going for a quality wide player over a forward anyway – god knows who that might be. Time will tell (as usual).
View a Printer Friendly version of this Story.
Transfer Rumours: Tuncay, Witsel, Zhirkov, Adriano
50 Years Over 100 Years (IP Logged)
17/12/2008 09:31
Transfer Rumours: Tuncay, Witsel, Zhirkov, Adriano
Re: Transfer Rumours: Tuncay, Witsel, Zhirkov, Adriano
02/01/2009 00:23
Daily Mail linking us with Zirhov (been linked with us since just after Grant left) - Videos included:
LINK
.
---
"It is born out of hypocrisy and fundamental insecurity. There have been two kids on the block for the past 12 years. Suddenly, there is a third and that one is threatening to be more successful than the others and they don't like it." P Kenyon.