A Glorious Di Santo Hat-Trick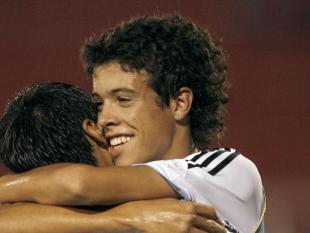 By Since66
April 15 2008
Brendan Rodgers was fortunate to have four first team squad players available for last night's reserve game against Spurs at Brisbane Road, Leyton Orient FC, but it wasn't Paulo Ferreira who stole the show nor Tal Ben-Haim neither Steve Sidwell or Branislav Ivanovic.
The star of last night's show in Chelsea's 3-0 win was Franco Di Santo who scored a hat-trick and he now has six goals in seven reserve appearances.
Two of his goals came from the penalty spot, but if you get a chance to see his other goal, this goal would have graced any Premiership pitch this season.
Fabio Ferreira and Ricardo Fernandes had caused Spurs problems all night with their wing play and after some more Fabio trickery, Ivanovic provided the cross for Di Santo to control and volley inside the 'D' right into the top corner of the net.
All the goals came in the 2nd half and the first goal came from the penalty spot after Spurs' Maghoma, who was shown a straight red, after he scythed down Jimmy Smith from an excellent Sidwell pass.
Chelsea's third and Di Santo's third came from a second penalty when Fabio was brought down inside the area and Di Santo duly despatched the spot-kick.
Di Santo was on fire last night and could easily have had five.
I have seen this boy play a few times and it is typical of fixture scheduling that Chelsea fans could not enjoy the all round performance that Di Santo provided last night and the six previous games he has played in.
Di Santo is an all round footballer, he not only scores goals but he makes them too. He does a lot of work off the ball. He chases, he harries and he never stops running.
Get this boy and Gael Kakuta in the first team NOW!!! Well after all Mr A WANTS the 'kids' to come through, DOESN'T HE? or DOES HE?
Franco Di Santo is from Argentina and came to Chelsea in January from Chilean club Audax Italiano La Florida (dare you to Google that!!)
Chelsea: Stuart Searle, Paulo Ferreira (Carl Magnay), Branislav Ivanovic, Tal Ben Haim, Shaun Cummings (Jack Saville), Steve Sidwell, Fabio Ferriera, Jimmy Smith, Ricardo Fernandes (Daniel Philliskirk), Franco Di Santo, Phil Youngshusband.
Tottenham Hotspur: Tommy Forecast, Chris Gunter, Gilberto, Jake Livermore, Troy Archibald-Henville, Dorian Dervite, Kyle Fraser-Allenb, Jacques Maghoma, Tomas Pekhart, Adel Taarabt (Daniel Hutchins), David Hutton.
FULL LIVE COVERAGE OF THE FA YOUTH CUP FINAL 2ND LEG WEDNESDAY 16/4/08