A Bizarre Bragging Right!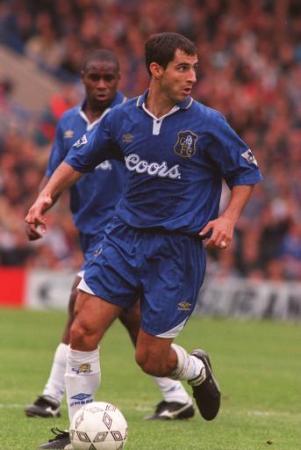 Gavin Peacock
By Gary Watton
March 2 2014
While not always the best team in England [with the exceptions of 1955, 2005, 2006, and 2010], Chelsea FC set a record for being perhaps the most prolific at defeating England's best team in the season that such a team wins the league. Of course, other clubs have managed to occasionally defeat the champions-elect in a given season, but Chelsea do have a knack at recording this particular feat.
Let's now look back at the contests where Chelsea raised their game and conquered the team that went on to win that season's league. In so doing, it raises the question as to whether Chelsea teams in the past were more motivated for some fixtures than they were for others. Regrettably, while that attitude prevails, the Blues will always suffer from inconsistency. Right, it's time to pour over some famous triumphs for west London's finest, including a double against the mighty Wolverhampton Wanderers in 1958-9 and a double in 1993-4 over Manchester United, who themselves acquired the Double at the end of that season, with the aid of a man of the match performance in the FA Cup final by the referee David Elleray!
Manchester City 0 CHELSEA 1; 3rd February 2014; crowd: 47,364
Scorer: Ivanovic
The manager was hailed for a tactical masterclass as Ivanovic stroked home with his left foot, shortly before half time. Chelsea could easily have scored more.
CHELSEA 2 Manchester City 1; 27th October 2013; crowd: 41,495
Scorers: Schurrle, Torres; Aguero
Andre Schurrle gave the Blues the interval lead with his first goal for the club. Then in the dying seconds, a Joe Hart blunder gifted Torres a rare goal for the hosts.
Manchester United 0 CHELSEA 1; 5th May 2013; crowd: 75,500
The visitors dominated the second half and eventually got their reward against the lack lustre champions.
Scorer: Mata
CHELSEA 2 Manchester City 1; 12th December 2011; crowd: 41,730
Balotelli scored inside the first two minutes, but substitute Frank Lampard netted a late winner from the spot.
Scorers: Meireles, Lampard [penalty]; Balotelli
CHELSEA 2 Manchester United 1; 1st March 2011; crowd: 41,825
The reigning champions came from behind, after Wayne Rooney had earned his team a half-time lead.
Scorers: Luiz, Lampard [penalty]; Rooney
CHELSEA 2 Manchester United 1; 26th April 2008; crowd: 41,828
A late Michael Ballack penalty ensured that their duel for the Premiership would go to the final match.
Scorers: Ballack (2); Rooney
Manchester United 0 CHELSEA 3; 1st December 2001; crowd: 67,544
Mario Melchiot scored an early goal, while Chelsea's striking duo added two more goals in the second half.
Scorers: Melchiot, Hasselbaink, Gudjohnsen
CHELSEA 5 Manchester United 0; 3rd October 1999; crowd: 34,909
Gus Poyet scored inside the first thirty seconds. United were so dire that even Chris Sutton added a second!
Scorers: Poyet (2), Sutton, Berg [own goal], Morris
Manchester United 1 CHELSEA 2; 2nd November 1996; crowd: 55,198
Italian maestro Gianluca Vialli ran through from almost the halfway line to slot Chelsea into a 2-0 lead.
Scorers: May; Duberry, Vialli
Manchester United 0 CHELSEA 1; 5th March 1994; crowd: 44,745
Remarkably, another Gavin Peacock goal, just beyond the hour separated these two teams again.
Scorer: Peacock
CHELSEA 1 Manchester United 0; 11th September 1993; crowd: 37,064
This was a morale-boosting triumph for the new manager Glenn Hoddle, but Chelsea failed to build on this win.
Scorer: Peacock
CHELSEA 2 Arsenal 1; 2nd February 1991; crowd: 29,094
Astonishingly, mid-table Chelsea inflicted the only league defeat of the season upon George Graham's team.
Scorers: Dixon, Stuart; Smith
Everton 3 CHELSEA 4; 22nd December 1984; crowd: 29,887
Gordon Davies rarely played for the Blues but he certainly helped to eat the Toffees in this seven-goal bonanza.
Scorers: Bracewell, Sharp (2); Pates, Davies (3)
CHELSEA 1 Nottingham Forest 0; 5th November 1977; crowd: 36,116
Big Trevor Aylott scored the only goal against a team that had been promoted with Chelsea back in the spring.
Scorer: Aylott
CHELSEA 2 Arsenal 1; 29th August 1970; crowd: 53,722
It was hard to fathom that the losers would go on to win the Double after defeat in this London derby.
Scorers: Mulligan, Hollins; Kelly
CHELSEA 1 Manchester City 0; 16th April 1968; crowd: 36,466
Big Alan Birchenall's goal threatened to derail Manchester City's pursuit of a second league championship title.
Scorer: Birchenall
CHELSEA 4 Burnley 1; 5th September 1959; crowd: 36,023
Eric McMillan made his Chelsea debut in this emphatic home win against a fine team from Lancashire.
Scorers: Greaves, Brabrook, Livesey (2)
Wolverhampton Wanderers 1 CHELSEA 2; 3rd January 1959; crowd: 36,093
Mediocre Chelsea completed a crazy double over their illustrious hosts, but they remained distinctly average.
Scorers: Gibbs, Tindall
CHELSEA 6 Wolverhampton Wanderers 2; 30th August 1958; crowd: 62,118
Star striker Jimmy Greaves caused a sensation by scoring five times against the highly-rated Wolves.
Scorers: Block, Greaves (5);
CHELSEA 4 Wolverhampton Wanderers 2; 13th February 1954; crowd: 60,289
The prolific Roy Bentley was the chief destroyer here. His team would be bidding for league glory a year later.
Scorers: Bentley (2), Parsons, Stubbs;
CHELSEA 4 Manchester United 2; 10th November 1951; crowd: 48,960
Not for the last time, the Blues were able to defeat a Manchester United team en route to becoming champions.
Scorers: Bentley, D'Arcy (2), Smith; Pearson, Rowley
Arsenal 0 CHELSEA 2; 20th March 1948; crowd: 56,596
More than just a London derby, the visitors were keen to take their high-flying hosts down a peg or two.
Scorers: Bentley, Campbell
CHELSEA 3 Liverpool 1; 4th January 1947; crowd: 59,226
Scotsman Sid Bathgate made his Chelsea debut in this resounding triumph, asssisted by a Tommy Lawton double.
Scorers: Lawton (2), Goulden; Balmer
CHELSEA 2 Everton 0; 19th December 1914; crowd: 18,000
There may have been a war going on, but the 'Pensioners' were determined to win this particular conflict!
Scorers: Logan, Freeman
CHELSEA 2 Blackburn Rovers 0; 11th April 1914; crowd: 50,000
Max Woosnam made his Chelsea debut in this fine win over the champions-elect.
Scorers: Ford, Freeman
Newcastle United 1 CHELSEA 3; 17th April 1909; crowd: 30,000
Arthur Holden made his Chelsea debut in this win on Tyneside against a team about to be crowned champions.
Scorers: Wilson; Humphreys, Hilsdon (2)
View a Printer Friendly version of this Story.
A Bizarre Bragging Right!
Discussion started by Chelsea FC (IP Logged), 02/03/2014 13:26
Chelsea FC
02/03/2014 13:26
What do you think? You can have your say by posting below.
If you do not already have an account
Click here to Register
.
Sorry, only registered users may post in this forum.