Our Relegation Seasons!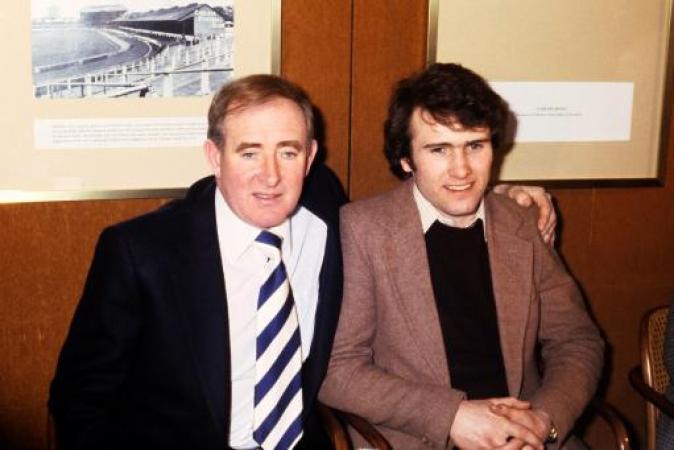 Bannon/Blanchflower
By Gary Watton
March 2 2014
While many Chelsea followers continue to bask in the glow of back-to-back European trophies, a coveted Double in 2010, and back-to-back Premierships in 2005 and 2006, those of us of a certain vintage can still painfully recall the Chelsea of bygone decades that succeeded in shooting itself in the foot almost as much as it succeeded in acquiring silverware.
In all probability, barring financial meltdown, our relegation days are now consigned to ancient history. Nevertheless, masochist that I am, I thought that I would take a trip back in time to our six campaigns that ended in the bitter disappointment and pain of eviction from the First Division.
1909-1910
First of all came our relegation from the top league in 1910. Chelsea had fought their way out of Division Two after merely two years therein, but lo and behold we were back there after three years at the top table. Astonishingly, Chelsea attracted a higher attendance average than any other English club in this relegation season. Clearly, Chelsea fans in such bygone days could not be accused of being glory-hunters! Regrettably, Chelsea could have escaped the drop if they had won away to Tottenham in their last match. Although Windridge gave the Blues an early lead, the Spurs drew level before half time and scored a winner after the interval which in turn guaranteed their safety. The west Londoners had only won two of their last eleven fixtures. Fortunately we soon returned to the First Division.
In a bizarre twist, Chelsea were due to be elbowed out of the First Division at the resumption of peacetime soccer in 1919, having finished one off the bottom in 1915 [the year that they reached their first FA Cup final]. However, they were reprieved by dint of an expansion in Division One's teams from twenty to twenty-two.
1923-1924
Secondly, the Pensioners [as they were then known] slid out of the elite league in 1924. Remarkably, Chelsea had begun the third decade of the twentieth century with a hugely impressive third finish in the First Division, which was to date the highest placing by a London club. Furthermore, a Jack Cock-inspired Chelsea travelled as far as the FA Cup semi-finals. However, they thoughtfully spared the FA many blushes by losing 3-1 to Aston Villa, thereby denying themselves an unprecedented home advantage in the final! Given this outstanding start to the 'twenties, it is almost inconceivable that Chelsea should fade so badly in subsequent years. In this actual campaign, Chelsea ended with four straight wins, but it was too late, as a run of eleven fixtures without a win prior to this had condemned them to the big drop. These early post-war seasons featured each team playing one another home and away in quick succession, unlike the modern trend of two teams playing one another home and away over different periods of the season.
1961-1962
West London's finest returned to the 'premier' league in 1930 and then miraculously avoided the drop on numerous occasions either side of the Second World War, but found themselves bottom of the heap in the 1961-1962 campaign. Funnily enough, this was the first time that Chelsea changed managers mid-season, with the charismatic Tommy Docherty replacing the moderately successful Ted Drake. Although the lethal duo of Barry Bridges and Bobby Tambling recorded 39 goals between them, Chelsea fittingly finished this poor season without a win in their last eleven fixtures.
1974-1975
After a one-year sentence to Division Two, the Blues came bouncing back in the First Division. However, in an echo of the early 1920s, Chelsea encouragingly began the 'seventies with much success, only to evaporate a few years later, against a background of investment in a stadium, and less finance for new players. Having slipped from 3rd to 6th to 7th to 12th to 17th in successive seasons, there was perhaps an air of inevitability about Chelsea's mid-decade demise. The ill-fated 1974-1975 campaign saw Chelsea supervised by three different managers, a testimony itself to upheaval at the Bridge. Dave Sexton went through the departure lounge in October, after a poor start, while the ineffective Ron Suart was replaced in the spring by Eddie McCreadie. The latter narrowly failed to avoid relegation, which was all the more depressing since Arsenal and Tottenham both looked more likely relegation candidates back at Christmas, before Chelsea generously volunteered for the drop instead. [See http://www.youtube.com/watch?v=ksqhIVXI138 ] The Blues had contributed to their late-season collapse with only one win in their final twelve matches, whilst they only scored a pitiful four goals in their last nine outings [two of which came from our defenders Mickey Droy and John Sparrow]. Happily, Chelsea's exile to the second league was merely a two-year punishment.
1978-1979
Next on the agenda was the worst of the lot: the abortive 1978-1979 adventure when Ken Shellito made way for Danny Blanchflower. Neither individual could work any magic upon a large but misfiring playing staff, many of whom simply were not First Division standard. Even Peter Bonetti and Ron Harris were still relied upon in the twilight of their careers, because nobody else was available to replace them. This hapless Chelsea team were candidates for the worst-ever to 'grace' the top league. One win and one clean sheet in our last eighteen fixtures emphatically told its own depressing story. [Ironically, the only shut-out in that period was achieved against a rampant Liverpool who were en route for the league title!]
1987-1988
Chelsea eventually climbed out of the purgatory of Division Two in 1984, but they returned there in 1988. Amazingly, the Chelsea team that descended to the Second Division in 1988 finished eighteenth in a 21-team league, a position that would have been more than comfortable in some other seasons. However, they were compelled to compete in promotion/relegation play-offs back then, and though they comfortably took care of Blackburn Rovers, both home and away, the Blues narrowly lost the two-legged final, two-one on aggregate to Middlesbrough. Jonesy reliably informs me that Kevin Hitchcock did his team few favours in the first leg, which we lost two-nil, and although Gordon Durie converted a Pat Nevin cross early in the second leg, another goal was not forthcoming. Instead of which, the volatile Chelsea supporters vented their anger and frustration at the conclusion of the hostilities and thereby made a bad day even worse for the club. That Chelsea team should never have got relegated. Kerry Dixon and Gordon Durie netted 23 times between them as Chelsea started October second in the league! They only needed one win in their last few fixtures, but instead they staggered their way through their remaining matches with one draw after another [including one against the champions-elect, Liverpool] and a damning four-one defeat at West Ham United in their penultimate engagement. In fact, Chelsea won only one of their last 26 matches, fourteen of which were draws, including a 3-3 and a 4-4! In the latter, the Blues led three-nil at half time away to Oxford and then Dixon put them 4-3 ahead with four minutes remaining, and still Chelsea couldn't secure all three points! [See http://www.youtube.com/watch?v=PGnbs3VyR1o ]
Eight of the final eleven fixtures ended in a share of the points, including a final home match against fellow-strugglers, Charlton Athletic. A win against the south Londoners would have avoided the dreaded play-offs, and although a Gordon Durie penalty gave Chelsea a half-time lead, Charlton escaped the play-offs when they equalised with 25 minutes remaining. [See http://vimeo.com/5271029 ] Proof that this Chelsea team were just too good for the drop was emphatically provided the following season when the Blues ran away with the Second Division trophy, confirming themselves to be head and shoulders above the rest of the second tier.
A video of Chelsea's return in 1989 to the top league was issued, entitled 'Chelsea Are Back!'. Indeed they were, and this time to stay. The rest is history……..!
View a Printer Friendly version of this Story.
Our Relegation Seasons!
Discussion started by Chelsea FC (IP Logged), 02/03/2014 11:41
Chelsea FC
02/03/2014 11:41
What do you think? You can have your say by posting below.
If you do not already have an account
Click here to Register
.
Sorry, only registered users may post in this forum.