Chelsea Goalkeepers Since 1970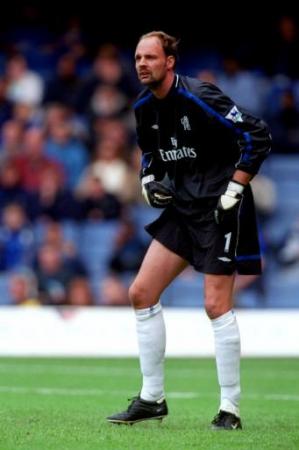 A big Dutch maestro
By Gary Watton
March 2 2014
First of all [and taking pride of place] is the one and only Peter Bonetti. I always thought that Bonetti was harshly treated and scapegoated for England's defeat in the 1970 World Cup quarter-finals to those nice West Germans. It's not like he spilled the ball or committed any obvious clanger. I invite anyone to explain to me why Peter deserves scorn for our self-inflicted defeat. Previously, his England career was one of several clean sheets. Admittedly, he never played for his country again, but then the landscape was now populated by the likes of Clemence and Shilton. Bonetti was known as 'the cat', on account of his agility. Alternatively, George Best once waggishly quipped that he was called 'the cat' because every time that Jimmy Greaves got into our penalty area, Peter had kittens! I think that is fair to say that Bonetti can be counted amongst Chelsea's legends, not least because his career spanned the whole of the sixties and seventies. [Also, a certain Alex Stepney had a brief stay at Chelsea in the late 'sixties but could not dislodge Bonetti from the goalkeeping berth and instead went on to find extended employment at Manchester United.]
Next is John Phillips. Phillips always conceded a lot of goals. Is this because he was awful or his defence and midfield were woeful? I suspect that it was a bit of both. Phillips did assist Chelsea in reaching the 1971 European Cup Winners Cup final, but he conceded 7 at mediocre Wolverhampton as Chelsea sloped off into a long decline. Funnily enough, he shared goalkeeping duties for Wales with one Gary Sprake, a notoriously erratic Leeds goalie, as the late Peter Houseman could have testified! Obviously in the early seventies, while the Welsh rugby team had an embarrassment of riches, there was no such luxury in the goalkeeping department.
Steve Sherwood played briefly at the Bridge in the mid-table Second Division team of the mid-seventies. Sherwood went on to find more fame as the regular goalie of a resurgent Watford that scaled the heights briefly in the early 'eighties, culminating in their 1984 FA Cup final appearance.
Bob Iles had a brief cameo as Chelsea goalkeeper in the late 'seventies. I think that he had one or two clean sheets in December 1978 before reality set in and he conceded seven goals at Ayresome Park, to John Neal's Middlesbrough. Big Bob was one of about fifty players that Danny Blanchflower used in our horrendous campaign of 1978-9. The fact that Iles was an understudy in a squad short on quality tells its own story.
Then in the spring of 1979, out of the blue, Mr Blanchflower signed a Yugoslav goalkeeper, at a time when foreign imports were almost unheard-of. The gent in question was the late Petar Borota. Along with two other Peters, Bonetti and Cech, Borota was something of a darling of the terraces. He started his all-too-brief Chelsea career with an in-at-the-deep-end baptism of fire at home to the European champions, Liverpool. Bottom-placed Chelsea promptly held high-flying Liverpool to a goal-less draw, and Borota's love affair with the Blues supporters was well and truly hatched. Borota was voted as our player of the season in one of the subsequent couple of years, but not surprisingly he grew tired of our second division meanderings.
Steve Francis took on goalkeeping duties in the early 1980s. I have no recollection of his talents [or lack of them], but just remember him as someone who looked about eleven years of age. I welcome any comments about his prowess or otherwise.
Eddie Niedzwieckie was a highly-rated goalkeeper for Chelsea during our mid-eighties revival. Tragically, the Welsh maestro's career was ended early by injury. He also had the misfortune of competing against Neville Southall for Welsh caps, even thoug he was way better than Phillips had been a decade earlier. Eddie did stick around [as did Bonetti] and assisted his successors as goalkeeping coach.
Tony Godden had a brief stint as our goalkeeper. If I am not mistaken, he did concede a lot of goals, and found regular work elsewhere [West Brom, I think].
Roger Freestone is another mystery to me. His tenure between the posts coincided with Chelsea's late eighties decline, and presumably it was no coincidence. I remember him as looking a bit overweight, though maybe not quite as portly as our very first goalie, the legendary Fatty Foulke! I welcome any comments on Freestone from any of you lucky or unlucky enough to have seen him on many occasions.
Dave Beasant: I always considered big likeable Dave to be way over-rated. His reputation has always been based on that 1988 FA Cup final penalty save. However he had a bad tendency to parry shots instead of holding them with both hands. As a result he must have been the favourite goalie for most strikers as he was liable to palm a shot straight into the path of an onrushing centre forward. Dave also famously got injured when he dropped a bottle of salad cream or ketchup on his foot – not very good behaviour from someone expected to be a safe pair of hands! (5/10]
Kevin Hitchcock: Everybody liked Kevin. He was a faithful member of the squad for about a decade. He did have a knack of saving penalties, but he was a bit inconsistent. I noticed recently on videos of past performances that he flapped at crosses. I also hold him responsible for Chelsea failing to close out an FA Cup sixth round home win against Sunderland in 1992. He came out of his goals and Byrne headed the ball wide of him and Kevin tried to scurry back but the ball bounced beyond him. If he had stayed on his line, he would have bought himself extra time to deal with the header. As it was, we missed out on an FA Cup semi, but glory eventually came five long years later! [5/10]
Dmitri Kharine: West London's favourite Russian [sorry Roman!] had a couple of peculiar traits. This renowned shotstopper always ludicrously wore tracksuit bottoms, come rain or shine, and he always had the continental bad habit of punching the ball from crosses instead of catching it. This flawed tactic meant that sometimes the punched ball landed at an opponent's feet and therefore it did nothing to relieve the pressure on goalie and defence. [Do our coaches never speak to our players about such matters?] He also blundered badly at home to the high-flying Magpies in an FA Cup third round clash in 1996 when we were running the clock down and the big muppet scuffed a clearance, enabling Les Ferdinand to steal an equaliser and a replay, which we remarkably won on penalties [a collector's item!]. I also think that Dmitri should have made a better fist of Cantona's two cup final penalties on that awfully wet afternoon in 1994. The nation and beyond would loved to have seen Cantona's penalties saved. [6/10]
Frode Grodas: At a time when Chelsea's transfer policy was to purchase the best that money can buy, Grodas seemed an odd appointment. There was probably at least thirty English goalkeepers who could have done the job at least as well. In the event, there were fears going into the 1997 FA Cup semi-final that his vulnerability under high balls would be exposed by a barrage from Wimbledon. However, the Norwegian came through this test with a clean sheet and repeated the trick in the final, albeit against a mediocre Middlesbrough. [5/10]
Ed De Goey: Big De Goey was a definite step-up in class for the Blues. He was a commanding presence in goals. The big Dutch maestro made a crucial last-minute save in the second leg against Vicenza which sent us through to the final of the 1998 European Cup Winners' Cup whereupon he collected a clean sheet, and then he repeated that trick in the 2000 FA Cup Final. On the debit side, he did concede a farcical goal on that disastrous Saturday afternoon in October 1999 when we conceded three late goals to Nwankwo Kanu of Arse-nil. De Goey rushed out of his net while Leboeuf rushed back to the goal-line. It never bodes well when your goalie decides to become a centre half and your centre half chooses to become the goalkeeper! [8/10]
Carlo Cudicini: I think that everybody loved Carlo. He was brilliant in the first half of his Chelsea career, but through time he became erratic and was rightly replaced by big Petr. Alan Green once amusingly observed that with Cudicini as our replacement goalkeeper, Chelsea had the two best goalkeepers in the Premiership! Who will ever forget that night at Reading when Cudicini sufferd a sickening injury and yet ended up less wounded than big Cech who experienced an innocuous-looking challenge and nearly died! Happily, when Carlo relocated to Three Points Lane, he did little to lift Tottensham out of their mediocrity, so all is forgiven. [7/10]
Mark Bosnich: I almost forgot about him, probably because his brief stint at the Bridge is best forgotten! Bosnich was a big hit at Villa Park, but unhappily the Aussie maestro proved not to be one of Ranieri's most inspired signings. [4/10]
Marco Ambrosini: The rather unfortunate Ambrosini was plucked from third choice to deputise in goals at the business end of the 2004 Champions League campaign. Yes he coped with the so-called 'Invincibles' of Arsenal [who weren't so invincible against us!]. However, Ambrosini conceded a couple of soft goals in that nightmare semi-final away to ten-man Monaco [who weren't exactly world-beaters]. Ambrosini was the equivalent of the barman who is asked to step in and sing at his pub because the cabaret act didn't turn up. [4/10]
Petr Cech: The main man. The guy is a Chelsea great. His clean sheets in 2004-5 and his penalty save on that tricky winter's night at Blackburn are the stuff of legend. Of course, having had a prolonged career, Mr Cech has had his howlers too, but his importance to Chelsea's success rates alongside Schmeichel's importance to the glory years at Old Trafford. On the negative side, he probably could have saved one or two more penalties than he did. [He failed to save a single penalty when we were defeated by Liverpoo in a Champions League semi-final shoot-out in 2007 and he was also unable to save any ManUre penalties in the 2008 Champions League final.] Some would argue that he has never been the same exceptional goalkeeper since that near-tragedy at Reading. [9/10]
Hilario: Hilarious Hilario was definitely not one of our better Portuguese purchases. Admittedly he did start his Chelsea career with an important penalty save at Sheffield United, but Hilario never inspired any confidence in his goalkeeping abilities. We always seemed vulnerable when he was between the sticks, a fact emphasised by our 2-4 defeat at home to Manchester City which threatened to derail our 2010 Double-winning campaign. [4/10]
Ross Turnbull: Fortunately for Chelsea, Ross played few times for the Blues. I thought that he was a bit mediocre to be Cech's understudy. I shudder to think what would have happened if Petr the great had been sidelined for many months and we had to make do with Turnbull. [4/10]
That, ladies and gentlemen, concludes my little trip down memory lane, with our goalkeepers. I reckon that a certain Thibaut Courtois will be another Chelsea great when the current incumbent Petr Cech relocates.
Time will tell. It always does!
View a Printer Friendly version of this Story.
Chelsea Goalkeepers Since 1970
Discussion started by Chelsea FC (IP Logged), 02/03/2014 11:50
Chelsea FC
02/03/2014 11:50
What do you think? You can have your say by posting below.
If you do not already have an account
Click here to Register
.
Sorry, only registered users may post in this forum.