Arsenal Football Club: A Management Review Part 1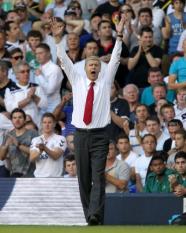 Wenger enjoys the lane
By Neil Fry
October 4 2011
You may be wondering how we got into the current state that sees our team unable to win away and ship goals like water. Teams no longer fear the Arsenal, and its beginning to show. This is the worst start in 33 years, but this state of affairs didnt come about by itself, it had to be managed. A fish rots from the head, not the tail.Neil Fry wrote this article in mid August, so its no knee jerk reaction to defeat at the lane, in fact its a sober and realistic appraisal of how we got to where we are today, 15th from the top.
Executive Summary
The most significant cause of Arsenal's failure to win any trophy for the last six seasons appears to have been the major change in Monsieur Wenger's previously highly successful player recruitment policy – exacerbated by inexperience and an un-remedied lack of key competences in defensive players recruited and defensive coaching. The policy was not necessarily inherently flawed and a small number of timely additions of carefully selected defensive players should have remedied the problems and may have led to the desired success. There have also been some disastrous unintended consequences from trophy prioritisation. The implementation of club's self-sustainability financial strategy has appeared incoherent and there have been inconsistencies and missed opportunities.
The club appears to have been very slow to adapt to developments elsewhere on and off the pitch and Monsieur Wenger appears to have become increasingly resistant to changing his policies accordingly. The most serious deficiencies found were in monitoring and reviewing progress where there has been a repeated failure to take, and prioritise, remedial action over obvious failings.
There has been a very significant change with club recently falling under foreign ownership; however, the self-sustainability model remains very much in evidence and the impact of foreign ownership as yet to be detected. Director leadership remains largely invisible. Performance standards have not been made clear and an inordinate level of faith in Monsieur Wenger appears to remain - regardless of on the pitch outcomes. Monsieur Wenger does not appear to have been subjected to any accountability over failing to achieve substantive success during his second seven year period. The immediate future appears to represent a hazardous period for the Club. The difficulties are compounded by high risk August fixtures, and the likely departure of two star players to try and realise their personal ambitions of success.
Introduction
This analysis follows the relatively adverse results at Arsenal Football Club in recent years and the concerns of many supporters over on and off the pitch developments. The period under review is the last seven years, with the focus on the most recent seasons. The analytical framework is an adapted version of the Health and Safety Executive's framework for carrying out inspections of companies' management systems. Benchmarking is not the calamitous recent management and / or director leadership of clubs such as West Ham United, Birmingham City and Newcastle United. Rather, the benchmark is taken to be Arsenal's own success under Mr Graham and Monsieur Wenger, prior to the period under review, and that of others of the 'Big Four' key rivals (in particular, Manchester United and Chelsea).
A Frenchman, Monsieur Wenger has managed the club for, an unprecedented (Mr Ferguson at Manchester United, excepted) fourteen years. During his first seven years Arsenal enjoyed great success and he became one of the most successful managers in English football history as three Premier League titles and three FA Cups rewarded technically brilliant, yet resilient, football. This reached an unprecedented apogee in 2004 when Arsenal won the Premier League and "The Invincibles", as they came to be known, went the entire league season unbeaten.
Policy
Earlier in Monsieur Wenger's second period, significant ownership changes took place first and Chelsea and then at other key rivals and subsequently there were higher levels of spending on player recruitment and operational salaries at those clubs. Arsenal's position was unequivocal. Chairman Mr Hill-Wood pronounced Arsenal's major suitor, the American sports club magnate Mr Kroenke, as "not one of us" and the club's ownership remained unchanged – and a 'self-sustainability' financial strategy continued.
To a background of Board room machinations, which included the removal of hitherto operationally crucial Director Mr Dein, a American / Russian share ownership battle broke out with their aspirations of the two suitors undeterred. Recently, in a major reversal of the club's position, Mr Kroenke - by now the Board's preferred bidder - assumed ownership of the club. However, the status of the longstanding aims and strategy club strategy has, thus far, remained unchanged and Mr Kroenke has not had a discernible presence or impact over club direction. In addition, season tickets – already the highest priced in the Premier League, including much more successful key rivals, have also been increased by 6.5% for the 2011 / 2012 season, much to supporters displeasure.
The widely understood key aim and long term objective of the management and Board was, whilst eschewing the higher player recruitment and salary spending of their rivals, to ensure that Arsenal could be competitive at home and in Europe, and keep the club on a sound business footing and financially secure – the 'self-sustainability' model. The biggest project in respect of this was the move from Arsenal's longstanding home at Highbury to the new build Emirates Stadium. The move aimed to diversify and maximise revenue streams – for example, property development at the old stadium, increased individual and corporate attendances, and new stadium naming rights.
The model is underpinned by a critical change in Mr Wenger's player recruitment policy which reversed that which produced The Invincibles. That involved a blend of top international offensive skill such as Messrs Bergkamp, Henry, Pires, and Ljungberg buttressed by a battle-hardened defensive core including Messrs Lehmann, Campbell, Viera and Gilberto. Rather, Mr Wenger's new model became the purchasing, and production through the Arsenal Academy, of younger and more inexperienced, but technically proficient, lower cost foreign players (who often shared a common language, French). And then nurturing and developing them into, the expectation was, a loyal and committed highly technically proficient squad at least comparable to that of their illustrious predecessors. The policy, without precedent in Premier League history, is indicative of a wider, much vaunted, determination to reign in player recruitment expenditure and avoid excessive player salary payments. Indeed, expenditure is dwarfed by the net spending of the Big Four – and even, indeed, by smaller clubs such as Tottenham Hotspur.
The potential success of Arsenal's strategy, however, appears to have been significantly compromised by events elsewhere. Firstly, under the ownership of Russian Mr Abramovich, Chelsea's recruitment of manager Senor Mourinho saw Arsenal's position as sole substantive challengers to Manchester United usurped within one season (and with it came a near total reversal of their hitherto considerable local derby hegemony). Arsenal's strategy quickly called into question, worse was to come as other key rivals re-evaluated the question of ownership and soon went down the foreign ownership route. This has tended to return quick dividends on the pitch - although there have been some wider problems.
End Part 1
Part 2 Organising here
Part 3 Monitoring and reviewing Wenger here

View a Printer Friendly version of this Story.
Arsenal Football Club: A Management Review Part 1
Arsenal Times (IP Logged)
04/10/2011 18:09
What do you think? You can have your say by posting below.
If you do not already have an account
Click here to Register
.
Edited 1 time(s). Last edit at 2011:10:19:21:59:51 by Padre Pio.
Sorry, only registered users may post in this forum.