Debunking Ten Myths About Wenger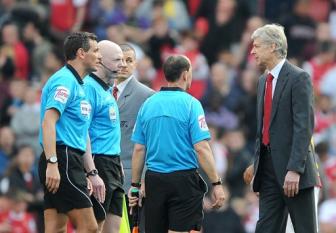 Thinking Man
By Celine Dion
September 23 2011
We all know the position the club is in. Near the bottom of the league with one win and three defeats in our first five games. Fans interpretation of the current state of affairs, rather predictably, is still polarised. Plenty of us, ungrateful spoiled, and disloyal pariahs that we are, believe that the Emperors' new clothes fell off years ago, and that Wenger is starting to pong like a 6 month old lump of Camembert left behind the sofa.
But there are still several thousand, if not more, who will tell you that we are only a few signings, a bit of 'gelling', and an elusive change of luck away, from cementing a resurgence to the top of the league. There can be no logical reason for thinking this, certainly not evidenced by watching the team actually play, other than the seemingly incontestable fact that our manager is a 'genius'.
We hear it all the time. Wenger is one of the best managers in the world. If we were foolish and suicidal enough to cut him loose, the likes of Real Madrid and AC Milan would be queuing up in a heartbeat. Wenger knows a 'bargain' in the transfer market. Wenger's record with young players is 'unparalleled'. Wenger achieves miracles on a 'shoestring'. And not only that 'Arsene' as he is universally referred to when discussing his personal aspect, is a 'gentleman', an avuncular, engaging wit, a truly wonderful human being who if he weren't a football manager on 6 million pounds a year, would probably be working for children's' charities or some such.
A famous philosopher once said 'If you say something long enough and loud enough, the people will believe it' (err I think that might have been a Nazi. Ed).
My intention here is to challenge some of the myths that have grown up around Wenger, and dare I say that these myths have created a Wenger cult. Then we shall see if we can cast any of them aside, and in the process, set ourselves free and start to think clearly again.
This article deals with the first of my three Wenger Myths, the others will appear soon on this site, followed by an assessment of his legacy. Myths 1-3 are here, and myths 4-7 follow here

First Myth: The best football manager Arsenal ever
The reasons generally given are his trophy haul, that he was our custodian during the stadium move, and of course, the wonderful football. He also led the team to its famous 'invincible' season in 2004
So let us look at his trophy total, which after 6 barren years, no longer compares to George Graham's in fact. Graham started at Arsenal in 1986-7, won the league cup that year, carried off the league in 1989, the league again in 1991, both domestic cups in 1993, and the Cup Winners Cup in 1994. He faded away in 1995, was replaced, and, to be fair, tarnished him image amidst the 'bung allegations'. Nevertheless, he won 6 trophies in 8 seasons, which represents 0.875 trophies a season. For those that will scoff at the league cup, it was a lot harder to win in those days, clubs fielded their full teams, games went to replays, and it was as keenly contested as the FA Cup.
The Cup Winners Cup may not have been the Champions League with all its glitz and glitter, but we beat clubs containing megastars of the era like Ginola, Asprilla, Brolin and Zola. It is also worth noting, for those that will claim 'football has changed' since those days, that the Liverpool whom we rivalled in those days was an immensely rich club. The team we pipped to the 1989 title, comprised John Barnes, Ray Houghton, Peter Beardsley and John Aldridge, purchased within a year of each other, for what were massive transfer fees. This made them the Manchester City of their era, make no mistake.
Wengers' trophy haul is seven in fifteen seasons, which equates to 0.46 trophies a season. He has also turned in numerous losing appearances in finals, Galatasaray, Liverpool, the Chelsea League Cup final, and of course the Barcelona CL defeat. Indeed one of the biggest hallmarks of Wengers' career is his teams' inability to pull off a result in big games. We were vastly superior to the 2001 Liverpool side, and again to the Chelsea side we lost to in 2004. George Grahams' teams, to his credit, had almost the opposite tendency.
Second Myth: Wengerball is beautiful
I immediately hear the cry that Wenger provides 'the best football we have ever witnessed'. Now I am not going start telling people that Bergkamp, Henry, Fabregas, and Pires, were not a joy to the eye.
But Graham had his wonder year as well, 1992, where in the second half of the season, the team broke free and started to bang in goals from crazy angles and all over the pitch. We beat Sheffield Wednesday 7-1 with 6 goals in the last 20 minutes, with Merson trying shots from the sideline - I watched Anders Limpar chip the Liverpool goalkeeper from the centre circle. Do we really see anything comparable nowadays?
Until Oxlade Chaimberlains' goal on Wednesday, we haven't seen an Arsenal goal from outside the box in the best part of a year. We don't score from free kicks, we rarely score from headers. Players like Arshavin who played off the cuff and unshackled in their first six months, now run up blind alleys and tear their hair out trying to play Wengers' 'system'. Which seems to revolve around getting the ball to Robin Van Persie just the way he likes it. How that free-flowing, how is is that in any way attractive and glorious? Well, the answer is that it isn't. Any more than Chelsea's' Liverpool's, United's, or Tottenham's' is.
Nowadays, when people purr over an exciting game that Arsenal featured in, it is normally because we let a load of goals in to make it high scoring. I heard someone say, in all seriousness, that our football against Blackburn in the first half last week was 'sublime'. It's a measure of how desperate people are to take one of Wengers' 5 minute scribbles and declare it a masterpiece.
I can see people literally spluttering with rage because I am not giving Wenger credit for the 'invincibles'. Sorry chaps, but for 2 miniscule alterations to the space time continuum, it is George Graham who would be claiming this record. He only lost one league game in 1991, and that was 2-1 at Chelsea after both our centre backs were injured and we had to play most of the game with 5 foot 8 David Hillier at Centre back.
I think the above debunks the myth that Wenger is the clubs most successful manager. He patently isn't. He is ONE of our most successful managers (and I didn't even talk about Herbert Chapman).
Third Myth: Wenger master minded Arsenal's rise as European superpower
So what of the oft-quoted belief that Wenger somehow masterminded our emergence as one of Europe's' super clubs? A super club that doesn't win anything, but a super club nonetheless, perhaps they just gauge it on ticket prices, where we truly are a leader in our field.
Well the discerning amongst you might have noticed that the glitz and corporatisation at Arsenal actually started in the early to mid 1990s, under Dein, with the re-seating of Highbury and the new North Bank, and the pre-Wenger signings of Bergkamp and David Platt. We qualified for the inaugural Champions League under Graham, and were already elbowing our way into the g-14 elite. Wengers trophy winning period , which is largely concentrated into the time at the turn of this century may well have made it easy for the club to justify high prices and promise in the years immediately following the stadium move, but this makes him a component to the master-plan, not the protagonist. And our team at the time still contained the remnants of his 2004 team, including Henry.
Why should it have been difficult to finish in the top four, even after the move? Neither do I understand how Wengers' success is supposed to have directly financed our ability to make the move. He didn't in any way finance it, the Deutsche Bank did. And at a period of history where it is now realised, that anyone, would lend any amount of money, to anyone else. Yes, attendances were high, almost guaranteed, in the wake of the Bergkamp/Henry era, but they were high pre-Wenger.
Yes we have engineered a fan base that extends to Singapore and Kuala Lumpar, but so have most other large clubs in top European Competion. I recently watched a friendly in China played between Inter Milan and AC Milan, where the stadium was perfect replica of the San Siro in terms of pageantry and atmosphere, except the crowd was entirely Chinese. It is a product of globalisation and the marketing of the major European leagues via satellite TV that has got us to this position. It has happened to football as a whole. We were well on the way to being a part of this pre-Wenger.
Highbury used to sell out every game post all-seating, and prior to that, we could get 54,000 in for a league cup game. It would be foolish to claim Wenger was not involved in our emergence as one of the big boys. But there are many people who see him as having engineered it all. They need to re-read their Arsenal history, and the modern history of football as a whole.
Myths 4-7 Here
Myths 8-10 and legacy Here