A great victory But ethos is not just for Christmas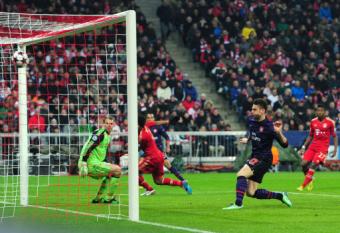 By Boris Mellor
March 14 2013
What a great victory, the first time this season that Bayern have failed to score to at home. The first time in 53 games at home they have lost by more than a solitary goal. It could be said that Bayern missed Schweinsteiger and Ribery, but Arsenal were without Wilshere and Podolski.
It was a strange game, Arsenal probably only played full out for six minutes, but when they did they looked lethal, and got their best conversion rate in a long time. Usually it's Arsenal that has 21 shots and no goals and the opposition 5 chances and 2 goals, this time the situation was completely reversed.
Not that Bayern's 21 shots were that much of a challenge to Fabianski, most were from out of the area, but that's a credit to the Gunner's defending. Meanwhile Arsenal's shots were up close and personal. If only Africa's greatest footballer didn't have rubber legs the biggest upset in CL history may have occurred, but it would be unfair to blame Gervinho for the failure to qualify for as Arteta said the game was lost in London.
Ethos
It was a great result, but not the greatest of displays, there were too many poor performances for that to be the case. It is also the case that it is hard to judge how much the Germans got into a "what we have we hold" mentality and were confident that Arsenal couldn't score three. If they underestimated Arsenal they were not made to pay the price as they still went through.
However, what I am interested in here is "ethos", for what Arsenal clearly demonstrated here was a fighting mentality. Yes some of the midfield was off key, but nonetheless players were clearly battling for each other. There was no petulance, or stupidity, nothing but hard work and application. The kind of ethos no doubt many Arsenal fans would like to see week after week, not just for a one off occasion.
If Arsenal are criticised often the first response is that they do not have the money to compete with Chelsea and Man City, due to our stingy billionaire owners that is true, but that doesn't explain losing to Birmingham, Bradford and Blackburn, it can't be the case that they are funded by Oil Sheiks (Unless they have a phobia about the letter B). No the lack of money does not explain these defeats, but the lack of ethos does. An ethos of understanding you have to earn the right to win a game. That victory starts with a firm defence, that a chance in front of goal is not to be spurned because another one will along in a minute. That it is not ok to go missing in matches, or not to track back. I could go on, no doubt you can add your own favourites.
This lack of ethos includes a lack of leadership, last night the Captain was dropped, he was replaced by another lame duck captain. The Arsenal way is that everyone is a leader, but of course that means no one is a leader. However, leader or not, last night the ethos overcame the lack of leadership and kept a clean sheet. I don't know how hard Bayern were trying, but I could see that Arsenal were, that is the ethos that will be needed at Swansea and the 9 matches after, if it isn't it will have been a pointless end of season party.
Game Plan
I have never managed for an afternoon, but Herbert Chapman would take a good idea off a programme seller, and my idea is that Arsenal go into too many games without a plan. I believe a game plan is an important part of any managers' ethos, unless he is managing the Harlem Globetrotters. Last night I could see the plan, it was keep tight, defend well, and break when you can, contest the midfield and get three men up the other end when the other side is stretched. It almost worked, and though it didn't make for the greatest of games it was an interesting tactical game, even if the midfield wasn't the greatest ever. I also saw the offside trap used to real effect.
So why doesn't Wenger have a plan like this every week, if he doesn't have great players, and let's be honest he doesn't, then plan for the opposition every week, and not just once in a blue moon to avoid complete meltdown.
Sadly this victory will mean nothing in terms of the history of the CL, the record books do not remember teams who went out heroically at this early stage, but it will mean that the team should be able to maintain its confidence for future fixtures, but only if they maintain the ethos used in Germany and Wenger gives them a game plan.
However at some stage ethos and game plans will not be enough, the issues of quality will have to be addressed. Once again, like the Milan game, the lack of a strong bench meant that when in pursuit of the final elusive winning goal there was no way to strengthen the team. Wenger's substitutes last night added energy, but unfortunately not the killer touch. Great teams do not only have an ethos, they also have class.