Wenger should he stay or should he go? Management Audit Pt 3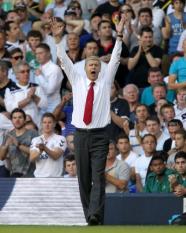 By Neil Fry
March 7 2013
This section of the mid-season review concludes the examination of Arsenal's off-the pitch management structure. Firstly, in respect of the methodologies of Monsieur Wenger; and then quality control: how the Club addresses difficulties and maintains a clear sense of direction in terms of their chosen goals.
Mr Usmanov, whilst regarding Monsieur Wenger as the right man for the job, believes that he is forced to take on too much responsibility. Similarly, the Arsenal Supporters' Trust have warned that "One man cannot direct all transfer targets, wages, coaching methods and manage the team at games. It's too much for one man."
The Arsenal Board have made it clear that Monsieur Wenger has clear responsibility for footballing matters and there is no evidence of coercion and that he has been denied any structures he has required, or the use of cash reserves for player recruitment in recent years. Rather, as with his old adversary Sir Alex Ferguson at Manchester United, having had much success and been in post so long they have, not surprisingly, gained significant control and power – in contrast to managers at, for instance, Manchester City, Chelsea and Tottenham.
Where Mr Ferguson differs is that has been more adaptive to new developments in the game and willing to delegate. High profile exceptional, hands-on coaches such as Brian Kidd, Steve McClaren, Carlos Queiroz, Mike Phelan, and Rene Meulensteen who have been employed and allowed to organise, improve and motivate their players.
In his biography of the Thierry Henry, Phillip Auclair hail's his compatriot as a truly 'great' manager. Monsieur Wenger is said to have stayed true to his intuitions and coaching methods that were so successful in the first half of his tenure. Training revolved around short, explosive training sessions designed to help players improve their ball-work and included his preferred smaller-sided games on a compressed pitch.
Monsieur Wenger's reluctance to analyse (and try and neutralise) the opposition or employ sophisticated teams of analysts is a principled outcome of his footballing philosophy. In desperation, he had used such methods in his depleted team's defeat of Manchester United in the 2005 Cup Final (on penalties, very much against the run of play), but his last trophy success still, it is said, tasted sour. There was little interest in the opposition, one year later, ahead of the Champions League Final defeat to Barcelona. Mr Mourinho's success has been based on the sophisticated scouting of adversaries and the tailoring of coaching on the training pitch to nullify individual players strengths and exploit their weaknesses. Such efforts continue at Chelsea and it was recently revealed just how useful such dossiers can be.[21]
Mr Auclair also noted Monsieur Wenger's tactical limitations in respect of substitutions and a plan 'B'. The defeats against Bayern and Blackburn were typical in that change was, once again, resisted until around the 70th minute of the matches. Rival managers such as Messrs Mourinho, Mancini and Ferguson have often been rather more ruthless and proactive when plans go awry and players seriously underperforming have even been withdrawn, despite being fit, even before half-time.[22] Mr Bould was reported to have raged at the players after the home defeat to Swansea in a furious dressing room inquest.
Monsieur Wenger normally prefers a more patient and kindly paternalistic approach. Nevertheless, he can become ruthless and has not been afraid to eventually freeze out a number of players. However, it has been suggested that this, and the dramatic loss of form of a number of players, is evidence that his motivational skills also have their limitations.[23]
Despite his incredible success during the first period of his reign, the faith of supporters in Monsieur Wenger appears to be increasingly declining. The Black Scarf Movement have stated on numerous occasions that they are not a 'Wenger Out' group. Forty-six per cent admitted they believe Monsieur Wenger is no longer the best man for the job. Just five per cent of respondents felt he was. Nevertheless, 41 per cent believed he should continue as manager if he changed his approach away from the focus on young players or working to achieve top four on a minimal spend.[24]
On the terraces, supporters appear to remain divided both over the future of Monsieur Wenger and the best way to campaign for change at the club. Remarkably, scuffles broke out between some Arsenal fans during their FA Cup tie at Brighton & Hove Albion after a banner was unveiled again which said: 'ARSENE, THANKS FOR THE MEMORIES BUT IT'S TIME TO SAY GOODBYE' (it was also unfurled 17 December during the 5-2 win at Reading). Pete Wood, who runs Le Grove website, believes that the banner does reflect genuine concerns from many fans over Monsieur Wenger but that it was not the right way to express that dissatisfaction.
The sentiment of the banner is pretty accurate … No one can speak for all Arsenal fans, but I can speak for the people I know and who sit around me. Most are accepting that his time as a top class manager is likely over. However, I don't think the banner is really the Arsenal way […] and I don't think most fans are comfortable with in game protest.[25]
Having confirmed the authenticity of the events, a reader going by the internet name Gary Bloke, offered his own thoughts on the manager.
Arsenal fans do not demand trophies nor do we blindly demand that we compete financially on the markets with Chelsea and [Manchester City] but we do ask that those who charge supporters more than anybody in the World let alone Britain spend their revenue wisely. Arsenal's wage bill is larger than most clubs and close to Chelsea's because of the managers insistence on overpaying squad players or giving long term bumper contracts to those who are constantly injured.
The inflated salaries also mean we cannot sell these players on either because these players refuse to take pay cuts to move elsewhere. The manager is complicit with this and is paid very well for it, however the fans patience is at an end with his mismanagement of the budget and his complete lack of defensive coaching skills. The Banner is not abusive and thanks him for his previous efforts but echo's the growing feeling among the Arsenal faithful is that he no longer has what it takes to manage a leading Premier league side.
Fighting over the direction of the Club and Monsieur Wenger's second period performance has not been restricted to this event and has, indeed, happened at the Emirates. Similarly, supporters have been ejected from the ground by security guards for singing 'Wenger Out' during the match. The Emirates has also become notable for significant numbers of empty seats, despite them having been paid for.[26]
Quality Control
Monitoring and acting
Following a difficult season so far, Mr Campbell said that the Arsenal board "need to invest" in the January transfer window if the team is to finish in the top four and qualify for the Champions League.[27] The Arsenal Supporters Trust were told that Monsieur Wenger had been given "considerable resources" to spend in the January transfer window. However, Trust spokesman Tim Payton offered him far from unequivocal backing and said they believed Monsieur Wenger should be only be given the chance to take the club forward if he spends wisely in January. "Lots of people have asked me whether Arsene Wenger should go," added Payton "He certainly needs to change and improve, spend the money he's got, strengthen the set-up around him and the results will be the judge."[28]
Just after the January transfer window opened, Monsieur Wenger was uncharacteristically critical of his players after the tepid draw at Southampton and blamed his team for showing a lack of sharpness, desire and purpose. Following another schizophrenic performance, the 2 – 2 draw at Swansea in the FA Cup third round, Monsieur Wenger admitted he was uncertain over his players competences.
I find it difficult to analyse the players and to know what they are capable of. When you score seven goals in one game and only an own goal in the next one, of course it is hard. We have good offensive potential and that shows in some games. We are not consistent enough, though. I change my mind whether I need to go into the transfer market from game to game. That is because the players have a basic quality, but the performance of the players is analysed and you think, what could we do to be better? If you look at the Newcastle game, you would say fantastic. If you look at the Southampton game, you can come out and say we need to strengthen our offensive department. Football is like that.[29]
Nevertheless, Arsenal made just one signing in the January transfer window, on the last day acquiring the accomplished 26-year-old Spanish international left back Nacho Monreal, for approximately £8.3m, from Malaga. It is believed that Arsenal had been in talks with Malaga to sign Mr Monreal in the summer, but the injury suffered by Mr Gibbs during Wednesday's game against Liverpool brought the deal forward. Mr Santos, his Brazilian international understudy, was signed from Turkish Super Lig 2010/11 winners Fenerbahce, for a reported £6m, and previously played for Corinthians, Atletico Mineiro (loan), Flamengo (loan), and Figueirense. However, he has continued to struggle to attain the necessary defensive competences. Off the pitch, Mr Santos was arrested near the club's training ground following serious driving offences in his Maserati supercar.
Then he angered supporters by asking Mr van Persie to swap shirts at half-time during the poor defeat at Manchester United. In matches, even against lesser club's, Mr Santos has struggled badly. However, following the arrival of Mr Monreal, Monsieur Wenger insisted that Mr Santos still had a future at Arsenal and that the widespread criticism of him was unfair. Eleven days later Mr Santos returned home to Brazil having been loaned out to Gremio.[30]
Having seemed reliant on Mr Arteta in the holding midfield position, despite his unfamiliarity with such a role, Arsenal were said to have considered deals for more physical players such as West Ham's Mohamed Diame and Celtic's Victor Wanyama, and attempts to sign the star 31 year old Barcelona striker David Villa also failed. Monsieur Wenger decided that he already had sufficient quality to overhaul Tottenham and Everton. Indeed, after the final match of the transfer period, Monsieur Wenger insisted there is still more to come from the current group, "This squad is top, top level. We have to learn to trust these players again and to keep faith in them […] I think there is a lot to come out of this team".[31]
Ahead of the second match after the transfer window, a tricky fixture at Sunderland, Monsieur Wenger revealed restricted defensive options due to Mr Vermaelen having an ankle injury and Mr Koscielny having a calf problem that could rule him out. Monsier Wenger announced that "The options are restricted, I will have to be creative" and that playing young centre back Iggy Miquel or Mr Sagna out of postion were both under consideration.
The options were restricted by the loan of Mr Djourou and non-playing squad member Mr Squillaci who was not considered. In effect Monsieur Wenger, despite a heavy fixture schedule of crucial Premier League, FA Cup and European Champions League matches appeared to be content to have a squad with just three centre backs for nearly half a season. Mr Koscielny was deemed fit but pulled up in the warm up and couldn't play. With Mr Monreal cup-tied for the Champions League matches and Mr Gibbs injured, Arsenal appear to be very short of competent defensive resources. As with Mr Djouroo was last January, Mr Vermaelen was often uncomfortable at full-back, and opponents - such as Bayern - were not slow to exploit this.[32]
Benchmark / target setting
After Arsenal's much weakened young team were well beaten at Manchester City in the 2009 League Cup, Monsieur Wenger ridiculed the importance of the trophy.
We have not won a trophy since 2005 but I don't concede if we win the Carling Cup we can then have a parade with the trophy. It is a competition for our young players. To play the quarter-final of the Champions League, or the semi-final or final, is ten times more difficult than to win the Carling Cup. [33]
As Phil McNulty, Chief football writer BBC Sport, noted after the defeat at Bradford, such a view was understandable when honours used to arrive at Arsenal on a regular basis - but after so long without success, beggars cannot be choosers when it comes to winning trophies. Sadly for Monsieur Wenger Arsenal's current stock is so low that even when he makes an active attempt to win a trophy he once treated as, at worst, an irrelevance and at best a minor bauble, it still became elusive.
Ahead of the subsequent FA Cup tie at Swansea, Monsieur Wenger suggested that trophy success could be the catalyst they need to push on and fight competitively for the Premier League title next season.[34]
There is a change in a player once he wins a trophy … There is an aura around the team that is built through the history of the team. It makes them feel together, and strong. It is an energy that builds up inside, that you sense. A trophy would give the players more confidence, of course. I believe if you can prove you are consistent, that improves the confidence, after that it is about winning the trophy. For us, it is important to fight for the championship. That is where it lies, the strength of the club and of the team. The strength of the club here demands you fight for the title.
This echoed sentiments previously expressed before the unsuccessful attempt to win the League Cup, when Arsenal were defeated in the final against, soon relegated, Birmingham City. Nevertheless, ahead of the home fifth round FA Cup tie against much troubled Championship side Blackburn Rovers, Monsieur Wenger re-affirmed his priority as securing a top-four finish in the Premier League, "Our basic target is always the championship. The real consistency of a team is the quality that is judged over 38 games. The priority is the championship". Nevertheless, he assured supporters that he took the FA Cup seriously and also believed Arsenal could win the Champions League too.[35] Having made seven changes to the starting line-up for the Blackburn match, squad players such as Gervinho under-performed and the defeat was also the first at home in the FA cup since 1997, ending a run of 34 matches unbeaten.[36]
Had Arsenal prevailed than they would have enjoyed a relatively comfortable route to the semi-final and have avoided top opposition. It would have been the best chance of winning a trophy since the League Cup final defeat. Instead, the Champions League match at home to Bayern was prioritised. The folly of this was clear within 20 just minutes and served to show just how far Arsenal have fallen. For Arsenal have never looked like repeating their appearance in the 2006 final and the gulf between Arsenal and the top European clubs appears to be getting ever bigger.[37]
Nevertheless, Monsieur Wenger still retained the complete support of Mr Kroenke and the Board who still viewed him as one of the best managers in world football. His current contract expires in 2014 and there is no question of a termination – rather, it is understood it will still be left to Monsieur Wenger to decide whether he wants to extend his tenure or not. The Club remain adamant they are putting the structures in place to soon compete with Europe's biggest teams.[38]
End of Part 3 Management Mid Season Review - for links to Part 1 and 2 see bottom of this page.
Part 4 to follow

References
[21] dailymail.co.uk/sport/football/article-2276641/Chelsea-scouting-report-Wigan-match-revealed.html
[22] http://www.bbc.co.uk/sport/0/football/20705876
http://www.telegraph.co.uk/sport/football/teams/arsenal/9741166/Manner-of-Arsenals-defeat-at-Bradford-suggests-Arsene-Wengers-problems-at-the-Emirates-run-deep.html
http://www.telegraph.co.uk/sport/football/teams/arsenal/9741346/Arsenal-manager-Arsene-Wengers-relationship-with-Steve-Bould-questioned-following-defeat-at-Bradford.html
Auclair. p.157
[23] http://www.mirror.co.uk/sport/football/news/arsenal-coach-steve-bould-raged-1470107
[24] http://www.mirror.co.uk/sport/football/news/arsenal-blow-for-arsene-wenger-as-46-1530397
[25] http://le-grove.co.uk/2013/01/31/arsenal-fight-back-but-it-disguises-nothing-were-in-decline-and-the-manager-is-blind-to-it/
http://www.telegraph.co.uk/sport/football/teams/arsenal/9831178/Arsenal-fans-have-punch-up-with-each-other-after-fan-unfurls-banner-calling-for-Arsene-Wenger-to-leave-club.html
[26] http://onlinegooner.com/article.php?section=editorial&id=418
[27] http://www.telegraph.co.uk/sport/football/teams/arsenal/9812744/Chelsea-v-Arsenal-Jack-Wilshere-carrying-a-team-lacking-leadership-says-Sol-Campbell.html
[28] http://www.bbc.co.uk/sport/0/football/20705876
[29] http://www.independent.co.uk/sport/football/fa-league-cups/wenger-doesnt-know-if-his-players-are-any-good-8439784.html
[30] http://www.bbc.co.uk/news/uk-england-london-19742300
http://www.telegraph.co.uk/sport/football/teams/arsenal/9655392/Arsenals-Andre-Santos-defended-over-Robin-van-Persie-shirt-swap-...-by-his-wife.html
http://www.dailymail.co.uk/sport/football/article-2228260/Andre-Santos-sorry-Robin-van-Persie-shirt-swap.html#axzz2KVqjAQkA
http://www.telegraph.co.uk/sport/football/competitions/fa-cup/9828783/Brighton-and-Hove-Albion-2-Arsenal-3-match-report.html
http://www.bbc.co.uk/sport/0/football/21156061
http://www.arsenal.com/news/news-archive/wenger-santos-is-still-important-to-us
http://www.bbc.co.uk/sport/0/football/21417830
[31] http://www.telegraph.co.uk/sport/football/teams/arsenal/9838646/Arsenal-manager-Arsene-Wenger-tells-fans-believe-in-my-young-Gunners-after-2-2-draw-with-Liverpool.html
http://www.arsenal.com/first-team/players/nacho-monreal
http://www.bbc.co.uk/sport/0/football/21279814
http://www.telegraph.co.uk/sport/football/teams/arsenal/9840945/Spain-international-Nacho-Monreal-completes-8.5m-move-to-Arsenal-from-Malaga.html
http://www.bbc.co.uk/sport/0/football/21107468
http://www.telegraph.co.uk/sport/football/teams/arsenal/9788170/Barcelona-reject-Arsenals-advances-for-striker-David-Villa.html
[32] http://www.arsenal.com/news/news-archive/team-news-koscielny-vermaelen-ramsey
http://www.telegraph.co.uk/sport/football/competitions/champions-league/9881479/Arsenal-1-Bayern-Munich-3-match-report.htm
[33] http://www.bbc.co.uk/sport/0/football/20694706
[34] http://www.independent.co.uk/sport/football/fa-league-cups/wenger-doesnt-know-if-his-players-are-any-good-8439784.html
[35] http://espnfc.com/news/story/_/id/1341135/arsene-wenger-backs-arsenal-for-cl-if-they-beat-bayern-munich?cc=5739#
[36] http://www.bbc.co.uk/sport/0/football/21485114
http://www.bbc.co.uk/sport/0/football/21488496
http://www.bbc.co.uk/sport/0/football/21449125
[37] http://www.bbc.co.uk/sport/0/football/21449469
http://www.telegraph.co.uk/sport/football/teams/arsenal/9884398/Bayern-Munichs-masterclass-is-now-the-envy-of-Europe-following-Arsenal-demolition-job-at-the-Emirates.html
http://www.talksport.co.uk/magazine/features/130220/arsenal-have-never-been-european-force-under-wenger-talksport-opinion-192036
[38] http://www.dailymail.co.uk/sport/football/article-2247252/Arsenal-owner-Stan-Kroenke-backs-manager-Arsene-Wenger.html#ixzz2Ks66kc8f
http://www.bbc.co.uk/sport/0/football/21530212