Premier League Fixtures 2019/20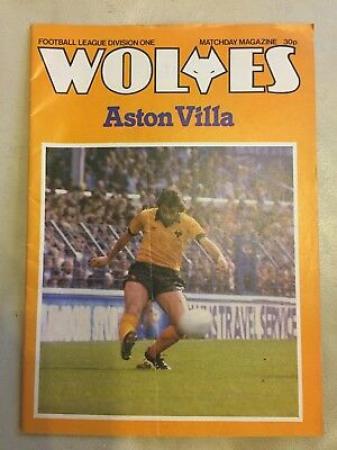 Villa return to Molineux
By Ivybridge Wolf
June 12 2019
The new premier league fixture list will be published on Thursday 13th June at 9am. Fans will be anxiously waiting to see the weekends (or even actual dates!!) when we will be playing our matches which will see a return to Molineux for fans of Norwich City, Sheffield United and, of course, the Villa.
The new fixture list will be available (at the time of writing) tomorrow morning with the usual anticipation of planning ahead to block out dates and weekends for our matches. This year will be potentially different because of our involvement in the Europa league, which, should we progress, see a number of premier league matches move with more sunday kick offs - the Europa draw takes place on 19th June. Additionally, like it or not, we all need to get used to the very first 'winter break' when hopefully the bad weather will fall neatly into place ... as it always does!
Surely another exciting season lies ahead where we all hope we can build upon the incredible success and general enjoyment of 2018/19. A lot to live up to in many respects, however I am sure Nuno, the players (plus additions) and Fosun are up for it!
The Premier League kicks off on 10th August 2019 and concludes on Sunday 17th May 2020. And for all those of you who believe we can go one step further, the FA Cup final is on 23rd May 2020. Okay, maybe lets not count our chickens just yet but hope springs eternal.
In the meantime, we look forward to welcoming all the premier league sides for hopefully, a tough and well contested 90 minutes each which as mentioned above will include the Villa who are back at the top following their recent play off success.
If you have anything to add on the fixture lists as they are released, please free to add your comments below.
Up the Wolves!!
View a Printer Friendly version of this Story.
Premier League Fixtures 2019/20
Discussion started by Wolves , 12/06/2019 19:58
What do you think? You can have your say by posting below.
If you do not already have an account
Click here to Register
.
Edited 1 time(s). Last edit at 2019:08:04:19:25:22 by Ivybridge Wolf.
Andy Fincher
13/06/2019 12:23
August matches,
Leicester a
Man Utd h
Burnley h
Everton a

Not an easy start but we can take something from all of those.



Edited 1 time(s). Last edit at 2019:06:13:12:26:32 by Andy Fincher.
Ivybridge Wolf
13/06/2019 16:55
Here we go - in full, subject to change. I see the date of the 'break' will be 15th February, however the 5th Round will be switched to midweek, so an extra match as per normal for the last 16.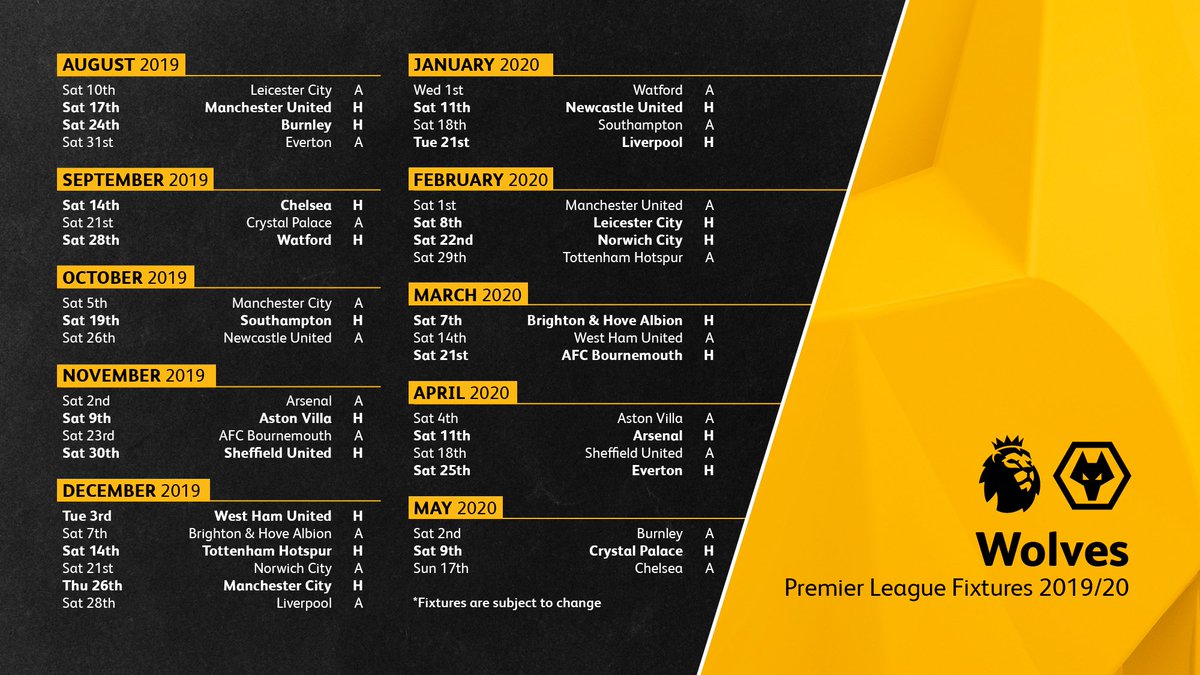 Edited 1 time(s). Last edit at 2019:06:13:16:56:01 by Ivybridge Wolf.
Ivybridge Wolf
13/06/2019 17:11
Andy, I think it's quite 'an even' fixture list - if you know what I mean - only christmas time when we have Man City and Liverpool in successive matches (Liverpool and Man United in Jan / Feb will be split by the FA cup 4th round). Having said that, Leicester is a tough and undoubtedly interesting marker to start with. Don't understand how we start and finish away - tough one to finish up with.
I'm not away this August, so look forward to (hopefully) getting up to Molineux on what ever date we end up playing Man United
... as long as it isn't Friday night. Chelsea H and Southampton H are definite no's for me
---
chicagowolf
13/06/2019 18:25
We got Leicester early last season and they did a number on us; hopefully not this time. And getting Man U early before they can settle might be fortuitous. We have to play them all but sometimes the order matters.

And look at those six December games? That on top of our Europa (please) games should be a feast.
Andy Fincher
13/06/2019 18:52
Yes, all the so-called 'big' clubs are pretty much spread out apart from the two after Christmas.
Sorry, only registered users may post in this forum.