Match Report V Aston Villa (Away, 15/10/16)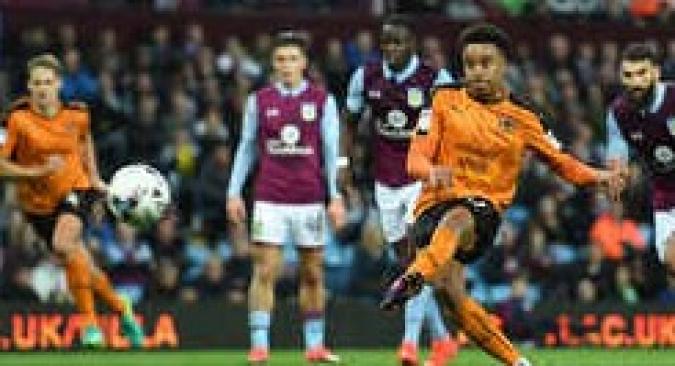 Costa Penalty
By Arthur Tannen
October 15 2016
We started the game ok, within 5 minutes you could see Villa were there for the taking, they got a lucky penalty and had 1 or 2 chances and they were mainly brought on by ourselves getting caught in possession. After the equaliser though there was only one team in it, far better in the 2nd half which seems to be a common thing this season, so the question has to be asked why Zenga can't get them playing like that from the off.
As much as we totally dominated the 2nd half, we didn't test the keeper much, I recall him only making one save of note from Dave Edwards' header, the rest of our chances were wasted by either poor finishing or taking too much time on the ball. On the plus side though I've not seen a Wolves side so comfortable on the ball for a long time. Particularly impressed with Saiss and Costa, Saiss breaks things up well and plays it quickly, two superb long passes in the 2nd half, 1 of which was inch perfect for Dicko's half chance. Costa looks the pick of our attacking midfield signings, if there's a chance of making it permanent, it would be the first thing I'd do in January. Comfortable on both feet, rapid and will make and score plenty. His quick feet to get away from Chester should have resulted in his second yellow but the ref bottled it. To be fair the ref had a shocker, far too quick to blow his whistle when there was clearly an advantage and ruined the flow of the game.
2 points dropped overall, Villa are awful, over £25m on two strikers and they didn't have a single shot in the 2nd half, which just proves how dominant Wolves were.
Ikeme 6 - Didn't have much to do, flapped and got away with one corner, good save from Kodjia in first half.
Iorfa - 6 Unlucky for the penalty, distribution still hit and miss. Seems to have bulked up over the last few months and perhaps I'm imagining it but looks to have lost half a yard of pace.
Batth - 6 Much better than the last game, less hoof and looks more comfortable on the right hand side
Hause - 7 The pick of the defenders, played it out well and two excellent standing tackles in either half on the edge of the box. Strong and quick, lets hope he takes his chance as he really should be kicking on now.
Doherty - 6 Back in his best position, I don't know why but he looks twice the player on the left. He has a deceptive burst of pace and seems to glide passed players with ease. Disappointing final ball though, got into a couple of good positions for a cross but wasted them.
Saiss - 7 Has a quality touch, not afraid to take the ball under pressure and keeps things simple. Over the next few weeks he should enable us to push more players forward as he'll protect the back four. It's early days but for years unless we want to be over run in midfield we'd have to play 2 defensive midfield, I think this guy will enable us to play one
Edwards - 6 Like against Norwich, quiet first half but much better in the 2nd half, a few bursts forward and could have scored with a break in from the left but dragged his shot wide
Prince - 6 Did ok on the left, why he started there I don't know, he may be quick once he gets going but you need a burst of pace to play wide unless you're a crosser from deep, which he clearly isn't. Probably should have scored with a cross in from the right didn't connect properly.
Coady - 5 Full of passion, drives forward at times but little quality on the ball when he gets in good areas.
Costa - 8 Two footed, intelligent and works hard, sign him up. Excellent penalty
Bodvarsson - 7 Should have had a penalty after Richards barged into him. Superb in the air, holds the ball up well, doesn't just flick the ball on aimlessly, they are basically passes. For a tall guy he's agile and has some nice bits of skill. Probably our most important player as he just links everything together going forward
Subs:
Dicko – 6 Looked sharper than against Norwich. Always a worry when players have a serious injury that they will lose their pace or strengths but I've no worries there and the rest will return with match fitness
Cavaleiro – 6 Two decent crosses as soon as he came on, should have scored a few minutes later. Should have started on the left, clearly a good player and after a decent 2nd half against Norwich and a 2 week break, it seemed a strange decision to drop him.
Mason – Not on long enough to judge.
View a Printer Friendly version of this Story.
Match Report V Aston Villa (Away, 15/10/16)
Discussion started by Wolves , 15/10/2016 22:09
What do you think? You can have your say by posting below.
If you do not already have an account
Click here to Register
.
Edited 2 time(s). Last edit at 2016:10:22:12:40:48 by Badge32.
Ivybridge Wolf
16/10/2016 08:44
Cheers AT - does this mean you went? What was the atmosphere like from both sets of fans?
I like Bodvarsson. Skilful touches and some lovely flick ons. I wondered if he needs a decent centre forward to play with to make full use of him - Dicko hopefully.
Definitely 2 points dropped sadly. Wretched Villa effort.
---
Arthur Tannen
16/10/2016 10:10
Alright Ivy, I watched it on TV. Apologies about the font size, I should have typed it out on here first before sending it to Badge.

I agree about Bodvarsson, if he had Dicko up top with him plus Cavaleiro, Edwards and Costa supporting it would bring out the best in him. With Saiss holding things in the middle I don't see why we couldn't start with that.
Was not you AT, that was me. Its the lay out. Let me fiddle about with it.
What's going on with the referees! Some bad decisions or lack of.

First half we were poor I thought but yet again better for the second. Costa is one hell of a talent and I hope we get him on a permanent.

We did look good second half sot sure if that's because they were so bad or if we played well. If we can play well for both halfs and get a couple more in Jan we have a top 6 chance.
1:1,one point,not a strong performance.
---
wholesale
cheap soccer jerseys
online
Cheshire wolf
17/10/2016 22:48
Good write up AT, can't disagree with any of your opinions. I missed the match on Sat so had to watch it Sun am, without knowing the result and thought it was a good game.

Agree we can't blame the ref for our deficiencies but he did bottle the two important decisions!!
Sorry, only registered users may post in this forum.