Wolves 0-0 Birmingham City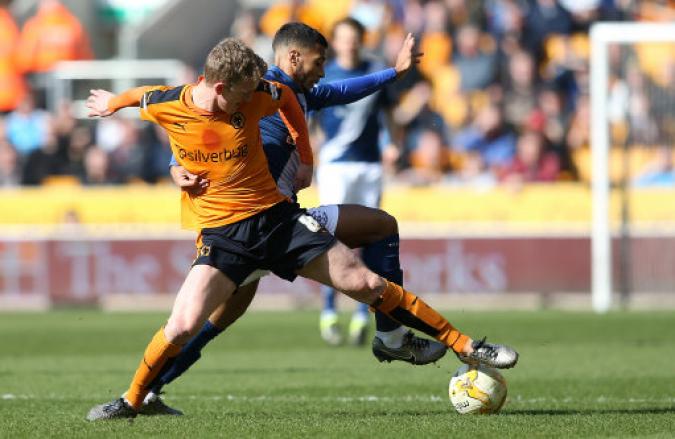 By Tom Bason
March 13 2016
Wolves today drew 0-0 with local rivals Birmingham City, to register a first home clean sheet since the 1-0 win over Reading on Boxing Day.
- After Kevin McDonald was taken off at half time in the win against Bristol City on Tuesday, it really wasn't a surprise that he was left out today against Birmingham City, with Jack Price coming back into the team. Elsewhere, Björn Sigurðarson returned to the first team, with Joe Mason dropping to the bench. I feel a little bit sorry for Mason, given that it appears that Kenny Jackett doesn't really know what to do with him. On Tuesday, Mason was left to lead the line by himself and was completely isolated in the first half. This is a seven figure signing, who scored twice goals in his first two games for the club, but the manager doesn't know what to do with. I'd love to know what Jackett promised Mason when they were first discussing the move.
- The decision to leave out McDonald wasn't surprising, but was frustrating. If Jack Price is playing, then he is going to dictate that we play in a certain way. When Danny Batth and Kortney Hause have the ball, Price is going to be deep, demanding to take the ball from them; Hause and Batth aren't going to be in a position to clear the ball long. But the problem then is that Price will get the ball, look forward and not have his mate McDonald there to take the ball forward. Instead he has George Saville and Conor Coady to pick out. Now, I think Saville has a nice pass on him, but isn't going to drive forward, while Coady is a player selected for his physical attributes, rather than his skills with a football. I think that if Price is going to play deep, then he allows McDonald to play further forward where he can impact the game more. I've made my feelings on Coady pretty clear on here, I'd like to see a midfield of Price, McDonald and Saville given a chance.
- Further, if we are going to pass the ball, why select Sigurðarson? If Sigurðarson has a strength, it's his ability to challenge defenders, either in the air or with his pace. But this doesn't really fit into a team who are looking to pass out from the back a little bit more. Playing the ball long to Mason on Tuesday didn't work, but neither does playing the ball short into Sigurðarson. Over the past two games, we have played for the wrong strikers for the styles of play employed. Saying that, the service that Sigurdsson was poor, very rarely getting anything that he could do anything with.
- Birmingham started the game very quickly, snapping into tackles and not giving us any time to play. David Davis played as their furthest midfielder forward, although it was clear that he wasn't there as a defensive player. Instead, his remit was to pressure us close to our goal and try and win the ball back high up the pitch. I'm surprised that more teams don't do this; many sides rely on their deep lying playmaker to dictate play, and so having a defensive minded player further forward may disrupt this. Birmingham flew into tackles early on with both Davis and Paul Caddis earning yellow cards. As a result, play from both teams was quite fragmented, with neither side really being able to find any quality in the final third.
- At half-time, for the second successive game, Kenny Jackett made a change, with Nathan Byrne being the man withdrawn for Michał Żyro. This surprised me somewhat - not that Żyro was introduced, but that it was Byrne that was taken off. Now Byrne hadn't overly stood out, but I thought he had shown more than either Sigurðarson or Jérémy Hélan, who did very little aside from one run and shot. But off went Byrne, with Sigurðarson being asked to play on the right. Now, had we been changing formation, I could perhaps have understood taking off Byrne. But to take off a right sided midfielder who was having a decent game, and replace him with a striker who was having a poor game struck me as strange. Sigurðarson was predictably ineffective in the second half, to the extent that I can barely remember him touching the ball.
- Wolves started the second half with a real sense of purpose, with Żyro making a real difference. When the ball was played into him, he was actually able to hold the ball up, and bring other players into play in a way that Sigurðarson couldn't. I wouldn't say we actually managed to create anything, but we got players forward well and looked like we might do something. Similarly, Birmingham looked to attack when they had the ball, and for twenty minutes, it was a proper end to end derby match. Unfortunately, while we had some attacking intent, we were hindered by the lack of support from our wide men. I've already discussed Sigurðarson, but Hélan was equally poor on the left hand side. I can't remember him attacking Paul Caddis, which was even more frustrating when you think that Caddis had been shown a yellow card early on, and played 68 minutes knowing that a mistimed challenge would probably have gotten him sent off.
- But then Birmingham's quality started to show, and they dominated the next 20 minutes. On Tuesday, I can barely remember Bristol City having a chance. But that clearly wasn't the case here, as they had three clear cut chances from which to score. Had they been able to show just a little more composure in front of goal, they would have won comfortably. Finally, with five minutes to go, Hélan was taken off, with Joe Mason coming on. Żyro was shifted over to the left, Mason went through the middle while Sigurðarson pushed slightly further forward as we moved to 4-3-3. This pushed Birmingham back, and we were able to get the ball into Birmingham's third, despite not creating any chances of note.
View a Printer Friendly version of this Story.
Wolves 0-0 Birmingham City
Discussion started by Wolves , 13/03/2016 17:07
What do you think? You can have your say by posting below.
If you do not already have an account
Click here to Register
.
Edited 1 time(s). Last edit at 2016:03:18:07:58:40 by Badge32.
Sorry, only registered users may post in this forum.