Wolves 1-1 Nottingham Forest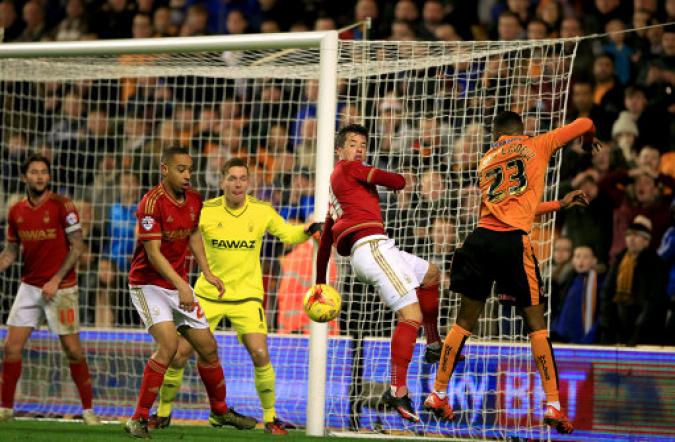 By Tom Bason
December 12 2015
Last night, Wolves drew 1-1 with Nottingham Forest. Ethan Ebanks-Landell gave Wolves a first half lead, but could not hold on as Dexter Blackstock equalised late on.
- The big team news was the continued absence of Benik Afobe, as Adam Le Fondre continued upfront. Some people scoffed at Kenny Jackett bringing in Le Fondre for the Rotherham game, but I think there is some logic to it. I don't know if there's been any proper research into players scoring against their former clubs, but it seems to happen more often than not. Le Fondre had been tweeting earlier in the week that he was really looking forward to the Rotherham game, and I've no doubt he'd have been more motivated against them than most other opponents.
- We started the game brightly, with lots of possession without really creating anything. At times, the possession, especially through the middle, was slow and ponderous, in stark contrast to Nottingham Forest. Forest's early game plan seemed to be to soak up our possession, and break with Nelson Oliveira looking particularly dangerous. But, their 4-4-2 formation gave us the man advantage in the middle and prevented Forest from building up any real pressure.
- One interesting tactical innovation that Kenny Jackett tried involved Jordan Graham, who was one of the main bright sparks. When we had the ball in the middle or down the left, Graham played as a fairly orthodox right footed left winger. But when the ball was on the right, Graham followed it, joining James Henry on the right. He never really got on the ball in this position until late in the second half (there were a couple of times when he swapped positions with Henry), but it was an interesting tactic. Also noticeable was that as Graham came into the right hand channel, Dave Edwards moved to the left and was looking to attack the far post when any crosses came in from the right.
- As is seemingly customary now, our goal came from a Jordan Graham set piece. This was a cracking in swinging free kick from deep on the left, that was met by Ethan Ebanks-Landell. By my (my friend's) reckoning, that's Graham's fourth assist in three games. It should also be noted that this was Ebanks-Landell's fifth league goal for the club, in 19 starts. To put this into context, the rest of our current defenders have a combined 10 goals in 271 starts. Further, Ebanks-Landell's average of a goal every 3.8 starts is far better than anyone else in the squad bar Adam Le Fondre and Benik Afobe (David Edwards averages a goal every 5.4 starts.
- In the second half, I'd have expected us to play on the break a little more, but we never really did this. Even though Forest opened up more chasing the equaliser, I can't think of any real counter attacks that we had. One other thing struck me; Carl Ikeme is very slow when it comes to distributing the ball. I noted a few weeks ago about Emiliano Martínez's distribution from defensive corners, and in particular linking up well with Nathan Byrne (remember him? He had a few good games earlier in the season and hasn't been seen since). But there were a few times that Ikeme had the ball, and a wide player was screaming for the ball in space, but Ikeme either didn't see him or seemed intent on slowing the game down.
- The game changed in the second half as Forest manager Dougie Freedman made three changes. Freedman sacrificed width for additional numbers through the middle, with left back Daniel Pinillos pretty much being Forest's only outlet down the left. But having the additional numbers in the middle meant that we lost on control of the midfield, and in particular Oliveira, now playing as an attacking midfield rather than a forward, had more and more and space to cause problems. This was coupled with Jackett's strange reluctance to make a change; we were struggling in the middle, with a few players looking like they'd run themselves into the ground (Edwards and Graham in particular looked knackered), and when Forest equalised in the 80th minute, we still had the same 11 players on the pitch who started. I've been critical of Jackett's in game management before, and this was a classic example where his reluctance to change anything has cost us.
View a Printer Friendly version of this Story.
Wolves 1-1 Nottingham Forest
Discussion started by Wolves , 12/12/2015 10:18
What do you think? You can have your say by posting below.
If you do not already have an account
Click here to Register
.
Edited 1 time(s). Last edit at 2015:12:28:13:27:25 by Badge32.
Cheshire wolf
14/12/2015 13:17
I totally agree Tom - I think Jackett mismanaged this game. Edwards was out on his feet late on in the second half as he had done so much running - as he usually does. I would have thought this a good opportunity to bring Afobe on to pay behind Le Fondre, rather than to replace him. As I also put on another thread I think Holt must be fuming by now to be left on the bench week after week, particularly when only one sub is being used!!
Sorry, only registered users may post in this forum.